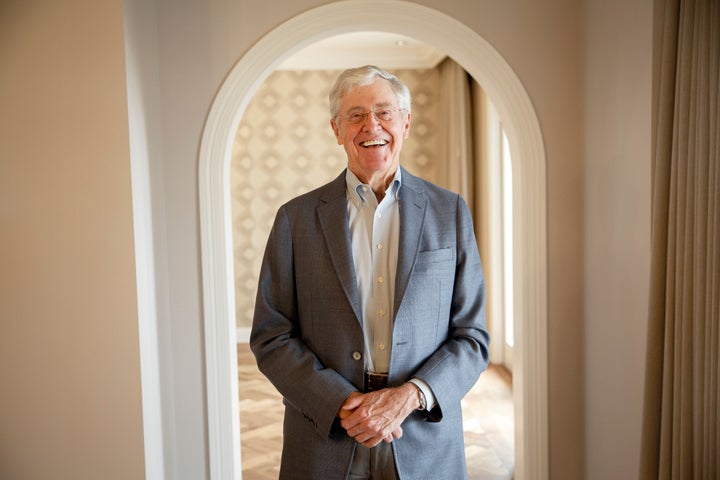 The largest donor to Freedom Partners Action Fund was Charles Koch himself with a $3 million donation from his Charles G. Koch 1997 Trust. Koch's seven-figure contribution came a month before he sat down with NPR to explain that he really doesn't give that much money to politics.
Charles Koch explained that he didn't believe he gave much to politics because government spending that aids poor and middle-class people is, in his mind, political bribery. "[T]he government can spend more and more money to create this system of control and dependency, that's what we have. … I'm saying what the government spends to get people to re-elect them dwarfs any money spent in a campaign," Koch said.
But Koch isn't the only donor to his super PAC. The group also attracts large contributions from the small pool of super-wealthy elites the brothers have brought together to push for their conservative and libertarian aims.
Hedge fund billionaire Ken Griffin, who once bemoaned the lack of influence rich people have on politics, donated $2 million. Wisconsin roofing billionaire Diane Hendricks also chipped in $2 million. Oil refining billionaire Paul Foster gave $1 million, as did coal operator Richard Gilliam. Wayne Laufer, the retired oil and gas driller, gave $500,000. Other large donations came from Richard and Helen DeVos, Darwin Deason, Tom Chambers, Stanley Hubbard and John Childs.
Freedom Partners Action Fund spent $23 million on the 2014 elections to support Republican congressional candidates. The group is tied to a much better funded dark money nonprofit, Freedom Partners Chamber of Commerce, which distributes hundreds of millions of dollars in secret money to fund the Kochs' political and lobbying machine.
PHOTO GALLERY
Declared 2016 Presidential Candidates
Calling all HuffPost superfans!
Sign up for membership to become a founding member and help shape HuffPost's next chapter