 Ceramics by Charles Krafft
A self-taught painter, Krafft is best known for his "Disasterware" ceramics series, which combines delicate and kitschy porcelain objects with images of destruction, including rifles and Hitler's bust. Another collection, dubbed "Forgiveness," consists of replica soap and perfume adorned with Nazi swastikas. Krafft also has incorporated human crematory ash into his ceramic clay. For years, the works were assumed to be darkly satirical; one piece, the "Idaho Hitler" teapot, was even purchased by a Jewish collector. Allusions to Hitler and the Nazis in his work, which permanently hangs in the Seattle Art Museum and has been featured in major publications, were perceived for years as ironic.
On Jan. 11, Fred Owens, a friend of Krafft's for more than 30 years, posted a lengthy comment on Krafft's Facebook page describing evidence that "Charlie has become anti-Semitic." Krafft responded the next day with a long explanation of his historical beliefs.
On MySpace, the artist messaged a blog called "Black Nerd Network" after it promoted his "Disasterwear" series. The blog posted Krafft's message:
From: Charles Krafft

To: blacknerdsnetwork.blogspot.com

Date: 30 Apr 2009, 22:11

Subject: You're kidding!

I'm approving Blacknerdnetwork as a friend because I've never met a black nerd. I'm trying to get with the diversity program here in Seattle, but it's kinda hard when the black kids on my bus won't give up that extra seat they're always sprawled across.
"Charlie is one of an increasing number of essentially liberal whites who are awakening to the fact that multiculturalism and non-white immigration are threats to the things that liberals hold dear: environmentalism, support for the arts, respect for women, kindness to animals, high wages, safe workplaces, social tolerance, safe, inviting public spaces and facilities, walkable communities, etc., none of which are conspicuous in Latin America, for instance."
Owens said his Facebook post put a spotlight on Krafft's beliefs. "I wrote that, maybe like two months ago, and then I unfriended Charlie," he told The Huffington Post in a phone interview. "I didn't want to initiate a debate, I wanted to end the conversation. Then a number of his other friends e-mailed me and said, 'Yeah, I feel the same way. I got tired of Charlie's crap.'"
When asked about whether he considered Krafft's artwork satirical or genuine pieces of right-wing propaganda, Owens refused to comment. "That's the question that I no longer want to consider. He is very clever. As soon as you say it's right-wing propaganga, he says it's ironic. And he goes on to talk like he really means it. And after a while you get tired of all this back and forth."
"People who have known him since prep school have talked about his casual use of racist language," Owens recalled when recapping his years of friendship with the artist. "Nobody's perfect. I'm not on a crusade."
Krafft is abroad and did not respond to an emailed request for comment.
Zoya Tommy, who formerly showed Krafft's work at her gallery, Zoya Tommy Contemporary (Formely PG Contemporary) said in an e-mail to The Huffington Post, "I'm deeply troubled by the revelation of this story and have not been in touch with Charles."
What should become of Krafft's works with this new knowledge of the artist's intention? Please let us know your thoughts in the comments.
See the worst art moments of 2012 in the slideshow below: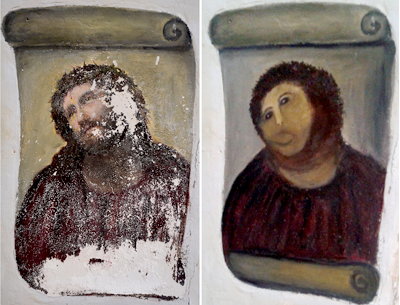 Most Embarrassing Art Moments Of 2012
Popular in the Community