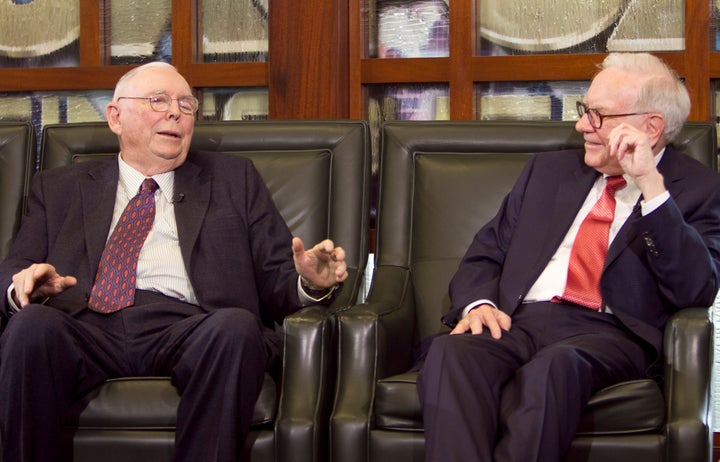 Charles Munger, the always-quotable vice chairman of Berkshire Hathaway, wasn't mincing words on Friday.
"The bubble in America was caused by some combination of megalomania, insanity and evil in, I would say, investment banking, mortgage banking," Munger said at a conference in Pasadena.
In assigning responsibility for the housing bubble that precipitated the financial-sector collapse of 2008, and ushered in a period of prolonged economic contraction, Munger also took issue with the accounting industry, calling it "contemptible" for its role in the debacle.
And he had particular scorn for Richard Fuld, the former chairman and CEO of Lehman Brothers.
"I would guess that Dick Fuld has not a single ounce of contrition wherever he sits today," Munger said.
Munger was speaking at a "Morning with Charlie" event, held in lieu of the annual shareholder meeting of Wesco Financial, a Berkshire company that Munger had chaired.
Berkshire Hathaway recently acquired Wesco's remaining stock, removing the company from public trading. Munger chose to make a public appearance anyway, though he said in April that the event would only be "for hard-core addicts."
Munger is known for his blunt, often combative pronouncements. In April, he opined to a group of shareholders that Greece was in trouble because its citizens "don't want to pay taxes or do much work." In 2009, he called cap and trade "monstrously stupid."
Around the same time, he said of Wall Street pay, "A man does not deserve huge amounts of pay for creating tiny spreads on huge amounts of money. Any idiot can do it. And, as a matter of fact, many idiots do do it."
At Friday's meeting, Munger endorsed Coca-Cola stock, calling it "one of my favorites" and an "easy choice" for investors. He praised Elizabeth Warren, President Obama's appointee to oversee the Consumer Financial protection Bureau, according to Bloomberg.
He had a qualified compliment for former Federal Reserve chairman Alan Greenspan, whom he called "a smart man" but one who "totally overdosed on Ayn Rand at a young age."
And he gave a wry nod to his own fanbase. Noting that Friday's meeting would be the last of its kind, Munger told the crowd, "You all need a new cult hero."
Calling all HuffPost superfans!
Sign up for membership to become a founding member and help shape HuffPost's next chapter