Detroit City Council President Charles Pugh has made headlines of late after releasing a workout video chronicling his battle to lose weight and develop six-pack abs - all while the city is on the brink of financial collapse.
The City of Detroit has entered into a controversial consent agreement with the State of Michigan to avoid bankruptcy because of structural long-term debts estimated at $12 billion. Detroit's 2012-13 budget under Mayor Dave Bing slashed $250 million in spending, including eliminating 2,500 city jobs. In a city where fires break out on a daily basis, almost one in five sworn firefighters will be laid off by late July.
But Pugh, a rumored candidate in Detroit's upcoming mayoral election, is dealing with a possible PR nightmare after publicly fighting with a journalism intern who questioned his leadership abilities on Twitter -- even going so far as to threaten the young man's unpaid job.
It all began two days ago, when, according to auto blog Jalopnik, Automotive News intern Josh Sidorowicz tagged @Charles_Pugh in a critical Tweet that referenced a recent column by the Detroit News' Laura Berman.
Though Berman praised Pugh's devotion to healthy living and exercise, which helped him lose 60 pounds since 2011, she signed off with a rebuke: "If only he would channel that same missionary spirit to saving the city he's been elected to help lead."

Tweeted Sidorowicz: "Wow, love this little piece. Too bad @Charles_Pugh has been such a disappointment for the city of Detroit so far."
Pugh responded with a barrage of Tweets arguing with Sidorowicz, who questioned whether Pugh's "celebrity status and personal agenda" were overshadowing the needs of a cash-strapped city.
Pugh bristled with new skinny guy, ripped abs-having confidence, pummeling the hapless intern like an unfortunate water boy bullied into the ring so the champ can enjoy a human punching bag for a change.
But Detroit's City Council president, currently overseeing a contentious City Council in an ongoing fiscal crisis, didn't stop there. He sent a Tweet to the main account of Automotive News, suggesting they rein in their summer charge.
"@Charles_Pugh: @Automotive_News I'd appreciate a word to your intern Josh Sidorowicz about his offensive posts to my page. It doesn't represent you well"
According to Sidorowicz's Twitter account, he's a senior at Michigan State University who sent over 2,600 Tweets, though his bio notes, "Views reflected on this account are my own and do not reflect those of my employer or other affiliates."
This isn't the first time that Pugh has lashed out at a journalist who has questioned him. Former Detroit Free Press reporter Steve Neavling, who covered City Hall, claims he was fired after complaints from Pugh, who reportedly refused to work with the reporter after a dispute.
Pugh, a former television reporter before being elected to the City Council, sent a letter to Free Press Metro Editor James Hill in April in which he complained about Neavling. The reporter was fired soon fired by the Detroit Free Press. According to Detroit's Metro Times, Pugh claimed Neavling had "sandbagged" him by publishing a quote Pugh gave at a City Council meeting. Pugh said Neavling never clarified whether the quote was on the record, while Neavling maintained that anything an elected official says during a regularly scheduled City Council meeting is, by nature, on the record.
At the next City Council meeting, Pugh, according to the Metro Times, then yelled at the reporter, "'I think that was BS what you did to me the other day by putting that quote in the paper.'" Neavling responded angrily, "I think what you did the other day was BS!", and was fired a few weeks later.
Huffington Post contacted Charles Pugh's office seeking a comment from Pugh on the situation. The story will be updated with any comment from Detroit's City Council President.
Local response to Pugh's intern-directed tirade has been almost uniformly negative. Check out the slideshow below to read some of the responses sent to Pugh on Twitter.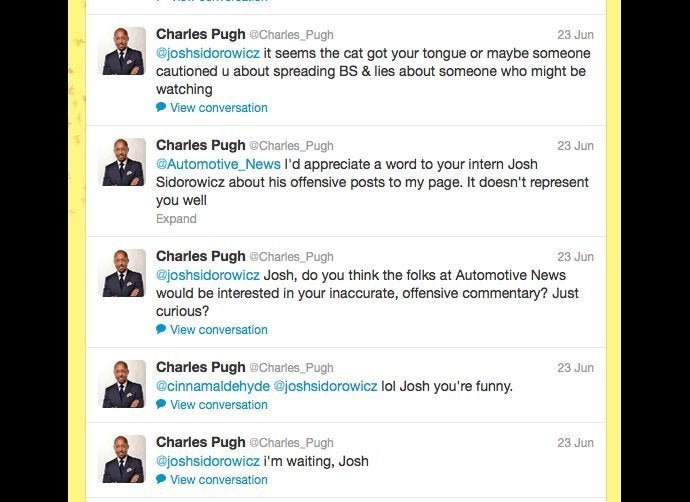 TWITTER #FAIL: Here's What People Are Tweeting Back At Charles Pugh After Fight With Intern
Popular in the Community