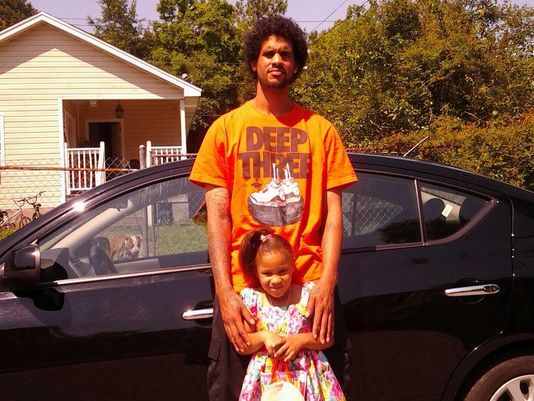 By now, you've probably seen this controversial news out of Savannah, Georgia: On a Thursday morning nearly a month ago (September 18), 29 year-old Charles Smith was shot and killed, while handcuffed, by Savannah-Chatham Police Officer David Jannot.
So allow me to cut straight to the chase: There is no denying the fact that Charles Smith had a criminal record. Indeed, this (outstanding warrants) is what led to the fateful arrest that preceded his death. But does this make him any less human? Any less worthy of defense? ANY LESS WORTHY OF LIFE?
But didn't he kick out the window of the patrol car, in an apparent attempt to flee? The answer is yes, he did. And no one will argue that he shouldn't have been detained. But, again, kicking out the window of a patrol car is not a crime punishable by death.
And I suppose we'll never really know why Charles Smith did that. However, the Smith family's attorney does tell me that the jail was in the opposite direction that Officer Jannot was driving toward. The witnesses of the murder (so far there are six and counting; and remember this happened in broad daylight on Augusta Avenue) and other community members also say that Officer Jannot is known throughout the community as "Mr. Anderson" (they mean "Agent Smith" from the movie The Matrix) for his constant harassment and general heavy handedness toward black men in the West Savannah area where Charles Smith was killed. Multiple witnesses also say that they saw Smith shaking his head in the back of the patrol car (prior to kicking out the window), and that Officer Jannot said, "Are you ready to die?" to Smith before shooting him dead. So who knows what was said in that patrol car that potentially led Charles Smith to fear for his life and kick out the car window?
Nevertheless, witnesses agree that Smith was still handcuffed, his feet had not touched the ground, and he had no gun when Officer Jannot fired the first shot that killed him. Officer Jannot and another officer fired more shots to Smith's lifeless body once his body dropped out of the car to the street, according to the witnesses. The officers then pushed witnesses back and positioned the patrol car in a way that resulted in the obstruction of some witnesses' view of the murder scene. Subsequently, witnesses say a gun suddenly appeared before Smith's lifeless body. Indeed, it is dubious, to say the least, that a gun would escape the attention of the officers who initially (thoroughly) searched and arrested him (as the surveillance video shows). Thus, it becomes increasingly clear: #HeStillDeservedLife.
So, with that, allow me to now preempt the trite red herrings that will surely ensue...
"What about black-on-black crime?" My answer to this is simple: What about white-on-white crime? Most murders are intraracial. According to the Bureau of Justice Statistics, 93 percent of black victims were killed by black offenders, and 84 percent of white victims were killed by white offenders -- it's just as segregated as the rest of America. So, the more we fight persistent segregation, economic inequality, under-resourced schools (which are largely the result of an unequal property-tax-skewed funding mechanism for public schools), and the general dearth of opportunity that define the urban plight, while employing the David Kennedy-style "community policing" model referenced below, the more we'll rein-in on such crime.
"Where's this outrage after other killings? Cop killings?" Another trite red herring. But, even here, I'll give you an answer. It's the same one Ta-Nehisi Coates gave not long ago:
"To the extent that killings by the police generate more outrage, it is completely understandable. Police in America are granted wide range of powers by the state including lethal force. With that power comes a special place of honor. When cops are killed the outrage is always different than when citizens are killed. Likewise when cops kill under questionable terms, more scrutiny follows directly from the logic of citizenship. Great power. Great responsibility."
The fact of the matter is that, if we ALL permit the "better angels of our nature" and THE DATA (e.g. the fact that police shootings have dramatically outnumbered criminal executions over the last decade, or the recent ProPublica report that shows that young black males are now 21 times likelier to be shot dead by police than their white counterparts) to guide us, then we will acknowledge that this (the extrajudicial killings of black men -- by police, security guards, and vigilantes -- and the concomitant view that sees black lives as disposable) is a real problem -- one that, unfortunately, we have to rely on community organizations to monitor and collect data for (see MXGM's "Operation Ghetto Storm" report), since the federal government does such a woefully lacking job at it (see the FiveThirtyEight and Vox analyses of this). And we must employ a "both/and" approach instead of an "either/or" approach as we deal with it.
Where Do We Go From Here?
So where do we go from here? First and foremost, federal authorities (the Department of Justice) should take over the investigation to ensure the integrity of the probe, since there is now a natural distrust for local authorities amongst the witnesses and the broader West Savannah community. And you can join the family of Charles Smith, their attorney, other community leaders and I, in this call to action, by ADDING YOUR NAME TO OUR PETITION here.
On a broader level, as aforementioned, the FBI's monitoring of this phenomenon is woefully lacking -- it must become comprehensive. And there are other broad recommendations, that apply here, which can be found in Part 5 of my last article.
Popular in the Community