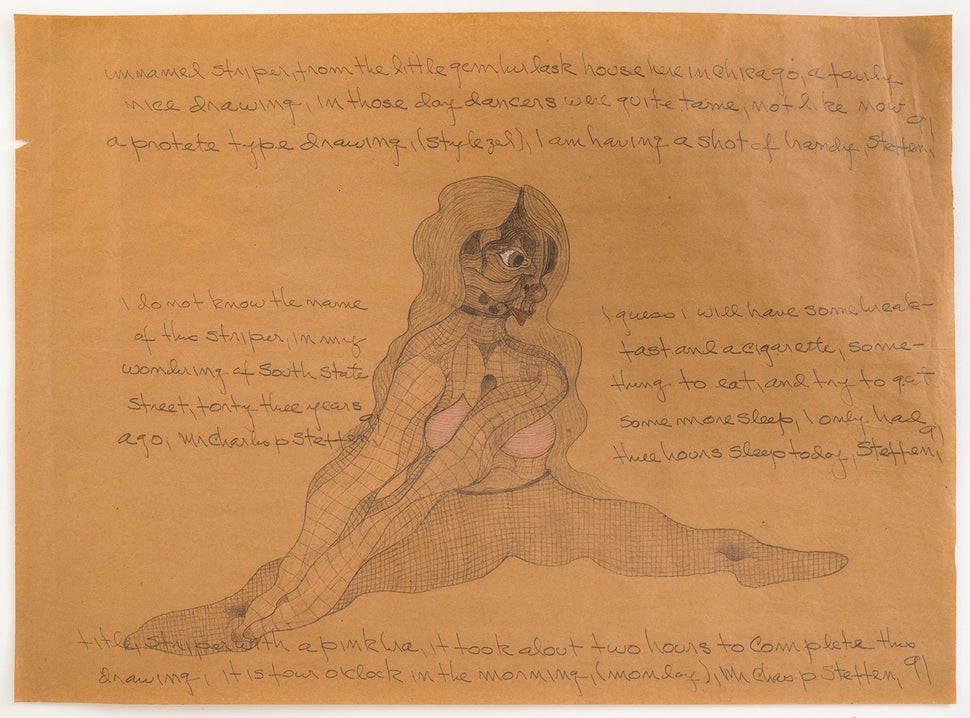 In Charles Steffen's drawings, human bodies lack bones, fat and flesh. Instead, faces and figures are composed of crosshatched lines that wiggle and bulge, like a spiderweb repurposed as a body mask. From a distance, the lines that stretch from head to toe resemble the gnarled wrinkles on a tree trunk or the scales on a reptilian creature.
"The figures are often transparent," The Good Luck Gallery explains in a statement describing Steffen's work, "as if their nerve cells and fibers were on display, and surrounded by aureoles of gray light; bodies and flowers often merge into each other."
Steffen was born in Chicago in 1927, one of eight children. In the late 1940s, after graduating from Catholic high school, he enrolled in the Illinois Institute of Technology, where he studied art history, drawing and photography. His religious upbringing, however, clashed with the more agnostic philosophies taught in university.
About a year into college, Steffen rebelled against his philosophy class by lighting a stack of his course papers on fire and threatening to kill himself. The outburst was, perhaps understandably, viewed as a mental breakdown. Steffen was kicked out of school and subsequently fell into a deep depression. This led to his institutionalization at Elgin State Hospital, a psychiatric hospital in Illinois. 
For the next 10 years, Steffen moved back and forth between the hospital and his family home. Diagnosed with schizophrenia, he was forced to undergo electroshock therapy as a form of treatment. The entire time, Steffen drew, around one to three images a day ― portraits of his mother and himself, of women he used to love and strippers he slightly recalled. He drew them not quite like people, but like balloon animals that had been meticulously mapped out.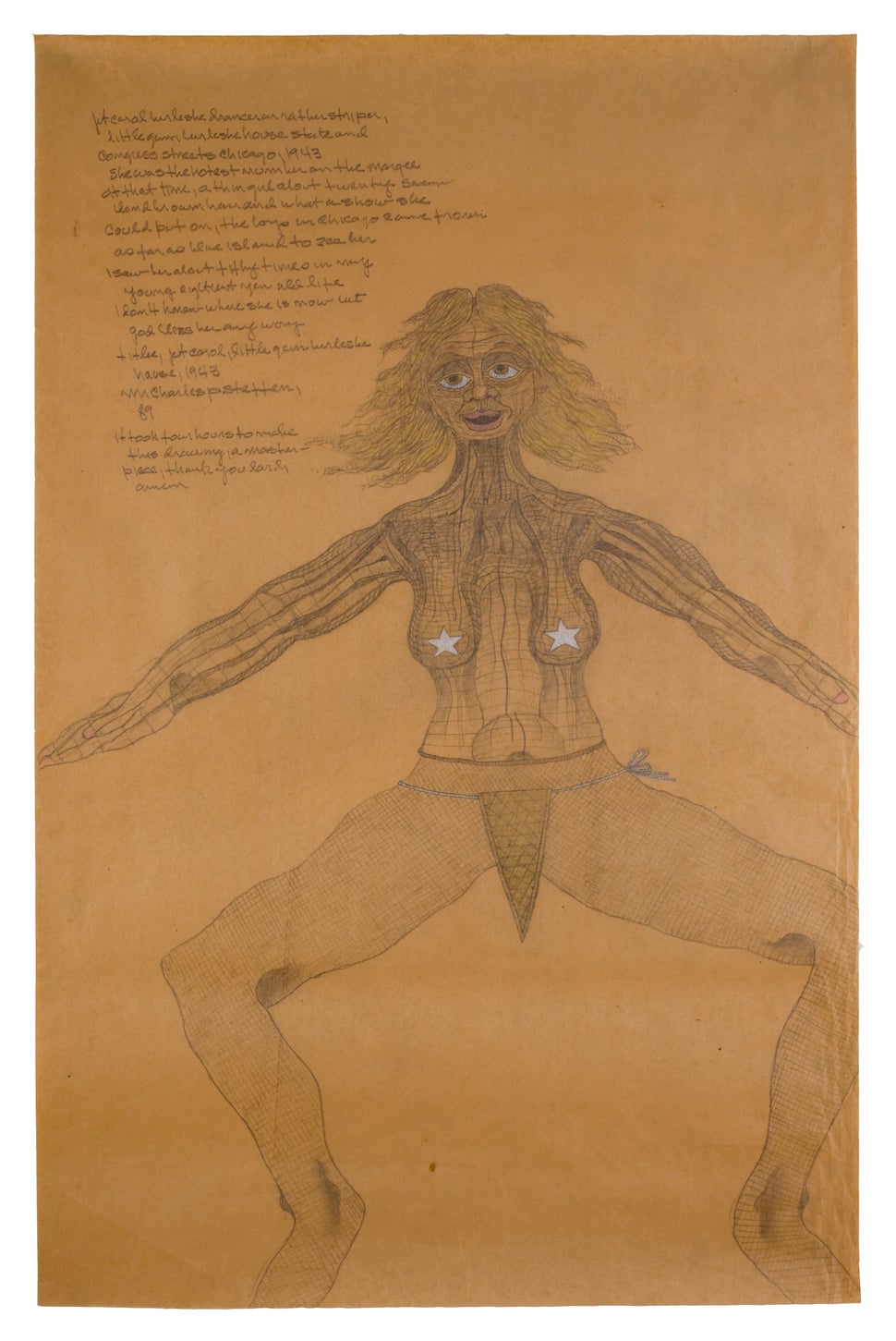 Steffen would often scribble notes around his images, turning the scores of drawings into a sort of diary. On an illustration of a burlesque dancer, rendered with stars covering her nipples and a triangular loin cloth atop her genitals, he wrote: "Jet Carol burlesque dancer rather stripper [sic], little gem burlesque house state and congress streets Chicago, 1943 she was the hottest number on the marquee at that time, a thin girl about twenty seven blond brown hair and what a show she could put on, the boys in Chicago came from as far as blue (?) island to see her ... "
Much of Steffen's work has erotic undertones, though funneled through a strange, sci-fi ― and often somewhat androgynous ― lens, one which swaps out human heads for sunflowers, feet for aquatic fins, and melts together both male and female parts. His favorite subject, however, was his mother, with whom he lived on and off before, during and after his hospitalization until her death in 1994. (Steffen himself died in 1995.) His depictions of his mother, although also rendered in his signature, otherworldly style, still capture her likeness as well as the authentic human emotion written on her face. 
Steffen made his love for his mother known in a note scrawled alongside one of her portraits. "[M]y mother is a real sweet heart to me a man realizes that as he gets older, like at the age of sixty one she always help me out financially no one else in the family ever did, brothers and sisters I felt I was a bad son when I was younger, lazy ???  like I am now what a hell of a life I have lived, I am sorry for all of it."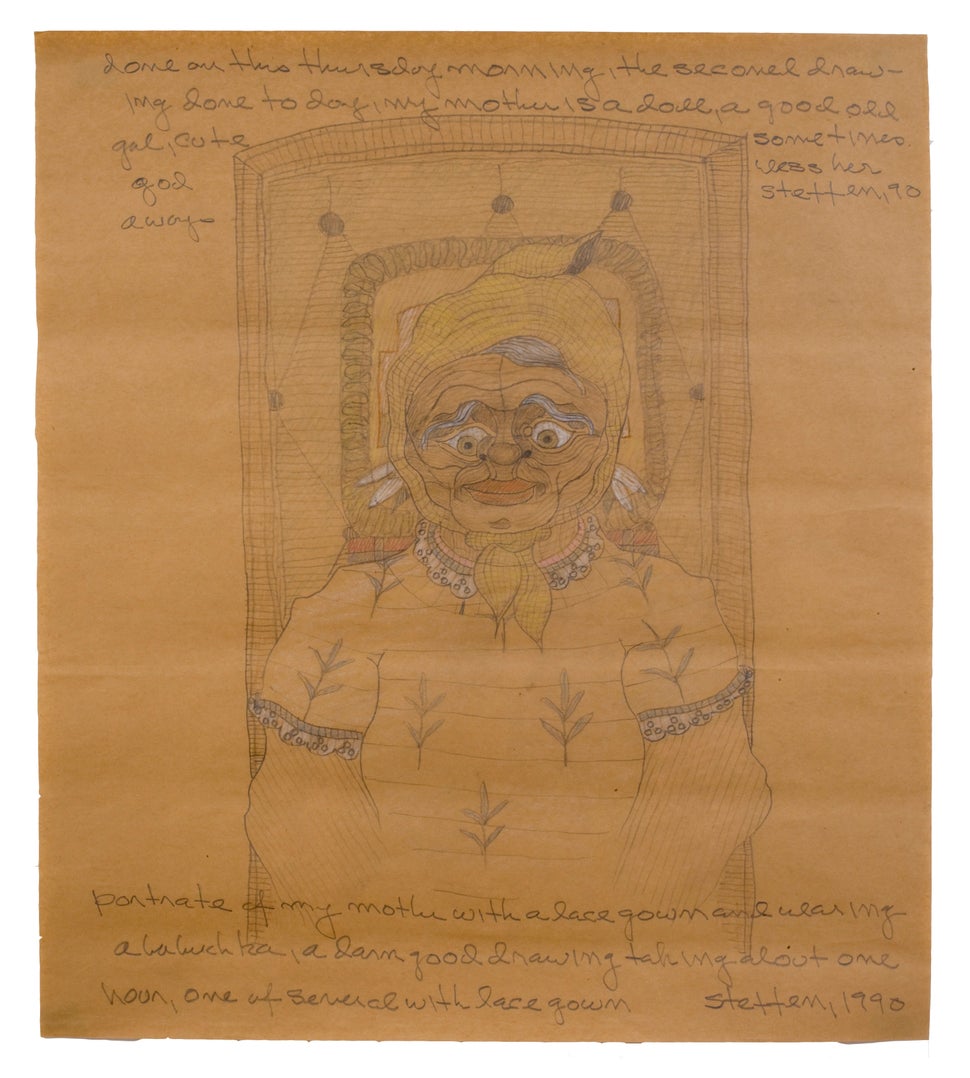 After he was released from the hospital, Steffen moved back into his childhood home with his mother and siblings. He continued to draw, constantly, on brown wrapping paper with colored pencil and graphite. Steffen stored his creations in the house basement, eventually acquiring so many his sister made him discard them, fearing they were a fire hazard. Because of this, only work made after 1989 survived. Still, in the six years before his death, Steffen created 2,000 drawings, some as large as eight feet tall, which he eventually left to his nephew.
Steffen is often described as an outsider artist, that slippery term that describes artists working outside the mainstream art institution. As with many artists under the label, Steffen doesn't quite fit. His struggle with mental illness and isolated conditions in a psychiatric hospital resonates with Lyle Rexer's definition of outsider art as "the work of people who are institutionalized or psychologically compromised according to standard clinical norms" or "created under the conditions of a massively altered state of consciousness, product of an unquiet mind."
However, what really constituted a schizophrenia diagnosis in the 1950s, when Steffen was committed? By many accounts he appeared to have a relatively stable existence beforehand. And, seeing as he did study art and art history in school, was Steffen's work really as far removed from the cultural conversation as the designation "outsider" or "self-taught" artist leads one to believe? 
Steffen's spidery depictions of tuberous human forms don't subscribe to the traditional rules of human anatomy. They aren't all that different, however, from the work of other experimental yet "insider" draftsmen like Huguette Caland, Jim Nutt, and Victor Brauner.
While it's surely interesting to draw parallels between the horrors of electroshock therapy and portraits that seem to have electric currents flowing through them, causal conclusions are impossible. Even without diagnosing Steffen's images, it's fascinating enough to observe the uncanny way he viewed the world around him, like an alien trying to document and make sense of the human world. 
Calling all HuffPost superfans!
Sign up for membership to become a founding member and help shape HuffPost's next chapter
BEFORE YOU GO
PHOTO GALLERY
Outsider Art Fair 2016