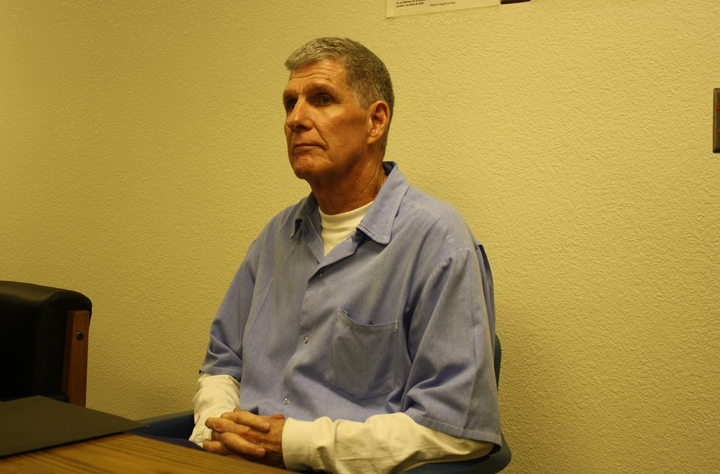 He gave me an almost half smile as he strode down the whitewashed prison corridor, his lanky frame settling in to a chair only three feet away from me. Then, only stale air separated me from Charles "Tex" Watson, the self-proclaimed right-hand man of cult leader and murderer Charles Manson.
He was well-groomed and clean-shaven, his posture arguably better than mine as I sat hunched over my writing pad and pencils. No computers were allowed at Northern California's Mule Creek maximum security prison, where three parole officers gathered on Oct. 27, 2016, to decide whether this killer, convicted of seven murders and sentenced to life in prison with the possibility of parole, would be set free.
In addition to my pencil and paper, I had only my disposable camera, which had been thoroughly inspected by the warden who had escorted me to the holding room. As the only person from the media granted access to this parole hearing, I had strictly adhered to the rules of my visit, pre-arranged well in advance: No computers, no cell phones, no bras with wire clasps, no pens, and no wearing orange. Such rules were to be expected when coming face-to-face with one of the most notorious murderers alive. What was less expected was how this murderer appeared and comported himself.
If I'd passed by him on the street, I would have said to myself, "That's a handsome guy. Maybe a little too old for me, but handsome." But given the horrific crimes he committed, I pray to God I will never pass him on the street.
This gray-haired, high-cheekboned man brutally murdered the actress Sharon Tate, her unborn baby, and several of her friends in Los Angeles one August night in 1969. He then went on the next night to participate in the murder of an innocent couple, Leno and Rosemary LaBianca ― all because Manson wanted him to do "something witchy."
To prepare himself and the members of the Manson "family" for the murders, Tex Watson had taught lessons at Spahn Ranch, where the family lived, on how to plunge and twist knives just so. Fueled by hallucinogenic drugs and the teachings of Manson, Watson and the "girls" in the family committed murders that changed American culture forever.
To prepare himself and the members of the Manson 'family' for the murders, Tex Watson had taught lessons on how to plunge and twist knives just so.
At his 16th parole hearing, Watson sat with his attorney (who clearly wanted to be anywhere else) at a long plywood table flanked by two prison guards. I sat to Watson's immediate left; his attorney to his right. The petite but sturdy district attorney from Los Angeles County sat all the way at the end of the long table, surrounded by the victims' family members, who continue to show up for these hearings year after year.
This time was different because of the Elderly Parole Program in California, which places great emphasis on the age of the inmate compared to the age of the inmate at the time the crime was committed. Watson was 23 in the summer of 1969. Having turned 70 years old since his last hearing in November 2011, he now stood a chance of being paroled.
The hearing was not the lead parole officer's first encounter with Tex. His frustration was nearing the boiling point as he leaned across the table, got as close to his face as he could, and roared the question:
"I WANT TO KNOW WHY YOU DID WHAT YOU DID. WHY WOULD A CHURCH-GOING BOY FROM TEXAS GOING TO SCHOOL AND, DOING ALL THE RIGHT THINGS, MOVE TO CALIFORNIA AND BECOME INVOLVED IN THE MOST HORRIFIC CRIMES THIS STATE HAS EVER SEEN?!"
I scribbled feverishly in my notepad, hardly comprehending Watson's response as he said, in a muted tone, "I had no direction, no goal, I was searching for answers. I was taking drugs medicating for pain. I was fearful for not living up to my parent's expectations. Looking for direction from Manson. Why couldn't he have been a Christian Brother?!"
With a mixture of disgust and despair, the officer responded, "You are describing most of the teenagers in this country right now."
And, then regaining his composure, and with a glance towards me, he added, "You could have just joined a chess club."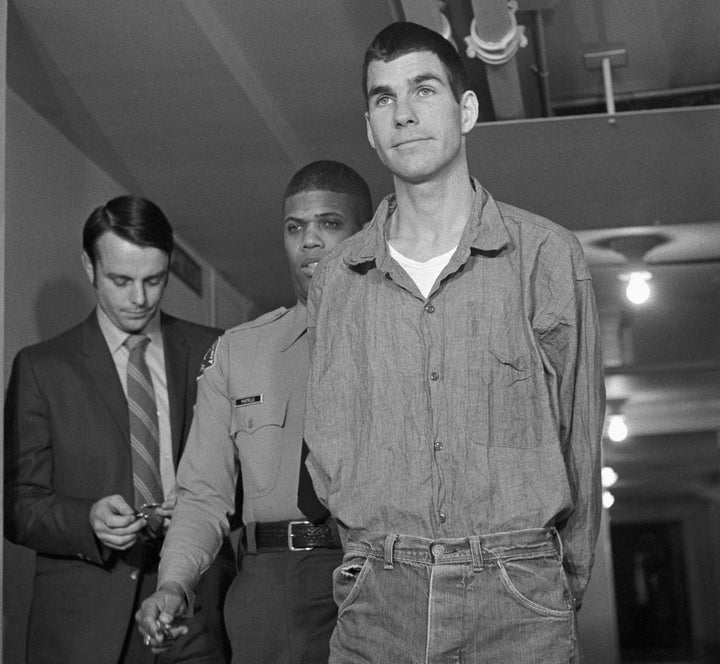 The parole officer's levity contained in that last remark may have been lost on Watson, who remained staring straight ahead without blinking, but not on me. I've learned from my years as a (third-generation) federal prosecutor that you have to try to keep some sense of humor in grim circumstances or else all is despair. But I worried that the Elderly Parole Program might mandate Watson's release. He had, after all, been a model inmate for more than four decades. And in that time he'd found Jesus, or so he told the parole officers. Still, reminding myself of the reason Watson sat in this room, I couldn't help but feel that I was in the presence of evil.
In researching my book, Hunting Charles Manson, I traveled back as best I could to the summer of 1969, back to the places Watson and Manson and the infamous "family" lived and where Manson plotted "Helter Skelter," to the sites where the crimes were committed and where the victims had their last dinners.
I found it more than a bit creepy to sit at the El Coyote restaurant in the very booth occupied by eight-month-pregnant Sharon Tate and her ill-fated group of houseguests. The restaurant still serves passable Mexican food to a bustling lunch and dinner crowd, some of whom seek out this establishment because of its association with the Manson murders. I took a walk down Waverly Drive and Cielo Avenue on a beautiful spring day, and peered in through the gates at the houses where Tex and the girls had used their victims' blood to write "DEATH TO PIGS" and "HELTER SKELTER" on the walls of the houses they had invaded.
I fought off poison ivy to sit on the rock where Manson strummed his guitar and wooed his followers at Spahn Ranch. Such an idyllic place, occupied in 1969 by such a twisted man ― for whom his followers would, and did, do anything for him.
Throughout my journeys, I carried thoughts of the victims with me. Of course I thought about the souls brutally murdered. But I didn't know them. I did, however, come to know some of the other victims, the ones left behind, like the family members of those who were killed and who steadfastly attend the parole hearings such as this one for Tex Watson. They are the living victims.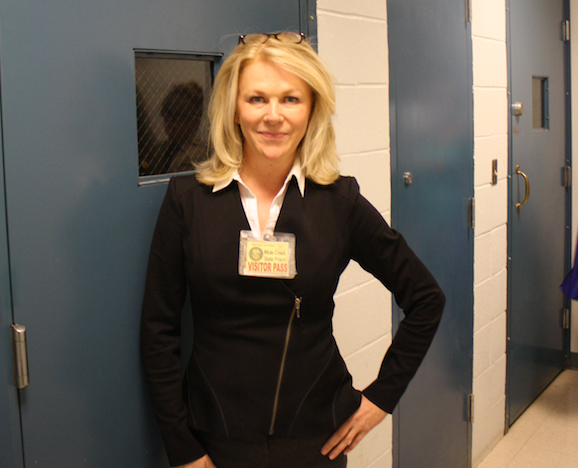 Kay Martley, the cousin of Gary Hinman, who Manson and the family tortured and murdered before the Tate murders, said Gary's death nearly destroyed her family and that his mother died of a broken heart. Debra Tate, Sharon Tate's sister, remains a fierce advocate for keeping the remaining family members behind bars, but the looming fear that Tex might get released has taken a physical toll on her. 
As the daughter of an FBI agent and granddaughter of a judge, both of them also federal prosecutors before me, the desire for justice is in my genes. With the Manson case, even before getting to know some of the remaining victims, I wanted to write a compelling story that would at once explain what had happened and also potentially keep history from repeating itself.
One of my deepest concerns is that the methods Manson used to manipulate young women to do his bidding are being used today by others, to similar great harm. One need look no further than Keith Raniere and Nxivm to see a charismatic guru-like figure once again manipulating young women. Therefore, a strong motivator for me in telling this story is the desire to expose Manson's playbook. By shining light on his methods, we can guard against them being used as a weapon again and again.
At Watson's parole hearing, I was dismayed to overhear the victims when they were polled at the beginning of the hearing as to whether they wanted to speak to me, a representative from the press. The answer from all of them was "no." So I sat by myself outside the victims' room before the hearing started. But I think Kay, with whom by then I'd been speaking for several months, must have put in a good word for me because soon I was speaking with the victims about the status of California law as it applied to Watson and about the probability of his release.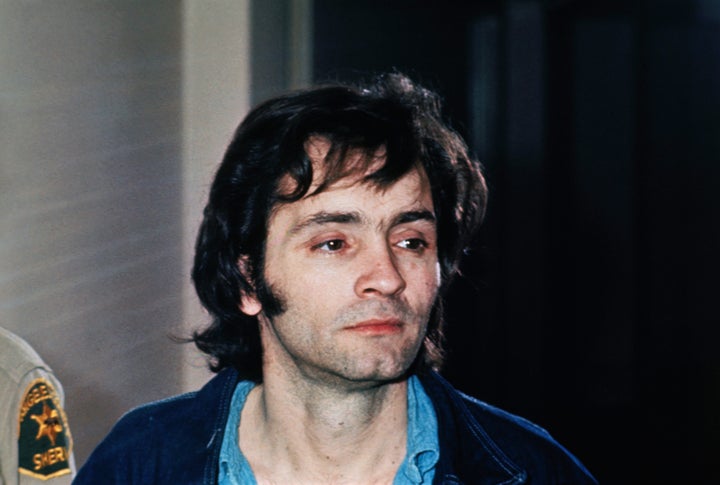 As the hearing progressed and the victims had their chance to speak directly to Watson and be heard by the parole board, they allowed me to take their photos. At that point, Watson's lawyer got up and gave me his seat by the killer so I could get a better camera angle. Now I was just inches away from him. As I took photos, I took a side glance at Watson and for the first time felt the weight of the old cliché, "If looks could kill, I'd be dead." 
But here, he had no power to kill me or anyone else. And California law let me take as many photos of him as I wanted, without him being able to say no. If taking photos of him got under his skin, I was glad.
I hated Tex Watson for what he had done those nights in the summer of 1969 ― and for what he was still doing to the victims attending hearings like this one.  Watson was Manson's henchman, a Manson wannabe, while Manson himself was a consummate bully. And, taken to its most violent and horrible extremes, bullying results in events like those occurring nearly five decades ago.
Listening to Watson recount the events of those nights, I recalled my son's warning when I started researching the book. "Are you sure it's safe, Mom?" He worried that Manson's followers ― those who sent "fan" letters to prison or read about him and his cult following and aspired to, like Watson, also do "something witchy" ― would try to hurt me. When he'd asked the question I'd laughed it off, but sitting next to Watson, I felt a cold chill.
I hated Tex Watson for what he had done those nights in the summer of 1969 — and for what he was still doing to the victims attending hearings like this one.
There were plenty of times during the research of my book that I had to step away and do something ― anything ― else to take my mind off one sad fact or another. But I always came back to this story. One of the victims' family members, the aforementioned Kay Martley, helped me stay true to my course by saying that she wanted her cousin Gary's story told correctly and she hoped I would do so. I gave her my word.
Finally, after a nearly nine-hour hearing, the verdict was announced. No parole. For now. Watson will be up for parole again in five years, but I'm hoping he was listening when one of the victims said to him during the hearing, "If you're such a born-again Christian, then take compassion on us and don't make us show up here again." Amen.
For Manson, there will be no more parole hearings. The man convicted on seven counts of murder, died while serving his life sentence in a California prison in November 2017.
Instead of "rest in peace," I say good riddance. I believe the heartbreak and sadness that this one man bestowed on so many people justify my harsh words. I pray that there never walks on earth another Charles Manson ― or another Tex Watson, for that matter. And yet I know that my prayer has already gone unanswered.   
Lis Wiehl is one of the nation's most prominent trial lawyers and highly regarded commentators. She is the author of 18 books, including Hunting Charles Manson: The Quest for Justice in the Days of Helter Skelter (Thomas Nelson, June 2018) and was a legal analyst and reporter for Fox News for 15 years. Lis is currently an anchor for the Law & Crime Network and a professor of law at New York Law School.
Do you have a personal story you'd like to see published on HuffPost? Find out what we're looking for here and send us a pitch!
Calling all HuffPost superfans!
Sign up for membership to become a founding member and help shape HuffPost's next chapter