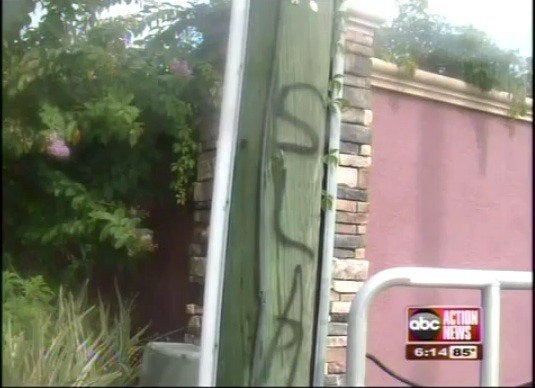 Even with old age, some folks never lose that youthful rebellious streak.
After six years of the initials "SLA" mysteriously appearing spray painted on utility poles around Clearwater and Dunedin, Fla., police finally nabbed the culprit: 71-year-old Charles Wesley.
The graffiti grandpa would have gotten away with it, if it hadn't been for a witness who spotted him tagging a pole in front of a vacant lot on Sunday morning, according to the St. Petersburg Times. Police matched the description with previous eye-witness accounts and confronted Wesley about the graffiti. The senior-citizen admitted to several hundred paint jobs around the county.
According to a local ABC affiliate, "Investigators initially believed SLA stood for Symbionese Liberation Army, a radical 1970s group that gained fame by kidnapping newspaper heiress Patricia Hearst." As it turns out, deputies learned that "SLA" actually stands for "Sane Liberation Army," a group Wesley believes will overtake the U.S. economy once it completely collapses.
Police charged Wesley with felony criminal mischief. He told a county judge that he could not afford a lawyer and was held on $5,000 bond.
Popular in the Community