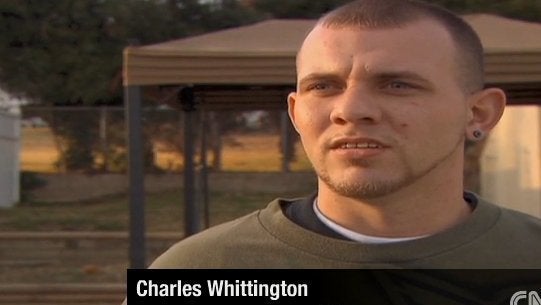 An Iraq War veteran who wrote an essay about his addiction to violence for a community college English class has been barred from the school's campus.
Charles Whittington's essay, which can be seen in full here, was also published in the Community College of Baltimore County's campus newspaper. In the essay, Whittington, a former infrantryman, wrote that "war is a drug," and that "killing becomes a drug, and it is really addictive:"
To this day, I still feel the addictions running through my blood and throughout my body, but now I know how to keep myself composed and keep order in myself, my mind. War does things to me that are so hard to explain to someone that does not go through everything that I went through. That's part of the reason why I want to go back to war so badly, because of this addiction.
According to the Baltimore Sun, Whittington received an A for the essay from his teacher, who encouraged him to publish the piece. But after it appeared in the campus paper last month, Whittington was told by school officials that he would not be allowed on campus until he had a psychological evaluation.
Whittington told the Sun that his violent impulses are controlled by counseling and medication.
Community College of Baltimore County spokeswoman Hope Davis said that the school was acting in the interest of safety. "When you look in the era of post-Virginia Tech and the content and the nature that he wrote about in the article, it caused us concerns," she told CNN.
Whittington's psychological evaluation is scheduled for Tuesday.
What do you think? Is the school in the wrong? Or did they do the right thing? Weigh in below.
WATCH: CNN report:
Popular in the Community