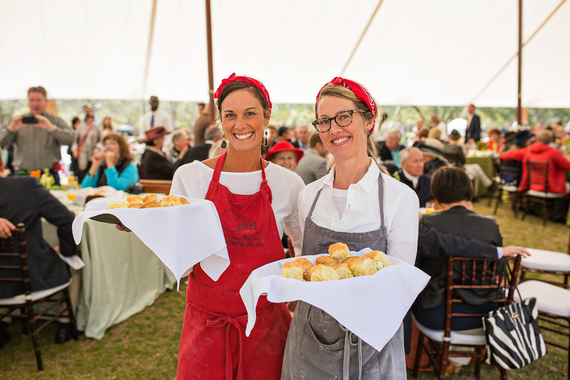 For ten years now Charleston has been holding an annual Wine + Food Festival that has become one of the stellar events of the springtime and one that brings a great number of visitors and millions of dollars to the city. I've been delighted to have attended most years' celebrations and hosted a few events, seminars and book signings along the way.
The "Heart of the Festival" is the tented Culinary Village at Marion Square, where back-to-back demos, Low Country excursions, signature dinners, fish fry, book signings, storytelling, gospel brunch (above) and music jams are held throughout each day. Testament to the success and popularity of the festival is not just that it's grown steadily but that its various events sell out weeks in advance.
What I like best about this festival, as opposed to those in cities like Aspen and Miami, is that the latter depend on glitz and the same tired TV food show celebrities, while Charleston celebrates new people each year, largely local but also working chefs of regional fame that they well deserve.
Add to all this the beauty of Charleston itself, and three days go by very fast and beg for you to return. I certainly intend to, if only to keep up with what's new.

ARTISAN MEAT SHARE
33 Spring Street
843-641-7299
artisanmeatsharecharleston.com

Very new indeed is Artisan Meat Share, a sandwich and charcuterie shop on Spring Street that grew out of Chef Craig Deihl's charcuterie program at the superb downtown restaurant Cypress. Deihl (above) is a founding member of the Butcher's Guild, and in any given season makes an array of 80 varieties of meat products that are among the finest I've tasted anywhere in this country.
I just left myself in Deihl's hands and out came rafter after rafter of exquisite meats and cheeses--liverwurst, provolone, mortadella, coppa, pepper rings, potato bread, bean salad, cheese grits and gravy, pastrami, bratwurst, crostini, chicken wings and more. His bun mi ($10) of pᅢᄁtᅢᄅ, smoked ham, kimchi mayo, carrots, soy pickles, cilantro on a steamed bun was a wonder in a Low Country spot like this, as was the porchetta ($11) with spicy 'nduja condiment, pork cracklins', watercress, caramelized onions and mayo on ciabatta bread.
There are beer and wine and artisanal sodas, and on Wednesdays they offer three pieces of fried chicken for $10 and a wine and meat tasting on the first Thursday of every month. So much goodness in such profusion; this is a very generous eatery with a big heart.
LEON'S FINE POULTRY & OYSTERS
698 King Street
843-531-6500
leonsoystershop.com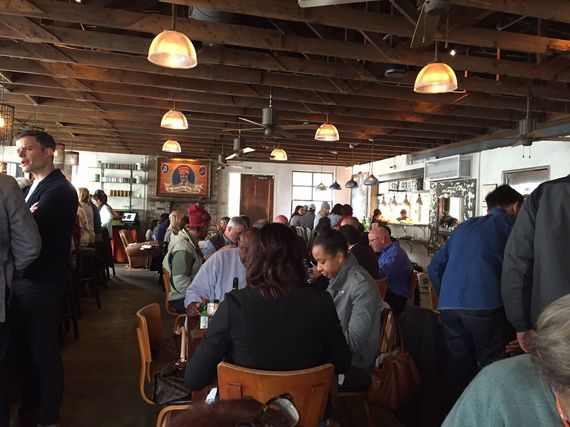 I heard more than once that Leon's is the new hit in town. It's a very casual, ear-splitting eatery with a focus on oysters and a dogged emphasis on fried food in the Southern tradition. It's a first-come-first-served kind of place, so it's usually jammed with people who come to chow down rather than dine at a leisurely pace. You'll probably get food or beer on your clothes.
I had a couple of good items: a charred radicchio salad with yogurt dressing, hazelnuts, golden raisins and mint ($10), and Leon's vanilla soft serve ice cream for dessert ($3). Most other dishes I found, first of all, extremely salty, and second, extremely fried. This ruined a made-to-order serving of fried chicken ($8-$10 for two pieces, half a chicken $16 and whole chicken dinner $39), whose spices were more intense than Popeye's, obliterating whatever flavor the chicken itself had; its grease-absorbed dark brown, burnt breading fell from the meat. Lettuce wraps had equally salty fried clams, along with mayo, slaw and butter pickles ($12). The fish sandwich ($13) may be ordered grilled or fried. A whole fish of the day--grilled beeline snapper with seaweed butter, artichokes and lemon ($32)--would have been better had it not been undercooked that day.
My friends who gobbled up a selection of oysters seemed perfectly happy with their choice, so I would say that, if you go to Leon's, stay clear of the fried food. And bring noise-canceling earphones. The loud, bombastic music is rough.
The MacIntosh
479B King Street
843-789-4299
www.themacintoshcharleston.com
I was very much looking forward to getting back to one of Charleston's finest restaurants, The MacIntosh, which opened two years ago on two levels on King Street, where Jeremiah Bacon has proven himself one of the city's most inventive chefs at a time when others are playing the farm-to-table game more for publicity than out of true religion.
Upstairs at The MacIntosh there's a loud bar and lounge scene, but downstairs is a long, brick-walled dining room that casts the right balance of casualness with the seriousness of fine food.
Bacon is a hearty cook with unexpected finesse, as evident in his oxtail ravioli with onion soubise and rich bordelaise sauce ($14). And his signature use of beef deckle ($40), a dish of great largess involving an underutilized cut of meat with marvelous results, served with enriching bone marrow bread pudding, carrots, baby onions, Brussels sprouts and a deep reduction of red wine (below) is a magnificent dish that takes a lot of talent to bring off so successfully. But then even a seemingly simple plate of peas and carrots with gnudi pasta, lamb neck, onions and mint ($16) is an education in the cooking timing of individual ingredients. His sweetbreads ($15) have real flavor on their own, coaxed to another level by the addition of green garlic, benne seeds, maitakes, a caramel made from fish sauce, and shiso. The tender texture and sweetness of pea rago￈ラt enhances a thick cut of succulent pork shoulder, with a fennel marinade and bacon sorghum glaze ($27).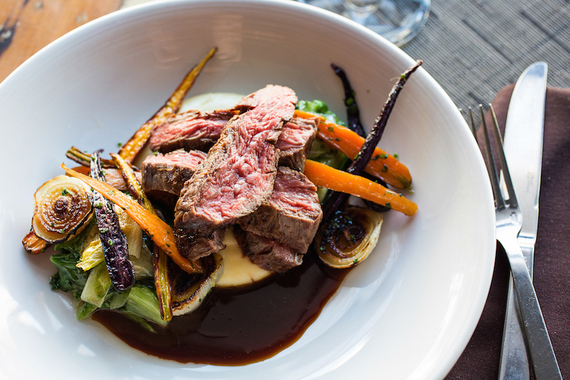 Every bit as sumptuous are Kelly Kleisner's desserts, like double chocolate torte with raspberry sorbet and coca nib tuile ($8) and banana bread pudding with malted chocolate ice cream and butterscotch, toffee-cocoa crumble ($8).
The MacIntosh has as fine a wine list as it has one of spirits, and it would be difficult not to have a good time here, both for its conviviality and for the surprise of how, dish by dish, everything is so amazingly good.
HOMINY GRILL
207 Rutledge Street
843-947-0930
.hominygrill.com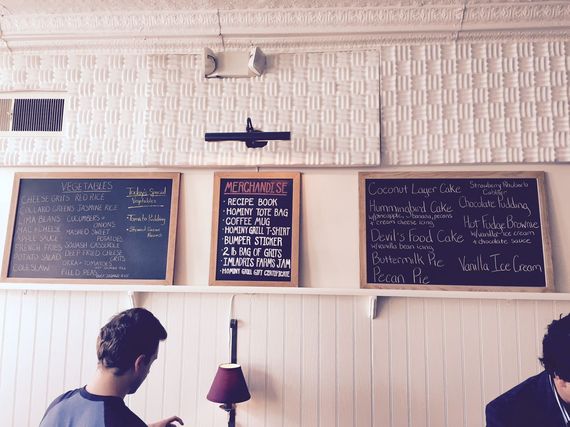 Rare is the year I go to Charleston without eating at The Hominy Grill, which since 1966 has been a bellwether of Southern downhome cooking without the slightest pretense or hype--although the food media have long acknowledged just how outstanding chef-owner Robert Stehling is as a proud son of the South.
The white shotgun house dates to 1897, recently appended with another dining room, and it is always bright, with antique tin ceilings and slow-moving fans, wooden floors, captain's chairs, and windows that let in the Low Country sun. You could not wish for a more amiable, friendly staff.
Stehling knows his clientele well, and I suspect as many are locals as visitors, all of whom will wait a while for a table in peak hours. I've never had better soft shell crabs with baked cheese grits; scrambled eggs, buttermilk pancakes and country ham for breakfast; and lovely, pale yellow buttermilk pie tinged with lemon and lavished with whipped cream.
In contrast to the many versions of disappointing fried chicken found around Charleston, Hominy Grill's is nonpareil: lightly floured, very carefully fried to achieve an even, golden color, the meat inside very juicy; it is everything that Southerners exalt but so rarely make this well. And the breading never crumbles off the chicken here; it stays intact, so every bite has crunch.
Long before the food media discovered that Charleston was a first-rate restaurant town, Hominy Grill was here, and it is as good as ever, if not better. If practice does indeed make perfect, then the cooks at Hominy Grill must practice very hard and with a lot of care in what they do.