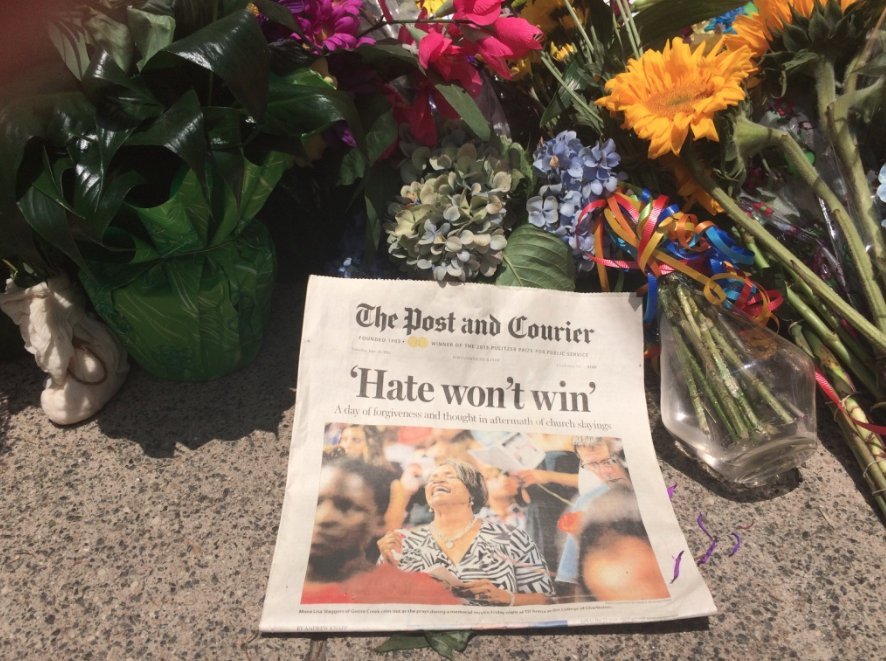 Charleston, S.C. -- Flowers, candles and tears continue to pour into a crowded street near the church where nine black community members lost their lives in a racially motivated mass shooting last Wednesday.
As the mourning continues, the Emanuel African Methodist Episcopal Church plans to reopen its doors for Sunday's service.
Just outside the church, mourners have paid their respects for the past three days, hugging fellow visitors and singing songs of worship in honor of the dead, whom many in the crowd have begun to call "The Beautiful Nine."
Ethel Harrison, 65, was married in that church. Every family member of hers who has died had a funeral there. Now she'll be attending another one for her cousin, 87-year-old shooting victim Susie Jackson.
"It still hurts," Harrison told The Huffington Post. "They didn't deserve this. We are all family, whether we see each other every day or not -- we are a family here."
Harrison said she knew other members of the church who lost their lives, including 70-year-old Ethel Lance, who was an usher and "a very sweet lady."
"They touched the hearts of everybody -- not just here in Charleston, but all over," she said. "I just can't shake it."
Dylann Roof, 21, is the lead suspect in the slayings. Roof sat for an hour during Bible study at the historic black church before turning his gun on the innocent, according to police.
Many who came upon the ever-growing memorial immediately burst into tears, including resident Julie Ginn.
"I just needed to come here and heal with my community, because we are all grieving," Ginn said.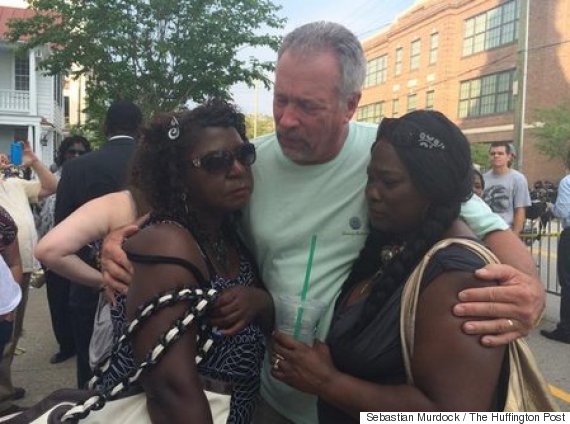 Mourners embrace one another outside Emanuel AME Church.
Through the sadness, there has also been forgiveness.
"I forgive you," Nadine Collier, daughter of victim Ethel Lance, told Roof at his bond hearing Friday. "I will never talk to her ever again, never be able to hold her again. I forgive you and have mercy on your soul. You hurt me, you hurt a lot of people, but I forgive you."
Rev. Curtis Gatewood, who works with the NAACP in Durham, North Carolina, said he came to pay his respects to the fallen.
"These were people willing to teach this young man," Gatewood said. "They let him in, let him sit down. They would have probably given him their last piece of bread if he had asked for it."
He said he felt obligated to drive down because he knew other mourners needed healing and prayer.
"These people here, they love each other," he said. "They understand how bad violence is, and we should be willing to get out of our comfort zones and preach this message of love everywhere. There should be similar rallies at the KKK office, at gang meetings on the streets, at police departments when a cop is willing to shoot an unarmed man. We shouldn't just preach love when it's convenient."
Friday night, community members sang "Amazing Grace" and other spiritual songs in front of the church as strangers held hands and prayed with one another.
On Saturday, congregation members emerged from Emanuel AME and spoke to mourners from the balcony. Several congregation members said the church would reopen Sunday for the regularly scheduled 9:30 service.
"Thank you for your prayers, thank you for your kind words," one man from the group told the assembled crowd. "We are reminded once more and again that our faith is greater than fear and evil in the world. We thank you, God bless you, may heaven smile upon you." The man could not be immediately identified.
Ginn said she's proud of her city.
"We're called the 'Holy City' for a reason," she said. "I'm so proud of this community for epitomizing grace, courage, class, faith and peace."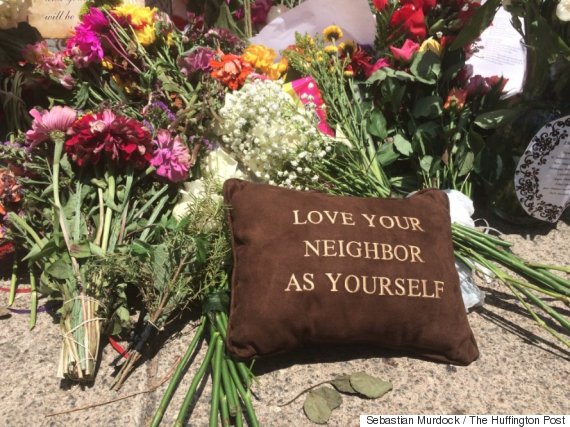 Calling all HuffPost superfans!
Sign up for membership to become a founding member and help shape HuffPost's next chapter