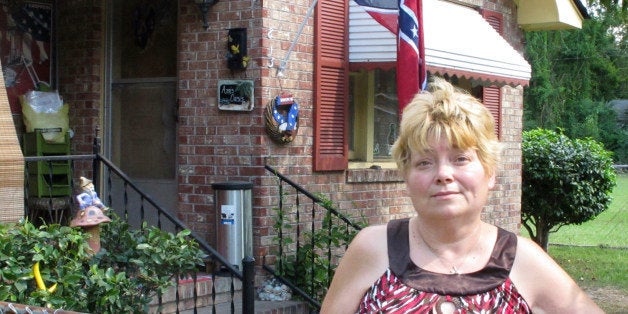 SUMMERVILLE, S.C. -- Annie Caddell proudly flies the Confederate flag in her front yard here in the Charleston suburbs. She maintains a cache of spare flags on her front porch, replacing the one on her white flagpole every few months, after it gets tattered. A visitor to her home -- if the "no trespassing" sign doesn't turn him back -- is greeted near the door by a green, imitation street sign that reads "Confederate Circle."
Caddell said she'll die before her stars and bars stop blowing in the wind.
"Would you let your family history die like that? I don't think so," Caddell, who's "pushing 56," said. "That's tantamount to treason in my family. You just don't do that."
Her neighbors know to take her at her word.
Caddell, who is white, lives in a historically black neighborhood called Brownsville, surrounded by African-American neighbors. She became a source of controversy after she moved here several years ago and made her full-staff statement. As the Charleston Post and Courier reported in a series of stories at the time, outraged residents mounted an emotional campaign aimed at forcing her to remove the flag. They marched. They petitioned. They enlisted the NAACP.
With the cooperation of Caddell's adjacent neighbors, they even erected wooden fences along both sides of her house, aimed at restricting the view. The flag only went higher.
The South may have lost the war, but Caddell won her flag battle. Despite the outcry, the town determined there was nothing it could do legally to compel her to remove it, and many African-American residents agreed it was her right to fly it.
Caddell, who describes herself as a Republican with tea party leanings, said her affection for the flag stems not just from her personal history, but from a mistrust of the federal government. Nearly five years later, she said everyone has long since moved on from the quarrel over her yard.
"It's all calmed down. Nobody's aggravated with me anymore," Caddell told The Huffington Post in an interview on her porch. "They understand it's not a racial thing with me, which I'm very thankful for, because it never was."
Things have certainly calmed down, but Caddell shouldn't be so sure that the aggravation has dissipated.
"Blown over? Nothing's blown over," said Rollins Edwards, 93, who lives two doors from Caddell and served as the first African-American member of the Dorchester County council. "We don't want nothing to remind us of slavery in the morning. To look over there at that flag, I don't like it.
"People come by here and stare in disbelief that that flag is flying in this neighborhood," Rollins, a World War II veteran, added.
The Confederate flag is famously divisive in South Carolina, with many white people calling it a proud badge of Southern heritage, and many African-Americans deeming it a shameful symbol of slavery and plunder. The flag used to fly atop the state capitol; after a heated battle more than a decade ago, it was removed from the capitol dome and made to fly at a Confederate memorial on statehouse grounds instead.
According to a poll commissioned last year by The State newspaper of South Carolina, feelings about the state's sanctioning of the flag unsurprisingly fall along racial lines, with a majority of whites saying it should remain, and a majority of blacks saying it should be removed. "Overall, 61 percent of South Carolinians said the flag should continue to fly where it is, while 33 percent say it should not," the paper's survey found.
Wednesday's racially motivated massacre of nine African-Americans at Emanuel AME Church in downtown Charleston has reignited the debate over flying the rebel flag at the statehouse. Photos of Dylann Roof, the confessed shooter, show him wearing apartheid symbols and leaning against a car with an ornamental license plate bearing tribute to the Confederate states. (After the slaughter, the state flag and U.S. flag at the statehouse were lowered to half-staff in mourning; the Confederate flag, which cannot be moved without decree from the legislature, remained at full-staff.)
Some of the state's Republican politicians have appeared uncomfortable with the issue since the Emanuel murders. Gov. Nikki Haley (R) has previously said there is no need to remove the flag, though on Friday she said she hopes the ensuing debate will have "thoughtful words to be exchanged." Sen. Lindsey Graham, who's making a run for the GOP presidential nomination, said, "It works here, that's what the Statehouse agreed to do. You could probably visit other places in the country near some symbol that doesn't quite strike you right."
Asked about the controversy Friday, White House spokesman Eric Schultz said, "The president has said before he believes the Confederate flag belongs in a museum, and that's still his position."
Caddell's neighbor Edwards marched at the statehouse years ago to have the flag removed. He bristles that the symbol of the Confederacy now seems to fly "more prominently" at the seat of state government than it used to. Although not a common sight in his own neighborhood, it isn't unusual to spot the rebel flag rumbling past on a pickup truck in Edwards' area. There's even a retail shop nearby that specializes in Confederate signage: Dixie Outfitters, which has the tagline "Southern Heritage."
A man and woman working at Dixie Outfitters on Friday politely declined to discuss the statehouse debate.
"We don't do interviews," the man said. "It never works out."
But, referencing the statehouse flag, the woman couldn't help but add, "It ain't coming down."
On that matter, many African-Americans in Brownsville seem to agree, saying the politics are not on their side.
"It's America, man. I don't have no say-so," said Brandon Haynes. "Regular everyday people, you can't stop that."
Although they wince at the flag in Caddell's front yard, many of her neighbors agree that it should be within her rights to fly any flag she wants on her own property. What they struggle to understand is the assertion that the flag is a symbol of proud heritage, given the legacy of slavery.
"It doesn't represent me," said Fred Ellington, 67, who lives three doors from Caddell and is African-American. "What it represents is what happened to our people back in the day. If they want to represent murder, rape, slavery, I don't let that bother me. They're gonna do what they wanna do anyway. It's been going on ever since the beginning of this country, hatred. I don't have to mess with that lady. I haven't never said nothing since she moved here."
"You can call it heritage all you want it. It's a symbol of hate," said Edwards' wife, Juanita.
Like everyone else HuffPost spoke to on the matter, Caddell herself didn't believe the flag at the statehouse would be coming down anytime soon. She said she felt it never should have been moved from the dome in the first place.
"We should never trade our history for anything," she said. "If you can't be proud of where you come from, you're in a sad state of affairs."
As for her own flag, "People just want something to talk about, I guess," she said.
Popular in the Community