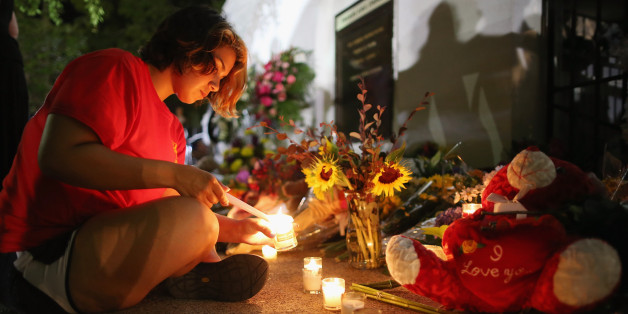 CHARLESTON, S.C. -- Andre McPherson has been coming to the Emanuel AME Church here off and on since 2003. His visit on Thursday night was his first in a couple of years, he said with a hint of guilt, but he felt he owed it to the church leaders and congregation to stop by.
In his more trying days when he was homeless, McPherson said, he often found himself at the doorstep of what's known as "Mother Emanuel." The Charleston resident credits the historic African-American church with helping him get off of drugs.
"This church helped me get me life together," McPherson, 44, said through tears. "It helped me go back to my kids. It helped me get away from a certain street mentality. It helped me have pride."
McPherson was one of hundreds from Charleston and nearby towns who filed by the church doors on Thursday, paying respects to the nine who died after being shot inside the previous night. The suspected gunman, 21-year-old Dylann Roof, had apparently been welcomed as a stranger to the church's regular Wednesday evening Bible study session, spending an hour with the group before opening fire. One woman reportedly said he told her he was letting her go so she could tell the story of what happened.
Roof, who is white, was arrested Thursday in Shelby, North Carolina, and was returned to Charleston to face murder and hate-crime charges. His first court appearance was scheduled for Friday.
Members of the church stood out on Calhoun Street in downtown Charleston on Thursday, gazing up at its facade, bewildered by the massacre. Emanuel AME is close-knit, and members of the church who were interviewed said they knew all nine of the victims personally.
"I knew every single one of them," said Bailee Moutrie, 21, whose whole extended family goes to the church. "Every one of them has a special place in my heart."
Moutrie said it wasn't unusual for a new face to pop into a service or Bible study session and be accepted without questions. She said it was typical for strangers to be encouraged to hang around afterward to meet the pastor, the Rev. Clementa Pinckney, a state senator, who was among those killed in the attack.
"If you wanted to come, we welcomed you with open arms," she said.
"This church particularly is one that never closes its doors to strangers. Everyone is welcome to come in fellowship," said Deborah Capraro, 58, of North Charleston. "I can't wrap my brain around it. ... I cannot believe this 21-year-old man decided to walk into a church and kill black people. How do you wrap your brain around it?"
The procession of mourners Thursday included two of the state's members of Congress, Rep. Mark Sanford and Sen. Lindsey Graham, both Republicans.
"I don't know what makes a person do this," said Graham, whose niece apparently went to school with the alleged shooter. "To go into God's space and do this, I don't know. You can't explain it. ... I go to the Middle East a lot. I've seen hate up close. I've seen communities where everybody has been killed because they're a different religion, and you think that's just over there. Sometimes it's not just over there."
The shooting drew a scrum of television and print reporters to Emanuel AME, marking the second time in a matter of months that the Charleston community has hosted the national media over a story about race. In April, Walter Scott, an African-American man, was shot in the back repeatedly by a white police officer, Michael Slager, in North Charleston. A bystander's video of the killing revealed that Scott was unarmed and fleeing when Slager fired. Slager has been charged with murder.
Pinckney had delivered a speech in May on the Scott shooting, calling for legislation requiring body cameras on police in South Carolina. On Thursday, several outside Emanuel AME noted how soon the massacre came on the heels of the Scott death.
"This city is getting shown for what it really is: a racist-ass city and state," said an African-American man who asked be identified only as "Twenty Three." He has lived in Charleston his whole life, and said he often encounters racism.
"I'm just hoping that in the end, what I believe will come to pass: Jesus will come and take the righteous," he said. "I don't live a peachy-clean life, but I try to live righteously."
"Everyone would love to believe this is a wonderful little tourist town where everyone gets along, but if they dig down deep into the issues, some people are not getting along well at all," said Capraro. "The fact that this happened is shocking to me. But [the gunman] harboring those kinds of feelings, that's not shocking."
As night settled into the quiet street, mourners came lighting candles, talking of prayer and how to move forward. Many, including 26-year-old Cordello Fabers, said they were still trying to process their grief.
"It hasn't hit me yet, it feels like a dream right now," Cordello said.
Cordello said his mother was baptized at Emanuel AME when she was just a child.
"It could have been my own mother who was in that church when it happened," he said. "I've just been looking for answers."
Stephen Grant, 32, said he cried when he heard the news.
The community "is not really even dealing with emotions right now," Grant said. "We're just trying to think about how we can destroy racism. It's the problem no one wants to deal with. Racism is not justifiable, and it's not something you're born with -- it's a behavior."
Jay Satterfield, who is white, has lived down the block from Emanuel AME for seven years, and said he understands his community's struggle with racism.
"Racism isn't going to stop," Satterfield, 25, said. "I hate to say it this way, but it was a matter of time before evil stomped on us. The feeling in this town: I don't know the words to put it in."
REAL LIFE. REAL NEWS. REAL VOICES.
Help us tell more of the stories that matter from voices that too often remain unheard.
BEFORE YOU GO
06/19/2015 10:10 PM EDT
Murdoch Owned New York Post Calls Removal Of Confederate Flag
The New York Post's editorial board joined the chorus opposing South Carolina continuing to fly the Confederate flag at the State Capitol after the shooting at a historic black church in Charleston, writing, "Time to take it down, folks."
The Post is owned by Rupert Murdoch, the current chief executive of 21st Century Fox and its property, the conservative Fox News.
More from the Post:
Yes, some white Southerners point to it as a symbol of regional pride. But it represented a bloody rebellion against the United States in defense of slavery.

...

The Confederate flag isn't quite as clear-cut; many no doubt honestly display it to honor ancestors or just the "rebel spirit." But at core it remains the emblem of those who fought to defend secession and slavery.

That flag has no place on any government institution.
06/19/2015 9:13 PM EDT
Reverend Makes Fervent Call To Take Down Confederate Flag
During a Friday night vigil for the victims in the shooting at a Charleston church, Rev. Nelson Rivers III of Charity Missionary Baptist Church offered support to the families of those killed, and made an impassioned call for the Confederate flag to be removed from the South Carolina State Capitol.
Reverend Calls For Confederate Flag To Come Down

During a Friday vigil for the victims of the Charleston church shooting, Rev. Nelson Rivers III passionately called for South Carolina to take the Confederate flag down from the state Capitol.See what else was said at the vigil http://www.buzzfeed.com/jimdalrympleii/charleston-shooter-failed-miserably-to-divide-city-mayor-say?bffbnews&utm_term=4ldqpho#4ldqpho

Posted by BuzzFeed News on Friday, June 19, 2015
(h/t BuzzFeed News)
06/19/2015 8:57 PM EDT
Lawmakers Moving Away Confederate Flag
On Friday night, Sen. Tim Scott (R-SC) tweeted, "We will have many conversations over the coming days and weeks, and the placement of the Confederate flag will certainly be one of those topics."
Also, South Carolina State Rep. Norman Brannon (R) told MSNBC that he would sponsor a bill that would "take down" the Confederate flag from state government buildings.
SC state Rep. Todd Rutherford just told @chrislhayes that a Republican state rep, Doug Brannon, will sponsor bill to remove Confederate flag

— Steve Kornacki (@SteveKornacki) June 20, 2015
.@RepRutherford just announced on MSNBC that GOP State Rep Doug Brannon has agreed to sponsor a bill to take down the confederate flag in SC

— Tyler Jones (@TylerMJones) June 20, 2015
06/19/2015 7:25 PM EDT
Martin O'Malley Is 'Pissed,' Calls For Assault Weapons Ban
Democratic presidential candidate Martin O'Malley didn't mince words in the wake of the massacre of nine people at a historic black church in Charleston.
"I'm pissed," the former Maryland governor said in a Friday email to supporters, in which he derided Congress for its inability to pass tighter gun control measures.
"I'm pissed that after an unthinkable tragedy like the one in South Carolina yesterday, instead of jumping to act, we sit back and wait for the appropriate moment to say what we're all thinking: that this is not the America we want to be living in," O'Malley wrote.
Read more here. -- Kim Bellware
06/19/2015 7:12 PM EDT
What It's Like To Be Black And Live Under A White Neighbor's Confederate Flag HuffPost's Dave
HuffPost's Dave Jamieson reports from Summerville, South Carolina, just outside Charleston: Annie Caddell proudly flies the Confederate flag in her front yard here in the Charleston suburbs. She maintains a cache of spare flags on her front porch, replacing the one on her white flagpole every few months, after it gets tattered. A visitor to her home -- if the "no trespassing" sign doesn't turn him back -- is greeted near the door by a green, imitation street sign that reads "Confederate Circle."
Caddell said she'll die before her stars and bars stop blowing in the wind.
"Would you let your family history die like that? I don't think so," Caddell, who's "pushing 56," said. "That's tantamount to treason in my family. You just don't do that."
Her neighbors know to take her at her word. Read more here.
06/19/2015 7:06 PM EDT
Louisiana Gov. Orders Flags To Half-Staff
In a statement, Louisiana Gov. Bobby Jindal said, "Out of respect for those murdered in Charleston, I issued an Executive Order to fly flags over state buildings at half-staff."
06/19/2015 5:39 PM EDT
Roof Family: Shock, Grief Over Shooting
The family of suspected Charlotte church shooter Dylann Roof issued a statement on Friday night, expressing shock over the killings, and offering sympathies and condolences to families of victims.
JUST IN: Roof family statement: 'Words cannot express our shock, grief and disbelief as to what happened that night.' #CharlestonShooting

— WSOCTV (@wsoctv) June 19, 2015
Roof family statement pic.twitter.com/wtPAPNhqUn

— Rodrigo (@RodrigoEBR) June 19, 2015
The full statement:
Words cannot express our shock, grief and disbelief as to what happened that night," the statement continues.

Our thoughts and prayers are with the families and friends of those killed this week. We have all been touched by the moving words from the victim's families offering God's forgiveness and love in the face of such horrible suffering.
06/19/2015 4:08 PM EDT
Rick Santorum: Charleston Shooting 'Clearly' Motivated By Race
Former Pennsylvania Sen. Rick Santorum (R) didn't equivocate Friday when asked about the nature of an attack by a white gunman on a historic black church in Charleston, South Carolina.
"It was clearly racially motivated. Clearly," Santorum told The Huffington Post at the Faith & Freedom Coalition Conference in Washington, D.C.
The presidential candidate took issue with news reports that said he blamed the attack on a broader assault against religious liberty. He explained that he didn't know all the facts when he was first asked about the shooting on Thursday morning.
Read the full story here.
-- Igor Bobic
06/19/2015 4:07 PM EDT
Justice Department To Expedite $29 Million Grant Funding To South Carolina For Victim Assistance
The Department of Justice will expedite a $29 million formula victim assistant grant funding to South Carolina, according to DOJ spokesman Kevin Lewis. Some of the grant funding can be used to help victims of the recent tragedy at Emmanuel AME Church in Charleston, S.C.
--Ryan Reilly