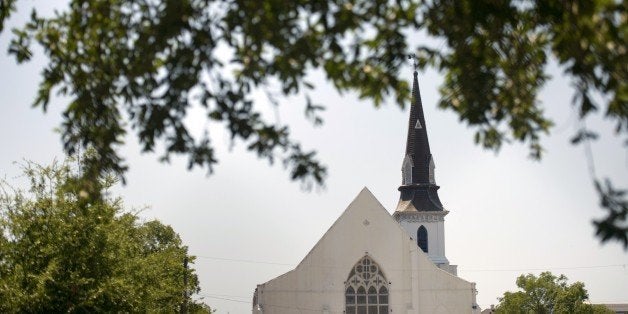 Following the mass shooting Wednesday night at a historic black church in Charleston, South Carolina, some conservatives have suggested that the tragedy had less to do with race and more to do with a supposed anti-Christian vendetta. A closer look at the neighborhood, however, reveals the shakiness of that theory.
Suspected shooter Dylann Roof, a 21-year-old white man who chose as his Facebook profile image a photo of himself sporting pro-apartheid paraphernalia, allegedly entered the Emanuel African Methodist Episcopal Church Wednesday evening and began shooting during a weekly Bible study class. Nine people were killed.
The following day, E.W. Jackson, a conservative pundit and Christian minister, appeared on "Fox & Friends" and suggested the shooting was connected to "a rising hostility against Christians across this country because of our Biblical views." Co-host Steve Doocy echoed the sentiment and questioned the logic of calling the massacre a "hate crime."
"Extraordinarily, [law enforcement] called it a hate crime," said Doocy. "Some look at it because it was a white guy apparently at a black church. But you just made a great point a moment ago about hostility towards Christians. And it was a church. So maybe that's what they're talking about. They haven't explained it to us."
However, a glance at the neighborhood surrounding the AME Church -- which is the oldest African Methodist Episcopal church in the South, and was founded by former slave Denmark Vesey -- shows there are numerous other Christian houses of worship in the area. It's worth asking, then, why a gunman simply looking to target Christians would have chosen this particular church.
As the victims become publicly identified -- among them state Sen. Clementa Pinckney -- we must acknowledge that this atrocious act occurred inside one of the nation's oldest and most prominent black churches, making it hard to argue against the logical assumptions that all of the victims are black. More importantly, despite few specific details about the gunman's motives, it would be remiss not to consider this wicked act of violence as one of racial hate and terrorism. It appears steeped in the repulsive reality of race in America and the injustice it has forged against black lives everywhere.
"He was big into segregation and other stuff," Tyler told ABC. "He said he wanted to start a civil war. He said he was going to do something like that and then kill himself."
The FBI, the Department of Justice's Civil Rights Division and the U.S. attorney's office are opening a hate crime investigation into the shooting. Roof was captured Thursday afternoon during a traffic stop in Shelby, North Carolina, after a call was made by a local florist.

Support HuffPost
The Stakes Have Never Been Higher
Related
Popular in the Community