CHARLESTON, S.C. -- It was almost a year ago that the "Holy City" of Charleston saw its day of hell. But if the accused killer of nine innocent black parishioners thought he could shake the faith of the church he sought to violate, this week's Bible study proved him wrong.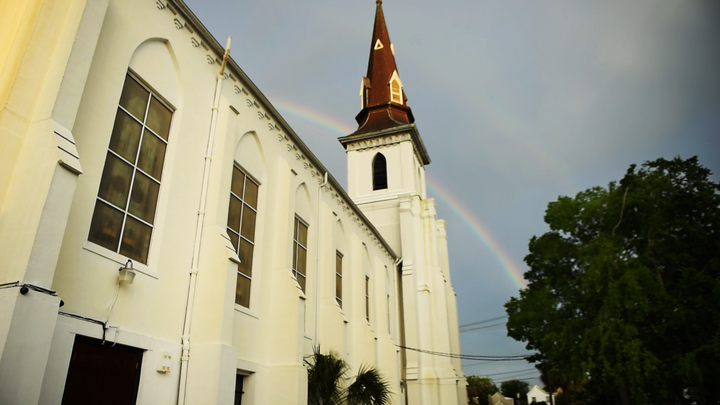 Close to 200 people filled the pews of Emanuel AME Church on Wednesday evening to pray and study the Bible. Rev. Anthony Thompson, who led the service, read the same passages that were read the night a white supremacist allegedly entered the sanctuary and opened fire. That night, the verses were read by Myra Thompson -- his wife. She was among those killed, along with Cynthia Hurd, Ethel Lance, Susie Jackson, Daniel Simmons, Tywanza Sanders, Sharonda Coleman, DePayne Middleton-Doctor and Clementa Pinckney, who was the pastor of the church.
"Like Abraham, change has to first start in each one of us," Rev. Thompson said to the congregation after reading a verse from Genesis 12. "We can't just believe God and expect mountains to move, walls to come down, wars to be won and our lives to be changed. The change has to first start with you and me."
The historic church, affectionately called Mother Emanuel, was founded in 1816 by members of the black community who left their Methodist church over racial discrimination. In 1822, white supremacists burned the church to the ground. In 1834, local laws made black churches illegal, forcing Emanuel's members to meet in secret until the end of the Civil War. And on June 17, 2015, a white man with a gun massacred nine of its flock. And yet, church services still continue.
Thomas Rose, 66, was born in Mother Emanuel. He and his family attend Bible study every week. He was at the church the night of the killings, but left an hour before the shootings started to attend a service at another church with his sister.
"I still haven't recovered," Rose said. "It's just gonna take a while. I forgive the guy for doing what he did, but he took away [my family members]. That's something I'll never get over."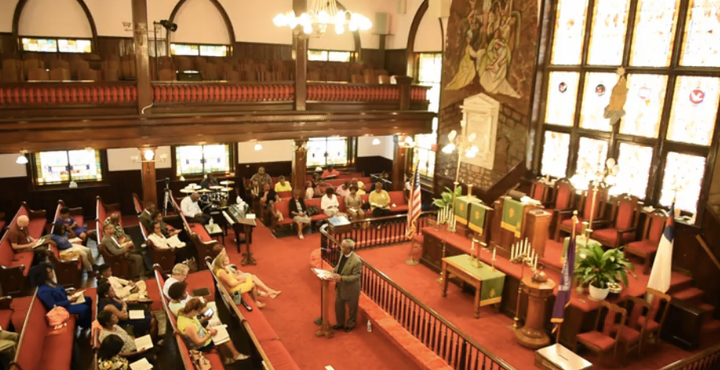 Thompson and Kylon Middleton, the pastor of Mount Zion AME Church, both spoke of forgiveness during Wednesday's service, as women fanned themselves to abate the sticky heat. Soft sunset light glowed through the ornate stained glass depicting Jesus on the cross, and a massive organ overlooked the congregation. There was laughter and singing, and tragedy would have seemed far away if not for the police officers guarding every entrance, who served as a constant reminder of what took place there.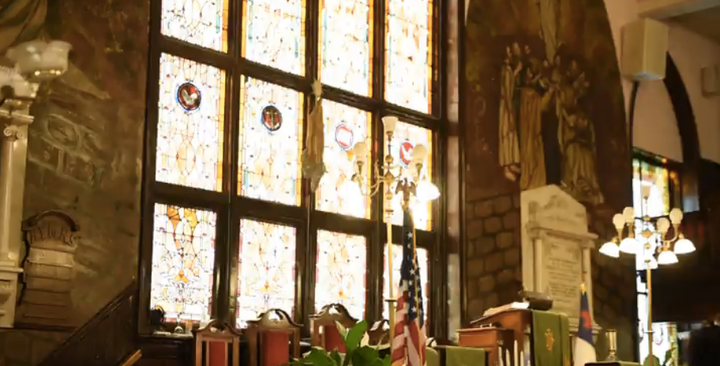 Middleton grew up with Pinckney, who was killed in the shooting. They both started preaching at a young age, moving through the church ranks together.
"As children who were very gregarious, precocious, ambitious, we became fast friends," Middleton said.
Now, Middleton's goal is to help secure the future of Pinckney's wife and daughters.
Since the tragedy, visitors pilgrimage to the church to "feel and embrace the spirit of those individuals who were tragically murdered in this place," Middleton said. The shooting has opened the eyes of those ignorant to the racial injustices the black community faces, but there's still a long way to go.
"We've been saying this all along, and people have not been listening," he said. "Because if you were a black person who then was militant in your portrayal of the injustices and atrocities that occur in Charleston, systemically and institutionally, then you became the angry black person."
But those at the Bible study last year certainly didn't fit that stereotype. They were murdered anyway.
"The perpetrator came in and violated them, and certainly assassinated them in their holy, sacred space," Middleton said. "So this opened the eyes to people who thought black people had to do something in order for something retaliatory to be done to them."
Despite it all -- the pain, sorrow, anger and loss -- Middleton still took the pulpit to speak to the congregation. They stood and prayed as he spoke of forgiveness, his voice rising with each name of those lost as a choir sang "I Give Myself Away."
He shouted prayers for the families of the Charleston Nine. And in keeping with the spirit of forgiveness, he shouted prayers for one more family -- the family of Dylann Roof.
Popular in the Community