After a white gunman opened fire at a historic black church and killed nine people in Charleston, South Carolina, on Wednesday, the city came together to reflect on the tragedy and mourn the victims. From simple gestures of kindness to supporting the victims' loved ones, Charlestonians mobilized to create an incredible show of solace and strength.
Local Businesses, From Airlines To Food Trucks, Donate To Victims' Fund
A number of local eateries and businesses donated to the Mother Emanuel Hope Fund, which was created by Mayor Joe Riley to help support the Emanuel AME church, cover funeral expenses and provide counseling services. Some establishments set aside portions of their sales for the fund, while others came up with creative ways to encourage customers to donate, or made generous contributions themselves.
Edmunds Oast, a local brewpub, made a $7,813 donation to the fund -- the total of its Wednesday night drink sales.
Owner Scott Shor told The Huffington Post that he and his staff were devastated by the shooting, but wanted to find a way to give back.
"There's nothing that we can do that would help lessen the pain the families would be feeling," Shor said, but, "we wanted to do something tangible that would impact, in some small positive way, the people who are immediately affected by the tragedy."
He added, "Charleston is a town that supports one another. People are going to be looking for ways to help."
"Our community is experiencing immense grief and mourning as we all try to come to grips with this horrible tragedy. But our community is revealing its strong character as well, which is rooted in courage, hope and resolve," Beverly Wyse, Boeing South Carolina vice president and general manager, said in a statement.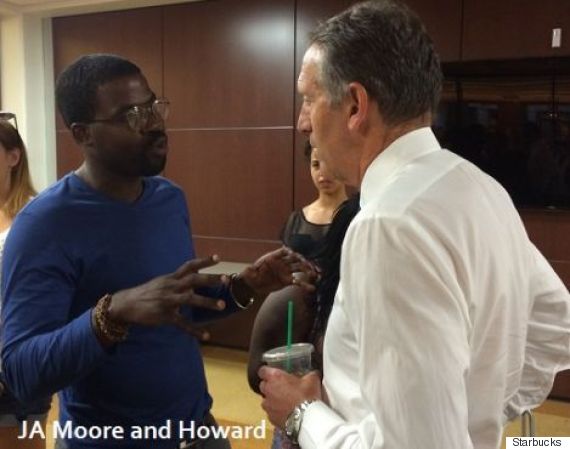 Starbucks CEO Howard Schultz, right, speaking with J.A. Moore, left.
Coffee giant Starbucks also offered its support to victims' families. CEO Howard Schultz headed to Charleston on Friday and met with baristas and managers in three of the chain's stores, as well as a former employee, J.A. Moore, whose half-sister, Myra Thompson, was killed in the shooting. Schultz participated in a forum for the employees, and listened to their stories after the tragedy. The CEO announced that the Starbucks Foundation would donate $50,000 to the Mother Emanuel Hope Fund, as well as another $50,000 to the Lowcountry Ministries -- Reverend Pinckney Fund, which was created to help continue the service work of victim Clementa Pinckney.
"I'm deeply sorry on behalf of our entire company for all that you are going through. Living in this beautiful, historic city it's tragic this could happen," Schultz told employees. "Please take care of one another, and know that together, we will not be bystanders."
Other local businesses donated as well.
Messages of Love and Support Are Being Publicly Displayed
A Landscaper Etches Sharonda Singleton's Initials Into The Grass -- And Our Hearts
The Faith Community Calls On The City To Ring Bells In Solidarity
Participating churches in the Charleston area plan to ring their bells at 10 a.m. on Sunday to show that they are standing together, according to Charleston Area Convention & Visitors Bureau's Facebook page. The event is open to residents, who are invited to stand outside the churches during the event and ring bells of their own.
A Local Baseball Team Shows That True Sportsmanship Means Supporting Its City
The Charleston RiverDogs, a minor league baseball team, announced that it would donate the proceeds from Thursday night's ballgame to the Mother Emanuel Hope Fund.
"We all personally feel the grief of the horrifying tragedy that struck our community last night," said RiverDogs General Manager Dave Echols. "Our hearts and prayers are with the families of the victims involved and with the law enforcement agencies working tirelessly in the wake of last night's appalling and shocking event."
Even The Youngest Residents Rally For Their Community
The Internet Stands With Charleston
Social media campaigns like #CharlestonStrong, #StandWithCharleston and #PrayForCharleston began trending following the shooting. Internet users quickly rallied around the city, offering words of empathy and compassion.
Friends And Strangers Lend Shoulders To Victims' Families
A memorial for Sharonda Coleman-Singleton, one of the victims, was held on Thursday in the gymnasium at Goose Creek High School, where she was the head girls track and field coach, the Daily Beast reported. The entire arena held hands and listened to speeches given by students and fellow faculty members. At the service's conclusion, guests gathered in a long line waiting to give hugs to the Singleton family.
And Finally, Residents Continue To Find The Beauty In Their City
Kate Abbey-Lambertz contributed reporting to this story.
REAL LIFE. REAL NEWS. REAL VOICES.
Help us tell more of the stories that matter from voices that too often remain unheard.
BEFORE YOU GO
PHOTO GALLERY
Charleston Shooting