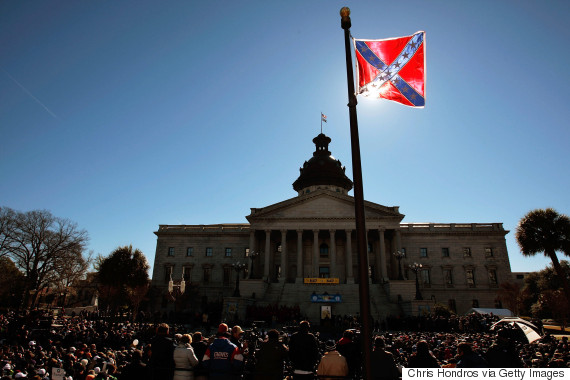 A Confederate flag that's part of a Civil War memorial on the grounds of the South Carolina State House flies over a Martin Luther King Day rally January 21, 2008, in Columbia, South Carolina. (Photo by Chris Hondros/Getty Images)
The fact that the Confederate flag was waving high in the state capital of Columbia hours after suspected gunman Dylann Roof carried out what's believed to be a racially motivated attack sparked outrage.
"It's up there," Will Whitson, a Columbia-based state reporter for Raycom Media, told The Huffington Post Thursday afternoon. "One thing is, I don't think the flag is on a pulley -- so even if they wanted to put it at half-staff, they couldn't. And to remove it from the grounds would require a legislative vote."
A large Confederate flag used to fly over the Capitol dome, along with the American flag and the South Carolina flag, but was removed in 2000. However, a smaller version of the flag still flies on statehouse grounds, next to the Confederate Soldier's Monument.
The flag is held in place by a padlock, State Sen. Vincent Sheheen (D) said.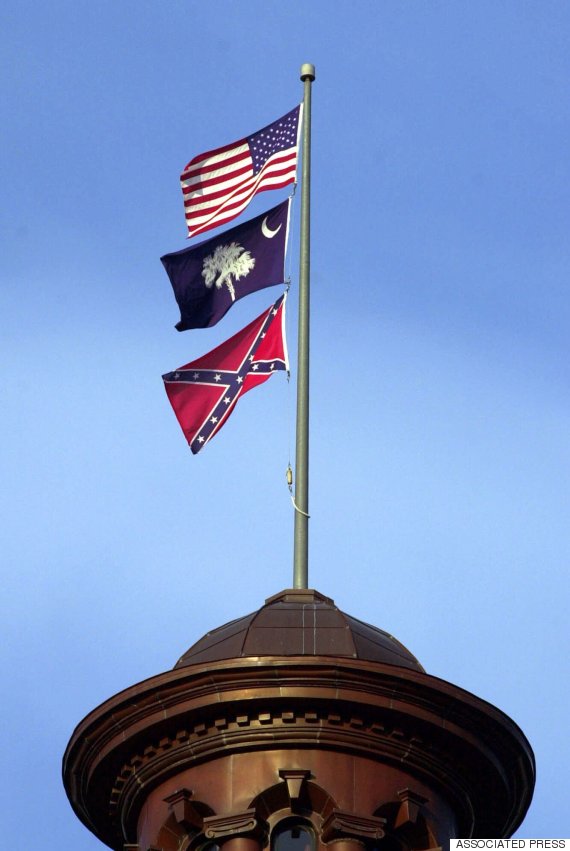 The Confederate flag flies on the dome of the Statehouse in Columbia, S.C., Friday, June 30, 2000. (AP Photo/Eric Draper)
Twitter users Thursday urged people to call Gov. Nikki Haley (R) and demand the flag be removed. By law, however, the flag can't be moved.
The Confederate flag's presence on the statehouse grounds remains legally protected under the 2000 South Carolina Heritage Act, which also stipulates that streets, parks and other public areas named for historical figures may not be renamed without a two-thirds vote from the state General Assembly.
"I think there is a divide about people's perceptions and understanding of what a Confederate battle flag is," Sheheen told HuffPost. "To some people, it truly is about heritage. To others, it is about racial oppression. To me, regardless of which understanding you have about it, it's still something that divides us."
He said "there are good people on both sides of the issue," adding that the debate about the flag should not be about declaring a right and wrong side but rather about finding a way to unify a state with a "raw history of racism."
"I don't say 'get rid of [the flag],' because it is a part of our history. But do you want to fly a symbol that's divisive on our front steps of the state house?" Sheheen said. "Let's put it in a place where we can tell its story, and thousands of people can see it in a more appropriate place."
Sheheen has been calling for the flag's removal since last year, though Columbia newspaper The State notes challenging the flag is a politically poisonous move.
"If you touch it, you usually die politically," Scott Buchanan, a political science professor at The Citadel, told The State in 2014 about the risk of broaching the flag removal question. Sheheen, who made the flag's removal a key part of his gubernatorial campaign, lost to Haley in 2014.
Among the reasons Haley gave to keep the flag on statehouse grounds was that it hasn't hurt South Carolina's ability to attract or retain business.
"What I can tell you is over the last three and a half years, I spent a lot of my days on the phones with CEOs and recruiting jobs to this state," Haley said during a 2014 debate. "I can honestly say I have not had one conversation with a single CEO about the Confederate flag."
Thursday morning, several lawmakers reportedly removed another controversial flag they used to decorate their desks. They took down their Gadsden flags -- which portrays a coiled snake and a "Don't Tread On Me" slogan that some view as a pro-Confederacy symbol -- from their statehouse desks out of respect for Rev. State Sen. Clementa Pinckney, who was among the victims of the Emanuel African Methodist Episcopal Church shooting.
UPDATE, 6/18, 5:50 p.m. -- On Thursday afternoon, Haley directed that flags be flown at half-staff for nine days -- one day for each of the victims at Emanuel AME church -- through the end of the day on Saturday, June 27.
The South Carolina Division Of General Services did not immediately return calls seeking clarification over whether the Confederate flag was included in Haley's directive.
Before You Go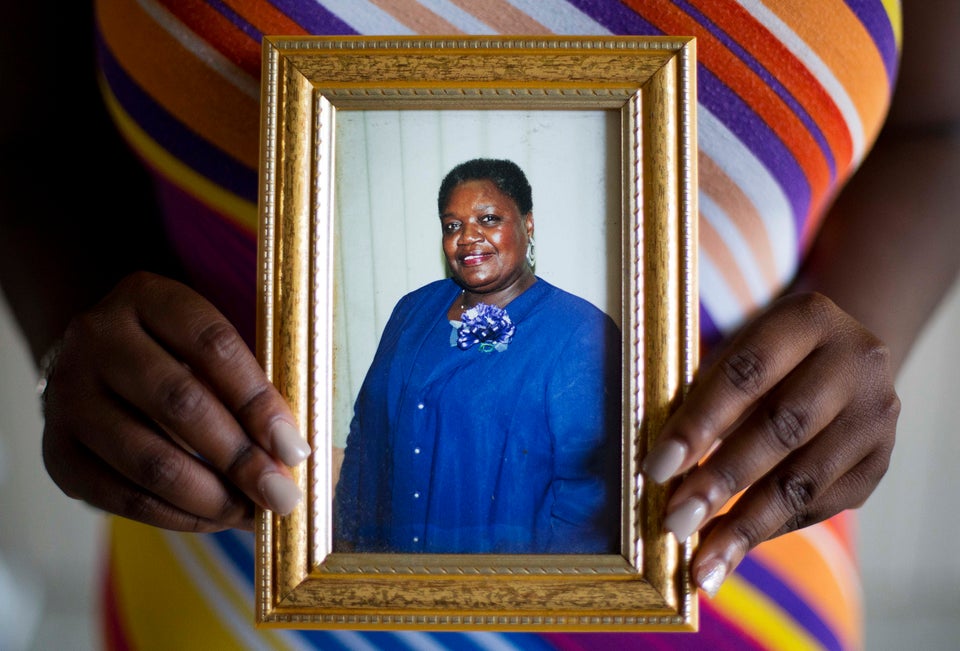 Charleston Church Shooting Victims
Popular in the Community