The 21-year-old man suspected of fatally shooting nine people at a South Carolina church on Wednesday received a gun for his most recent birthday, his uncle said on Thursday.
Carson Cowles told Reuters and the New York Daily News that his nephew, Dylann Storm Roof, got a .45-caliber pistol from his father for his 21st birthday in April.
Roof is accused of opening fire at Charleston's Emanuel African Methodist Episcopal Church, a historic black church, on Wednesday night. He was taken into custody on Thursday during a traffic stop in Shelby, North Carolina, about 245 miles from Charleston.
"Nobody in my family had seen anything like this coming," Cowles told Reuters. "I said, if it is him, and when they catch him, he's got to pay for this."
Cowles had stronger words about his nephew in his interview with the Daily News.
"He's a monster, and they need to catch him, and he needs to pay for what he's done," Cowles said before Roof was captured.
Dylann Storm Roof, the suspected shooter in the Charleston, South Carolina, church shooting, was apprehended in North Carolina on Thursday. (Photo: Facebook/Dylann Storm Roof)
Cowles did not immediately return a call for comment from The Huffington Post.
Authorities on Thursday declined to answer questions about the gun that Roof allegedly used in the shooting. U.S. Attorney General Loretta Lynch said she would not discuss aspects of an ongoing investigation, as did Charleston Police Chief Greg Mullen. Both spoke to reporters at separate news conferences on Thursday, shortly after news broke that Storm had been apprehended.
Cowles told Reuters he had previously expressed worries about his nephew to his sister, Root's mother.
"I said he was like 19 years old, he still didn't have a job, a driver's license or anything like that and he just stayed in his room a lot of the time," Cowles said.
In this image taken from video and released by WBTV, police stand near the vehicle that Roof was driving Thursday.(Photo: WBTV via AP)
Related
Before You Go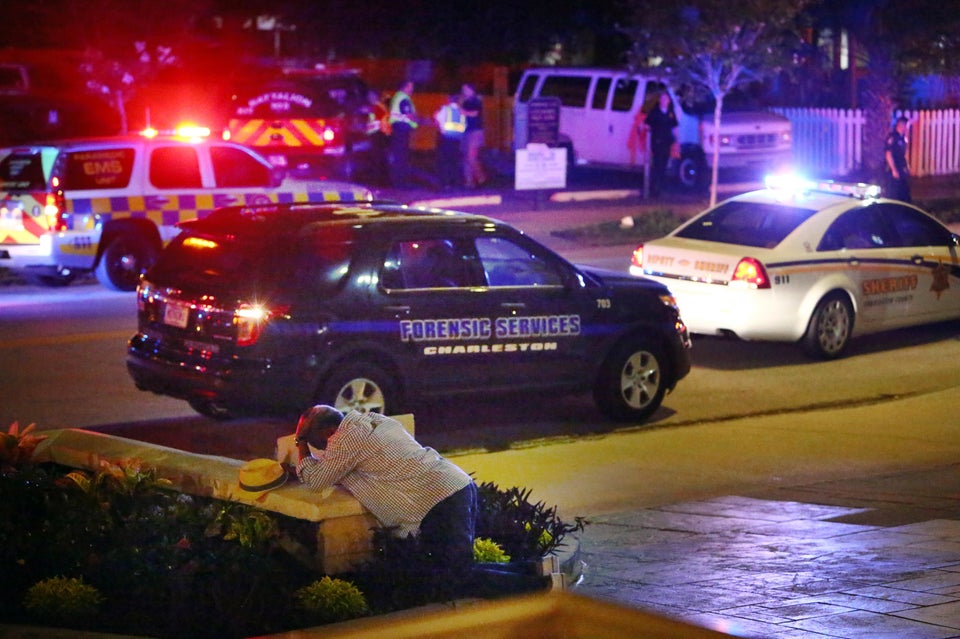 Charleston Shooting
Popular in the Community