CHARLESTON, S.C. -- In Marion Square on Martin Luther King Jr. Day, relatives of those who were killed at the Emanuel AME Church around the corner last June held each other and sobbed.  
The three Democratic presidential candidates, who had debated gun safety legislation just two blocks away the previous night, had departed for Columbia, the state capital, early in the morning. Most of the reporters who had descended upon the city for the debate followed. But the Mother Emanuel survivors, along with the relatives of other shootings, had come to honor their loved ones and question the inevitability of gun violence. They weren't alone in their grief: Charleston's mayor, a state representative, gun safety advocates, various pastors and a survivor of domestic violence reassured them that they all were, as King said, "caught in an inescapable network of mutuality, tied in a single garment of destiny." The rally's speakers expressed a determination to prevent future tragedies.
The church shooting has focused scrutiny on a gap in federal background checks. If a person walks into a gun store and buys a gun, as the accused shooter Dylann Roof did last year, but the requisite background check isn't completed after three days, as Roof's wasn't, the store can proceed with the sale. Some gun sellers, like Walmart, choose not to sell firearms until the check is complete. Others, like the store Roof visited, don't. Gun safety advocates have called this the "default to proceed" loophole, but it's gained a new nickname -- the "Charleston loophole" -- since the shooting last year.
The FBI said after Roof went on his racist rampage that he shouldn't have been able to buy his gun because he had been charged with a misdemeanor last February for possessing Suboxone, a Schedule III narcotic, without a prescription. Data entry and investigative errors meant the FBI didn't see Roof's arrest report until it was too late.
"Isn't it a little embarrassing that this loophole is known as the 'Charleston loophole?'" asked Charleston's Democratic mayor, John Tecklenburg, at the rally.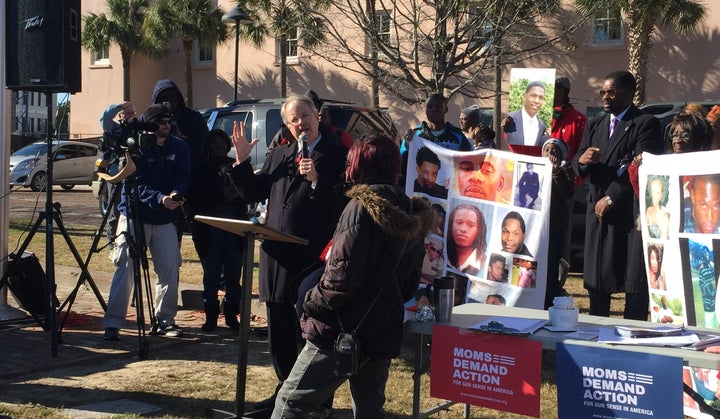 This association might be embarrassing to Tecklenburg. But it's not to Republican state lawmakers, who have vowed to block any legislation that would address gun violence this session. (They do, however, want to pass legislation allowing South Carolinians to carry concealed weapons without a permit.) Republicans opposed to closing the loophole argue that most people who buy guns are law-abiding and that someone who is motivated to kill isn't going to let more stringent background checks prevent them from buying a gun. They have also suggested that closing the loophole is really just cover for imposing other restrictions on gun ownership and that the Charleston shooting shouldn't be exploited to advance gun safety measures.
Hillary Clinton has elevated the loophole to prominence because her rival for the Democratic nomination, Sen. Bernie Sanders (I-Vt.), has some real vulnerabilities in his record on gun control. (Clinton was actually in Charleston, campaigning, the morning of the church shooting.) She has repeatedly noted, including at the debate Sunday, that Sanders voted against the 1993 Brady bill that established the national background checks system. He did, however, vote for an NRA-backed amendment that altered the legislation by requiring instant criminal background checks five years after enactment, though the technology to do so did not exist then. The current three-day period for authorities to complete a background check was a compromise between those who wanted a seven- or 10-day period for checks to be completed, and those, like Sanders, who wanted instant checks.
The candidates tussled over the loophole on the Sunday morning talk shows as they prepared to debate each other that night. Clinton told ABC's George Stephanopoulos that she hoped Sanders would "take a hard look" at the issue. When Stephanopoulos later asked Sanders if he would support closing the loophole, the senator didn't answer the question, instead saying that he has a D-minus rating from the National Rifle Association and has supported banning assault weapons. Stephanopoulos asked the question again.
"Well, that one was a -- you know, we're going to take a look at that as well," Sanders responded. "But the issue here is that what my view has always been, and what is most important, is that we have a strong instant background check. I have supported that from day one and I want to see that expanded and put -- look, at the end of the day, what almost every American understands is we have got to keep guns out of the hands of people who should not have those guns."
What Sanders wasn't acknowledging is that sometimes an instant background check is impossible. The Law Center to Prevent Gun Violence notes that though 91 percent of background checks conducted through the federal system provide an answer almost instantaneously, roughly 9 percent of cases require more investigating. In 2014, the loophole allowed over 2,500 prohibited purchasers to buy guns. Eighteen states, according to the center, have acted on their own to allow more time for background checks.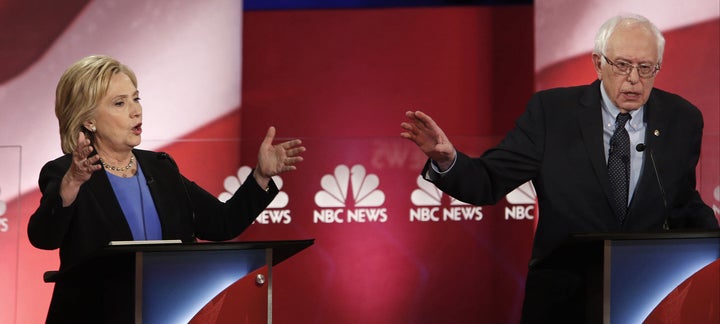 These statistics provide compelling reasons to extend the amount of time authorities have to scrutinize gun purchasers before sales are allowed to proceed. Rep. James Clyburn, South Carolina's only congressional Democrat, has responded by introducing the Background Check Completion Act. And Democratic Sens. Chris Murphy and Richard Blumenthal of Connecticut have done the same in the upper chamber.
Among South Carolinians, the concept of preventing sales from proceeding before a background check is completed is immensely popular. Democratic state Sen. Marlon Kimpson, who represents Charleston and its surrounding areas in the legislature, is sponsoring legislation that would give authorities four weeks to complete a background check before a sale can go through, among other gun safety measures. Multiple Democrats, in both chambers of the legislature, have introduced similar bills.
But Kimpson isn't ready to write off his Republican colleagues yet, even though just one Republican in the legislature -- state Rep. Doug Brannon -- has introduced legislation to extend the time authorities have to complete background checks. In a conversation with The Huffington Post, Kimpson pointed to the bipartisan vote to remove the Confederate battle flag from the state house grounds last year -- in response to the Charleston shooting and Roof's glorification of Confederate symbols -- as "a potential roadmap" for how to pass gun safety legislation. He also noted that the legislature voted, "with lightning speed," to require that police officers wear body cameras after a North Charleston officer shot and killed Walter Scott during a traffic stop in April. 
"People are listening, and I've had some tell me that they're keeping an open mind, particularly on the background check piece," he said. "We have a recent track record of demonstrating that when people keep an open mind, the facts can change hard-core beliefs."
But as more time elapses, lawmakers worry that their quest to close the loophole will only get more challenging. It's an election year, so the loophole has gotten attention from the presidential candidates, but its closure could be stalled for the same reason.
"I have no doubt that if we had waited until today to deal with the Confederate flag issue it would never have come down," said Democratic state Rep. Mia McLeod, who has introduced legislation to prevent gun sales from going through until a background check is completed. "Time has been used as a tool to maintain the status quo."
PHOTO GALLERY
Charleston Church Shooting Victims
REAL LIFE. REAL NEWS. REAL VOICES.
Help us tell more of the stories that matter from voices that too often remain unheard.