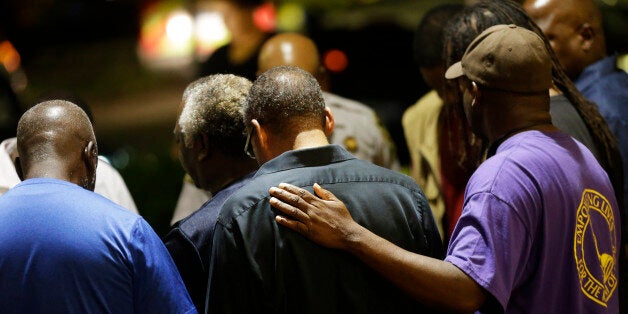 CHARLESTON, S.C., June 18, 2015 -- As I headed to bed Wednesday night, a white gunman shot and killed nine people in an historic black church in the center of town just four blocks from where I used to live. Unaware of the evil, sleep came quickly.
But in the wee hours, the ping of a text from an Australian colleague woke me. I didn't want to read it and tried to go back to sleep. But after tossing and turning, I read the text, only to learn the heart-wrenching news about what was going on a few miles away. I was dazed. Several instant reactions percolated and struggled to the surface:
Deep, utter sadness for victims, their families and their incomprehensible loss. "Mother" Emanuel African Methodist Episcopal Church, ministered by state Sen. Clementa Pinckney who was killed in the senseless shooting, has always been an open, welcoming place, a harbor of comfort, a leader for bringing together black and white.
Shock that something so horrific could happen in the heart of Charleston, one of the world's great small cities. Across the street from the church is one of the best public elementary schools around. Adjacent is a world-class performing arts center that is about to re-open after a long renovation. A couple of blocks away is the main library. In the other direction is a central square used weekly in the summers for a farmers market and just vacated by dozens of artists in town for Spoleto Festival USA.
Anger at a society that continues to glorify the gun culture and makes it easy for nuts to walk into a great place of worship and open fire. A bill to allow anyone to carry concealed weapons without a permit narrowly missed passing in the recent legislative session. Instead of making it easier to get and carry guns, state lawmakers across the country need to make it tougher.
Tired, frustrated and forlorn that some Southerners and Americans just can't get beyond race. Skin has different colors, I tell our children, but people all have red blood, too much of which spilled Wednesday night in Charleston. Right now at 4:30 a.m. in the morning, I don't know what I'll tell them when they wake up and learn that they won't be going to summer day camp because it's four blocks from the scene of the shooting spree.
There's never a good time for a tragedy, especially one of this magnitude that cuts to the core of how a community interacts and relates. But now, just 10 weeks after a white police officer in nearby North Charleston shot an unarmed black man to death after a traffic stop, there's not been enough time for healing from that tragedy before the assault of another.
It's clear that Charleston's police and elected leaders were on top of the gruesome, heartbreaking shooting at Mother Emanuel, quickly branding it as a crime born of pure hate. Religious and other community leaders instantly mobilized to provide solace during the tumult.
What's not clear yet is what Charlestonians will do now that it is on the list of locations of deadly mass shootings along with Blacksburg, Va. (32 dead in 2007), Newtown, Conn. (27 killed, 2012), Killeen, Texas (23 dead, 1991), San Ysidro, Calif. (21 killed, 1984), Littleton, Colo. (13 dead, 1999), Aurora, Colo. (12 killed, 2012).
This list is too long. Instead of waiting for the next shooting at a church, school or theater, something needs to be done to rein in the gun culture in America. Politicians need to stop kowtowing and being fearful of the likes of the National Rifle Association and its lobby. Instead, they need to put in reasonable gun safeguards that allow sportsmen to hunt, but implement ways to stop the senseless killing of good people.
Bang. Bang. Bang. Bang. Bang. Bang. Bang. Bang. Bang.
There's no telling at this hour how many bullets were fired Wednesday night in Charleston, but it's clear there were at least nine in a fairly short time period. That's nine too many.
Andy Brack is editor and publisher of Statehouse Report, a weekly forecast of state policy and politics. He can be reached at: brack@statehousereport.com.
Calling all HuffPost superfans!
Sign up for membership to become a founding member and help shape HuffPost's next chapter