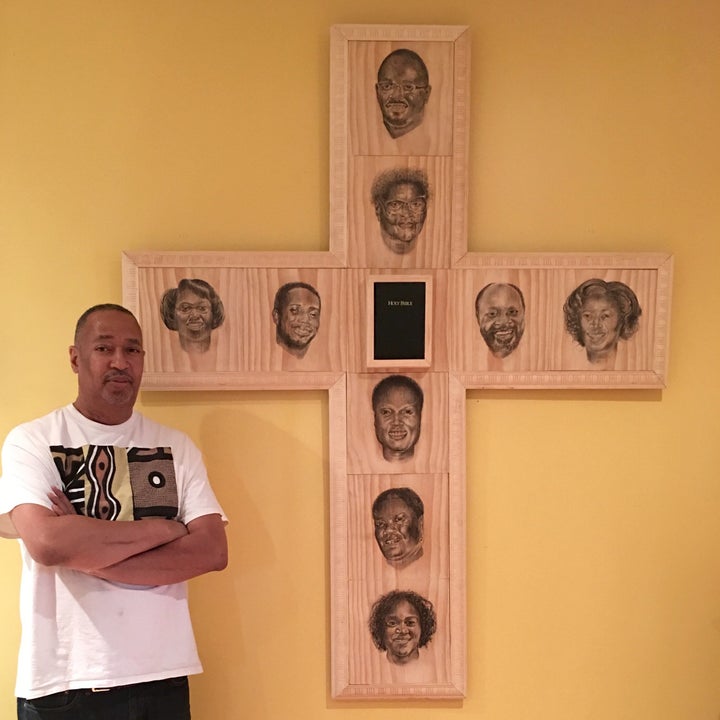 Ronald Freeman simply wants someone to see what he had done.
For a year, Freeman had pondered how best to memorialize the nine black parishioners killed at Emanuel AME Church in Charleston, South Carolina. He was working a lot with wood and he knew that he wanted to draw their images on wood. But how should he portray all them together in one piece of art?
"It just dawned on me to make a cross out of them," he told The Huffington Post.
The materials sat in his studio for a while as Freeman battled with his own emotions. "There is a bit of sadness involved when I get to drawing people who have lost their lives in a violent way," the artist said, adding that he also worried that their families might feel disrespected by it.
He finished building the wooden cross this past July. He drew the faces using charcoal pencils. A Bible at the center of the 6 feet high by 5 feet wide cross symbolizes the Bible Study service at which the victims lost their lives.
Six women and three men died in the shooting at Mother Emanuel: Rev. Clementa Pinckney, Tywanza Sanders, Cynthia Hurd, Rev. Sharonda Coleman-Singleton, Myra Thompson, Ethel Lance, Rev. Daniel Simmons, Rev. DePayne Middleton-Doctor and Susie Jackson. 
Their killer, a white supremacist named Dylann Roof, was convicted earlier this month.
Freeman, who lives in New Jersey, has only been creating art seriously for five years after being laid off from a corporate job at Verizon Wireless. When he completed the cross, he wanted people to see it. A video detailing his artwork has appeared in a New Jersey art gallery, but Freeman hopes the work can be shown more widely, including to the victims' families.
"Even though I don't know them, I was thinking about them and their families," Freeman said.
He tried to contact the church itself but wasn't able to get any substantial leads. Regardless, he thinks his artwork can help people heal while serving as a constant reminder of what happened on June 17, 2015.
"I don't know if I could forgive this guy like that. But ... this is so rooted deep in religion and faith," Freeman said. "They're taught to forgive."
He noted that the parishioners were also demonstrating their Christian faith when they graciously welcomed Roof, a stranger, into their Bible study service. "They had no suspicion in the world," he said.  
Roof laughed as he confessed shortly after his arrest. He'd fired at least 74 shots and used seven magazines, according to evidence found at the crime scene. "Somebody had to do it," he told police officers, adding that "black people are killing white people every day. .... What I did is so minuscule compared to what they do to white people every day."
One final aspect of the horrific story that really stands out for Freeman is how Roof was arrested.
"The fact that he didn't get shot, a bullet that also rings out because they shoot so many unarmed black males," Freeman said. "So you got this guy with a gun, he's a suspect, they pull him over in the car and they didn't so much as pull out their guns."
In fact, some officers did pull out their weapons, but it is shocking to see how quickly they re-holstered them ― well before Roof was under their control.
"It speaks to race, inequality and where we're at right now as far as the inequality of African-Americans," Freeman said. "We got black men being killed for just holding up their hands and they're getting shot to death, running away and they're getting shot to death."
Calling all HuffPost superfans!
Sign up for membership to become a founding member and help shape HuffPost's next chapter
BEFORE YOU GO
PHOTO GALLERY
Charleston Church Shooting Victims