Forgive the "s" alliteration in the headline, but I can't resist.
Everything about Charleston's Spoleto Festival spells summer to a born-and-bred South Carolinian like me: Seersucker. Symphonies. Sopranos. Sweat! Since 1977, this annual music and arts festival has attracted tens of thousands of visitors each May and June to the historic port city, where folks from far and wide come to discover world-class performances in opera, theatre, dance and more.
There's an element of sophistication about Spoleto that sets it apart from similar events in the Southeast, wherein its chamber music concerts in centuries-old cathedrals supplant the usual pickin' and grinnin'. From the minimalist design of its programs and press materials to its genteel (and old-school) handling of technology (no photos or videos at shows, even in the age of the ubiquitous iPhone), Spoleto USA takes its international stature seriously: the relationship to its namesake (a sister festival established in Spoleto, Italy in 1958, also by composer Gian Carlo Menotti) gives it genuine highbrow appeal.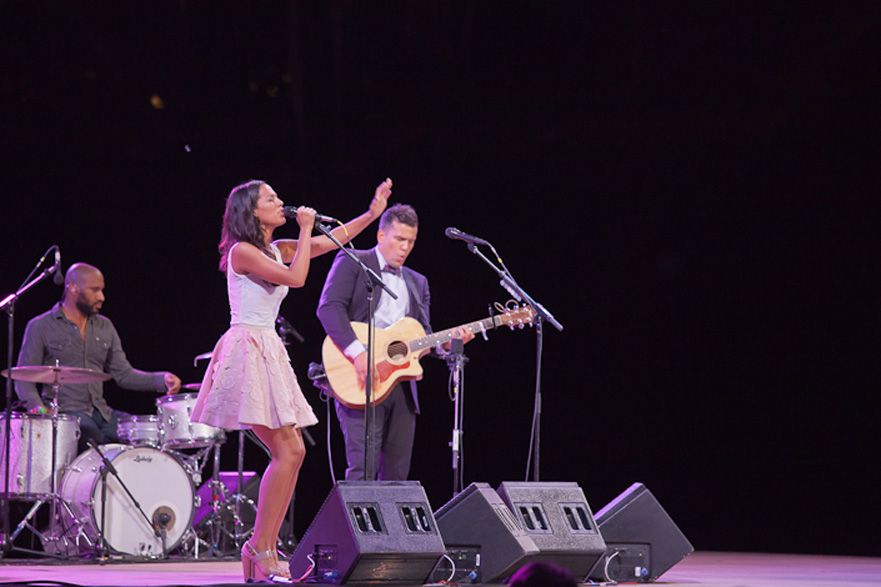 Johnnyswim on stage at the Cistern Yard, Charleston, SC, during Spoleto. Photo by Julia Lynn. Courtesy of Spoleto Festival.
But the true spirit of Spoleto isn't found in the way that Charleston has redressed itself as a gentrified vacation hotspot (although I highly recommend hip hotel Restoration on King) or in the number of Louis Vuitton suitcases that suddenly appear on the baggage carousel at CHS each time Memorial Day rolls around. No, the spirit of Spoleto is found in its parade of notes -- the choral overtones at the Cathedral of St. Luke and St Paul, a clear falsetto underneath the moss-covered oaks at the Cistern Yard, and the call of "Afrika" from the continent's most celebrated female voice.
Although there were plays and puppetry and ballet premieres to be seen, my Spoleto trip this year was all about music and the art of listening.
Charleston had no idea what hit it when Beninese Grammy-winning singer and activist Angelique Kidjo, regarded as one of Africa's greatest cultural ambassadors (and a personal idol of my own), rolled in to town May 30 with her zest for life and stories of female empowerment. Bursting through her greatest hits at TD Arena (in her first appearance in the city ever), Kidjo won over even the stodgiest gray hairs in the crowd, and about a third of the audience danced on stage with her for a finale inspired by her hero, the late South African songstress Miriam Makeba.
As joyous and noisy a procession as Kidjo's show was, a hushed sound made an equally blissful impact earlier in the afternoon, when the Westminster Choir, Spoleto's choir-in-residence, shook souls at one of Charleston's grandest churches. Among works by Debussy and Lutkin, the concert featured new compositions by 27-year-old wunderkind Daniel Elder, whose "The Heart's Reflection" has joined my list of 21st Century favorites. (The Choir's recordings of Elder's work will be sold on iTunes beginning in August.)
One of the nicest surprises of my time at the festival came during an outdoor performance by Nashville-based Johnnyswim last Friday night on the College of Charleston campus. Framed between giant live oaks, the Cistern Yard stage proved to be the perfect place to discover the husband-and-wife duo of Abner Ramirez and Amanda Sudano, who pleasantly churned out their own brand of folk, pop and soul. Like musical road warriors Over the Rhine, Johnnyswim layered lyrical sincerity with unadorned arrangements and vocal sophistication. The gorgeous Sudano's stylized mezzo could be both tough and flowery, but always remained distinct from that of her mother (the late hitmaker Donna Summer). Ramirez's falsetto, a perfect mix of Jeff Buckley and Bruno Mars, is so good - as evening dew settled on the grass, one could hear it literally aching for airplay. (Check out their videos for the irresistible "Bonsoir" and an innocent re-imagining of "La Vie En Rose." I'm a fan!)
Due to some last minute travel changes, I missed Rosanne Cash, one of my most beloved songwriters and performers and also a great supporter of charity and women's rights who made her second appearance at Spoleto (she also appeared in 1993) Sunday night. I'll trust that a local Charleston reporter's description of her onstage at the TD Arena (as a "still gorgeous firecracker" with a voice as "moist as devil's food cake") is plenty apt.

If eschewing trends has become a Spoleto hallmark, then I'd like to say, "Bravo" and "Brava" to the programming team members who assembled such a diverse an unexpected group of performers this year. Any festival can fill seats by hiring whomever's on the pop charts at the moment, but it takes a brave curator to put such sweet, strong voices in the spotlight.

Spoleto continues through June 9.
Calling all HuffPost superfans!
Sign up for membership to become a founding member and help shape HuffPost's next chapter