As a profiler of the "weird" and "wonderful," I am happy to report that in Charleston, South Carolina, unlike many American cities where it's sometimes hard to find anything original, it's hard to find anything that's not completely one-of-a-kind.
It's the only city that has a dance named after it, a 10-term mayor (a Prius-driving Democrat, go figure, in a state that re-elected a famous womanizer on the single merit of being Republican) and weekly full-dress military parades complete with bagpipes.
It has also, for two years now, been voted as the top American city by readers of Conde Nast Traveler. Which goes to prove I'm not the only traveler with a thing for the one-off, quirky and unique.
Here are the top five things you can only find in Charleston, a city that's a good 106 years older than the country in which it resides:
1. A famous arts festival started by a Pulitzer-prize winning composer who had never lived there. Charleston's annual Spoleto Festival, a huge 17-day performing arts festival has been around since 1977 when Italian composer Gian Carlo Menotti wanted the "perfect American city" for a companion festival to the Festival dei Due Mondi he started in Spoleto, Italy. Although the composer of Amahl and the Night Visitors was successful in his original vision of showcasing emerging talent (Twyla Tharp, Yo-Yo Ma, Jean-Yves Thibaudet and Emanual Ax all performed at Spoleto USA early in their careers), he and festival organizers parted ways in the early 90's in a rather torrid fight that caused 19 of 46 board members to resign.
With those days long behind it, Spoleto is still going strong with more than 150 annual late-spring performances of opera, dance, classical music, theater and jazz. It produces its own new operas and has presented more than 100 other international art premieres including Tennesse Williams, "Creve Coeur" and "American Clock" by Arthur Miller. More than 700 local and regional artists are also highlighted at Charleston's Piccolo Spoleto (it happens at the same time) including Atlanta's Seed and Feed Marching Abominable, a marching band of grownups wearing outrageous costumes. As one 70-something dancer said, "It seems to solve the problem of how to have fun as an adult."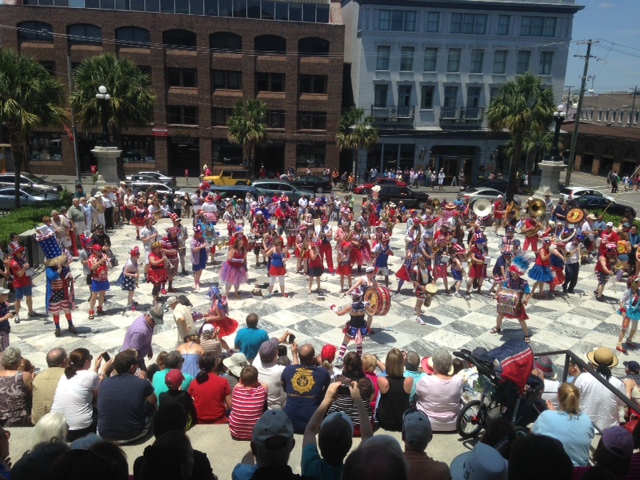 2. Divorce-inducing, muscle-straining hot dogs. The Charleston RiverDogs, a minor league baseball team that, in a decision that had nothing to do with gay rights, used to be called The Charleston Rainbows, sells a half-pound, foot-long hot dog called the Homewrecker. With a possible 25 toppings (everything from pickled okra and cole slaw to sauerkraut and jalapenos), this bad breath-inducing hot dog gave Travel Channel's Adam Richman a run for his gullet on Man vs. Food. The Food Network's Rachel Ray also visited The Joe (the Joseph P. Riley Stadium is named for the country's longest sitting mayor I mentioned earlier) although no reports on whether she tangled with the monster weiner. Fans call also try Bull Dogs, Dixie Dogs, Yankee Dogs and Pig on a Stick, this year's new corn dog wrapped with bacon.
3. A ghost that shows up in broad daylight. Zoe St. Armand, one of hundreds of ghosts still allegedly residing in Charleston, was a spinster school teacher who used to live in a grand Victorian home that, in 1976, became Poogan's Porch, a popular Charleston restaurant that serves killer buttermilk fried chicken. Although Zoe's body rests just north of downtown in Charleston's St. Lawrence Cemetery, her spirit likes to walk into Poogan's ladies' room and to wave at guests across the street. Most people have no idea she's a ghost. Although her round spectacles and long black dress are markedly dated, Zoe's apparition which, at last count, had been photographed more than 200 times looks surprisingly life-like. Police have even been called to investigate "the elderly woman trapped upstairs in a restaurant."
4. A secluded dueler's alley paved with cobblestone from the ballast of colonial ships. Charleston had the country's first community-based historic preservation organization, hobbled only by having survived two wars, an earthquake and numerous hurricanes, so it's not surprising there are still hundreds of glorious restored mansions, quaint cobblestone streets and more history re-enactors than years in its history. There are even a couple old, old trees (the 400-year-old Angel Oak that is reportedly capable of whomping 10 Hogwarts willows and a cypress tree on Grayson Carter's former lumber yard) that won development battles with shopping centers, something that doesn't happen very often.
Tucked away in the French Quarter, between Cumberland and Queen Street and unknown even to some locals, Dueler's Alley (a.ka. Philadelphia Alley) was the official site for settling gentleman's disputes. Some by sword, some by pistol, these duels were sanctioned by South Carolina governor John Lyde Wilson (there was even a code of rules, one of the worst offenses being to insult a woman) and remained popular in the South long after they were outlawed in the North following Aaron's Burr and Alexander Hamilton's 1804 duel.
5. A tea plantation that grows the official White House tea. Despite years of trying, commercial tea cultivation in the United States has never been what you could call successful. In fact, ten years after a US government experimental tea farm outside Summerville, South Carolina was shut down for being "too unstable a climate to sustain the tea crop," the Department of Agriculture issued an 1897 report estimating the minimum cost of picking tea in South Carolina to be eight times that of Asia.
Nevertheless, Dr. Charles Shepard, using seed obtained from China and labor obtained from the kids at the school he built, grew award-winning teas in South Carolina until his death in 1915. In 1963, the Lipton Tea Company moved Shephard's tea plants, that had remarkably survived, to a former potato farm on Wadmalaw Island that, to this day, (although no longer owned by Lipton) grows and harvests tea. The Charleston Tea Plantation's American Classic is overseen by William Barclay Hall, a third generation tea taster.
1. Renaissance Charleston Historic District. With location being everything, especially in a hotel, this four-diamond, boutique-style hotel is right in the heart of everything. 68 Wentworth Street, 843.534.0300.
2. Andrew Pinckney Inn. This B&B, across from Charleston's historic City Market, was named for a second nephew of Charles Pinckney, one of the signers of the Declaration of Independence. 40 Pinckney Street, 843.937.8800.
Related