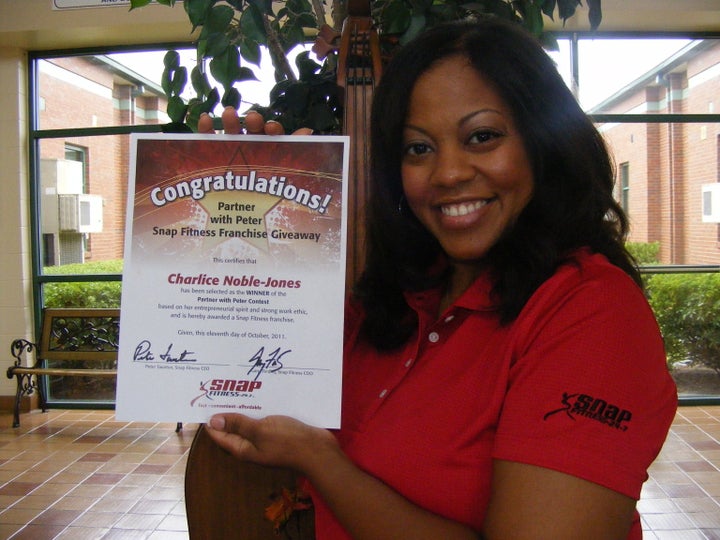 Some people resolve to start the new year losing weight. Others resolve to start a business. Still others work on trying to up their game and simply live the best life that they can. Charlice Noble-Jones is doing all of the above.
If you've ever felt like life is never going to get better, Noble-Jones could be a poster child for not giving up. On 9/11, she was a 25-year-old who had recently become a manager at Deutsche Bank, overseeing 26 employees in a building that was linked by a pedestrian bridge to the south tower of the World Trade Center. She witnessed the horrors on that day, came close to losing her own life and suffered post-traumatic stress disorder. It didn't help her state of mind that her longtime boyfriend, Wardell "Dell" Jones, had just been diagnosed with terminal pancreatic cancer and was told he had three months to live. They wound up marrying (Jones lived another seven years), and though the doctors said Jones' chemotherapy made it impossible for them to have kids, they had a son. In 2008, Noble-Jones was a widow and single parent wondering what her and her son's future held.
A few months ago, the fourth-grade teacher entered an essay and video contest put on by the franchise Snap Fitness. Out of 2,000 people who entered, Noble-Jones won her own fitness franchise, worth an estimated $250,000. We recently asked Noble-Jones about her journey from 9/11 survivor to franchise owner.
Can tell me a little about your 9/11 experience?
I remember it like it was yesterday. I was going to drive down that morning, but I didn't and took the subway. And I told myself to charge my cell phone, but I didn't, and I was going to wear sneakers, but I didn't. It was one of those mornings where you have instincts, but you ignore everything. I arrived at the World Trade Center subway stop and I saw two Port Authority officers running, injured, and I thought, "There must have been a shooting." People were running and shouting to evacuate. And that's about when I saw the north tower and the hole and smoke coming out. There was a circle of women on the ground, kneeling, and they were screaming and pointing at the sky. And there were people jumping out of the windows. I was praying, crying and thinking, "What is going on, and why aren't people helping them?" That decision they had to make that morning -- how you're going to die -- even now, I still pray about it. I went two more steps, and a crowd had formed, and a guy said, "That plane's going to hit the building," and that's when the plane crashed right into the World Trade Center above our heads. The ground shook, and the explosion was louder than I had ever heard in my life, and then I knew we were under attack and wondered if the whole country was under attack. There was a stampede, and as I was turning to run away, I fell on top of the women kneeling to pray, and I couldn't move. I was under a stampede -- men were stepping on me. Then somebody kicked my cell phone, which was lucky. In going after the cell phone, I was suddenly able to stand up, and I started running. I knew I was going to die, but I thought that I'd better run because I wanted to find a better place, so my mom would be able to find my body. I don't know how many blocks I ran, but some ladies stopped me and said, "You've got to stop running. You're bleeding. You don't have shoes." Those people took care of me, but afterward, I still had to get home, so I walked around 100 blocks to Harlem and got home about 2 in the afternoon. And that's when I saw on the news what I had lived through.
What kind of cancer did your late husband die of?
Dell had pancreatic cancer, a rare form that was slow growing. We were both 25. He was told that he had three months to live, and we got seven years. But every three months, he had to have these tests, and everything would be fine during one of these tests, and then things wouldn't be fine, and then they would be. It was a roller coaster. We couldn't dream anymore. We couldn't plan. We could pray. Nobody could take our prayer away. We had prayer and faith and kept going as long as we could.
Two weeks before 9/11. So we were both in survival mode. You don't imagine things like that happening, but that's what my life was like 10 years ago.
And you married, knowing Wardell had cancer.
We knew it was terminal, but we decided we had to prepare for living and not death. We were college sweethearts. We had graduated together, and one of our goals was to get married, and if that was one week or two weeks, then that was part of the plan. We married in 2003, which turned out to be the only year that he wasn't on chemotherapy, which is how we had Preston.
You didn't plan on having kids?
Dell was very concerned about having children when he knew he wouldn't be around. And when we were getting blood tests for our marriage licenses, my doctor asked, "When's the wedding?" And I said September, and he said, "Well, you might want to move that up a bit because you are pregnant." So we got married earlier and planned the whole thing in four months. But that's when we really thought the doctors didn't know what they were talking about, telling us he had three months to live and that we couldn't have children.
So you ended up becoming a teacher.
I took a big paycut, but I wanted to be on the same schedule as my son was, and it was during those 100 blocks that I thought, "Someday, I'm going to be doing work that's really worth doing." And I really love teaching.
And I still teach. That was one of the things with my students. They all said, when they heard I had won this, "Will you please stay?" And I said that I will finish out this year, that I can guarantee that. Now the third graders have asked if I'll stay, and I've said, "Oh, I don't know about that."
But you're now the owner of a business?
Well, that's something Dell and I discussed a lot. Dell wanted us to own a business. He said, "When I die, you'll have that business, and you can sell it or run it, and that'll be like me doing my part in taking care of you." But he got so sick when he was trying to buy a business, and it was the one time he never got better. And this all happened because I'm an emotional eater, and after 9/11, I ate and ate, and right before the contest, I weighed 210 pounds, and I had no energy. My son wanted to exercise and play all the time, and he'd say, "Mommy, don't you want to lose weight?" And when Dell was in chemo, he wanted to go to the gym. He knew if he worked out and exercised and ate right, he would live longer, and I was going to work out with him, but I would binge and eat away my pain. So last summer, I started working out, and I made a commitment to get healthier. My son has one parent, and I was going to live for my son and let him see me healthy. A trainer said to me, at one point, "You should buy a gym," and it was like waking a sleeping giant. I realized I'm a widow and a teacher, and I don't have the money to buy a gym, but I started researching franchises, and that's when I found Snap and fell in love with it and learned about their contest.
How's the fitness training going?
I'm down to 177 pounds. I feel my age, and I look like myself, but I still have 40 pounds to go.
And how will you feel when January 1 comes, and your gym opens? What do you think is going to go through your mind?
I'll cry. I want the people who matter to me the most to be there: my mom, my best friend, my son. Dell will be here in spirit. And that day is when the real work begins, because we will make this work. My son is depending on me to be successful, and I'm going to fulfill that requirement. But I'm going to be excited. I don't even have a sign yet, and when the guy brought me the mirrors, I was jumping up and down, doing cartwheels. I've got a business. I didn't win a dinner or a cruise. I won a business that's in my name. I've got a new start, and I'm thankful above all else. I couldn't have done this on my own.
Name: Charlice Noble-Jones Company: Snap Fitness Age: 35 Location: Hawkinsville, Ga. Founded: 2011 Employees: 1 full-time manager and 2 contract employees Revenue: Undisclosed Website: http://www.snapfitness.com/
Calling all HuffPost superfans!
Sign up for membership to become a founding member and help shape HuffPost's next chapter