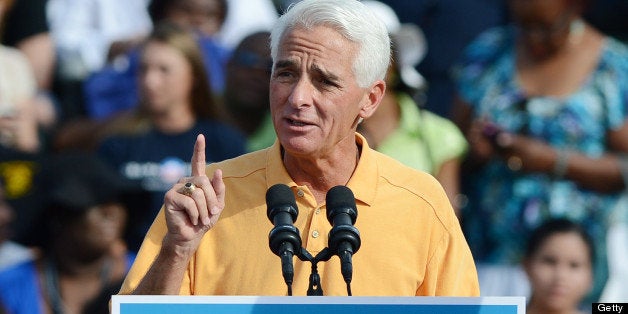 Adam Smith of the Tampa Bay Times reports that former Florida Gov. and one-time Senate aspirant Charlie Crist is writing a book. The book is called The Party's Over. It is about that party, that ended, for Charlie Crist, and it promises to be "no-holds-barred." One thing that you might as well take away from this story is that you can very likely pencil in Crist for a re-run at the Florida statehouse this year, otherwise there doesn't seem to be another plausible reason why Crist would want to play the middleman in the pulping of so many trees.
The full title of Crist's book is The Party's Over: How the Extreme Right Hijacked the GOP and I Became a Democrat. Smith reports that in a statement prepared by the book's publishers for Crist to offer, Crist promises to "share" his "very strong feelings about what's happened to the Republicans," based on his perspective, which is both from "the highest levels" and "the inside."
"I'll describe exactly what I saw and what it made me realize," Crist says. "I have been a Democrat for seven months now. I have found a wonderful new home." You see, one doesn't describe a national political party as a "new home" if one simply wants to remain a private citizen, who votes for Democrats.
So, yeah, it seems Crist is likely going to run for governor. He is also going to probably help drive up sales for Mike Lofgren's 2012 book, The Party Is Over: How Republicans Went Crazy, Democrats Became Useless, and the Middle Class Got Shafted.
According to publicity materials for the book, Crist will also offer "his very frank opinions on Jeb Bush, Mitt Romney, Sarah Palin, and other top-tier Republicans." So remember, this is not a book for people looking for mere "strong feelings" and "frank opinions." This will be a book of VERY strong feelings, and VERY frank opinions. Katy, bar the door, and all of that.
"The Party's Over is as far from 'politics as usual' as you can get," say the publishers. This is wrong. Supplementing your proposed run for office with a quasi-memoir about your very frank opinions is 100 percent "politics as usual."
While Crist's gubernatorial ambitions have been most harshly criticized by another Democrat -- former Florida Chief Financial Officer Alex Sink, who may or may not be considering a run -- the only person who has actually announced that she intends to run is Florida state Sen. Nan Rich. She does not have any plans to write a book that I am aware of, though I suppose she could write one titled, I Was The Person Who Fought To Get A Bestiality Ban Passed, So I Ask You, Florida Democrats, How Likely Is It That I Am Going To Embarrass You One Day? Not Very, Am I Right?
Before You Go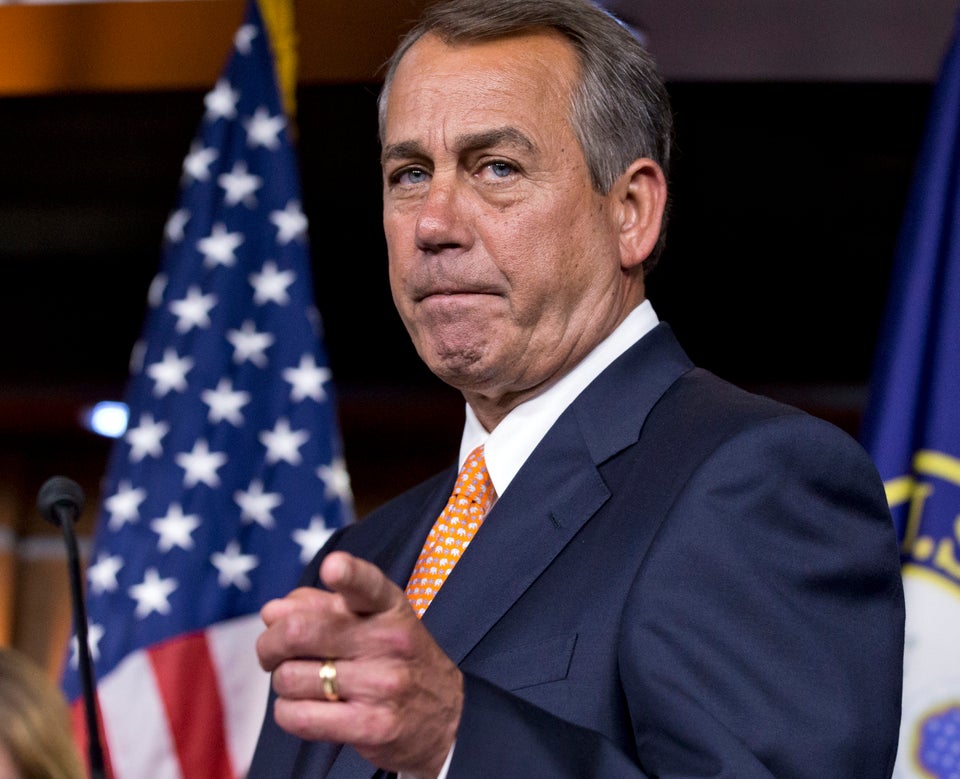 Conservatives Pointing Fingers
Popular in the Community