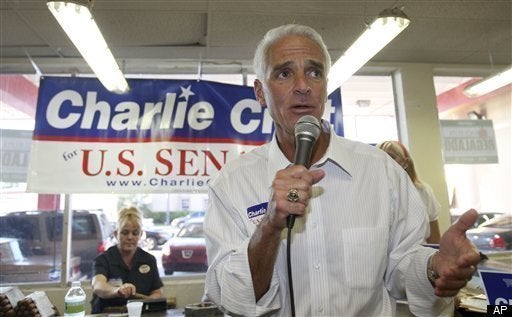 Florida Gov. Charlie Crist denies he had any knowledge of former state GOP chairman Jim Greer's alleged plot to defraud the state party despite accusations that the Republican-turned-independent Senate candidate was involved in the scheme.
Greer attorney Damon Chase recently charged Crist with signing off on the ex-party chair's plan to divert state party funds to pay for his own personal expenses, but according the Florida governor, the claim isn't true.
Here's what Crist had to say about Greer's accusation when asked about the matter on CNN's State of the Union with Candy Crowley over the weekend:
CROWLEY: If I could just interrupt, because the attorney for Jim Greer, who is the former RNC chief, is quoted as saying: "The governor knew about Victory Strategies from the very beginning, they all worked on it together." Is that true?

CRIST: Absolutely untrue. You know, sometimes desperate people say desperate things. And it's very sad.
The St. Petersburg Times reports on Greer's suggestion that Crist played a role in the scheme. Greer, the former Florida GOP chair, was arrested on charges of fraud, felony grand theft, and money laundering last week:
Chase said Greer and Crist discussed the fundraising deal at least three times last year: at the golf tournament in February, over the summer; and in the fall at the Fisher Island home of the governor's wife.

"The governor knew about Victory Strategies from the very beginning," Chase said. "They all worked on it together. ... They saw it as a way to save money."
When news first broke of Greer's arrest, Crist said that he didn't feel "complicit" in the charges of criminal misconduct against Greer and that he doesn't anticipate the ongoing investigation into the allegations will hurt his Senate campaign.

Calling all HuffPost superfans!
Sign up for membership to become a founding member and help shape HuffPost's next chapter