 Get ready for the second coming of Crist.
When Charlie Crist stepped to the microphones Monday in St. Petersburg, he instantly changd the dynamics of Florida politics and set in motion a 52-week campaign that could end up making history: a former governor who switches parties and attempts to unseat his successor.
"The race begins," said Fort Lauderdale Mayor Jack Seiler, who as a top Democrat in the Florida House of Representatives worked closely with Crist when he was the state's Republican governor. "Up until now, there has been a lot of campaigning, but there has not been a race. I think it's officially election season."
After waging a shadow campaign for months, Crist emerged to formally announce he's entering the contest for the Democratic nomination for governor. Members of both parties say Crist's move will immediately catapult the Sunshine State governor's race to the No. 1 contest in the country in the 2014 midterm elections.
Crist said he was launching a "journey to take back our state's destiny." He tore into Republican Gov. Rick Scott as someone who allowed a "revolving door of special interests" to take over Tallahassee.
"What we have here in Florida today isn't working. Tallahassee is out of control," he said. "The voice of the people has been silenced by the financial bullies and the special interests."
Bob Butterworth, the former state attorney general and former Broward sheriff was one of several speakers who introduced Crist. "There's no doubt in my mind that Charlie Crist is the best person at the right time in order to turn Florida around."
Many Democrats, and a fair number of Republicans, see Crist as the only candidate with a realistic chance of ousting Scott in the Nov. 4, 2014, election.
"It portends something we haven't seen yet in Florida politics, just when we thought we've seen it all," said Justin Sayfie, a Fort Lauderdale lawyer-lobbyist who was an aide to former Gov. Jeb Bush. "There's no textbook case study to understand how Florida voters will evaluate Governor Crist's candidacy."
Florida, a politically purple state that's neither hard-core Republican red nor Democratic blue, will be watched as a harbinger of what's to come in the 2016 presidential contest. "We can't overemphasize the importance of this gubernatorial election to 2016," said former U.S. Rep. Robert Wexler, a Democrat who represented Broward and Palm Beach counties.
Crist fans can barely contain their excitement. "Charlie actually personifies 21st Century Florida," said Wexler, whose friendship with Crist goes back to the early 1990s when both were members of the Florida Senate and Crist was a self-described Reagan Republican.
"His is the kind of leadership that Florida needs. Bring it back to the middle. Bring it back to a point of reason," said Wexler, who is president of the Washington-based S. Daniel Abraham Center for Middle East Peace. "Charlie will be the Democratic nominee for governor because he represents the values and the aspirations and the dreams of the vast majority of Democrats in Florida."
Beyond the hyperbole of his supporters, Crist enters the race with huge advantages. He's well-known, he's generally well-liked -- except among Republicans who regard him as a Benedict Arnold -- and he'll be able to raise the tens of millions of dollars a candidate for governor in a large state like Florida needs to advertise on television.
His personality is perhaps his most potent weapon. "He really likes people. He loves people. He loves to be in a crowd," said Mark Alan Siegel, a former Palm Beach County Democratic chairman.
At a fancy political dinner, he'll schmooze with the big shots, but he's unlikely to leave before he can greet all the banquet servers or hotel cleaning staff.
"Charlie Crist is the best retail politician I have ever seen in this state," Seiler said. "He has got an incredibly ability to relate to people and to listen to people and to communicate with people."
Crist acolytes see him as the Democrats' savior, who can bring them back from the electoral wilderness. The party has won just six of the last 22 statewide contests and a Democrat hasn't been elected governor since 1994.
Crist's transformation began in February 2009 when Crist, then the governor, hugged Obama when the new Democratic president visited the state. Once seen as the sure Republican nominee for U.S. Senate in 2010, Crist left the party when it became obvious he'd be defeated by Marco Rubio. He ran for Senate as an independent/no-party-affiliation candidate, losing the general election to Rubio.
Kevin Wagner, a political science professor at Florida Atlantic University, said Crist was in the wrong place during the ascendancy of the tea party in 2010. "He went moderate a couple of years too early. He made a political miscalculation."
Last year, Crist stumped the state on behalf of Obama's re-election and later turned up at a White House Christmas party, showing a form that he used to switch his registration again, becoming a Democrat. This year, he's been touring the state, testing the waters and lining up supporters.
Not everyone is embracing the rebranded Crist.
"I like Charlie Crist as a person, but I call him a doorknob. His head turns like a doorknob in any direction," said Mikkie Belvedere, past president of the Wynmoor Democratic Club and a Coconut Creek city commissioner. "I think it may work against him."
Seiler said the people who are most upset about the change of positions will be stalwart Republicans who wouldn't vote for Crist anyway.
Crist doesn't yet have the nomination to run against Scott, who public opinion polls show has had relatively low popularity since his election in 2010.
Former Florida Senate Minority Leader Nan Rich, of Weston, has been seeking the nomination for more than a year.
Though she's had trouble raising money and polls show she isn't well-known, Rich said she's been building a network of party activists by traveling the state speaking to sometimes small groups of Democrats, putting more than 121,000 miles on the odometer in the past 18 months.
"I know there are people who would like me to get out of this race, but I'm not going to," she said, promising a race "about substance, not style."
Rich said she's bracing for the Crist cyclone on Monday. "The newspapers will be filled with articles dubbing him the front runner," she said. "We'll see. It's a long way from here to Election Day."
aman@tribune.com or 954-356-4550 ___
(c)2013 the Sun Sentinel (Fort Lauderdale, Fla.)
Distributed by MCT Information Services
Before You Go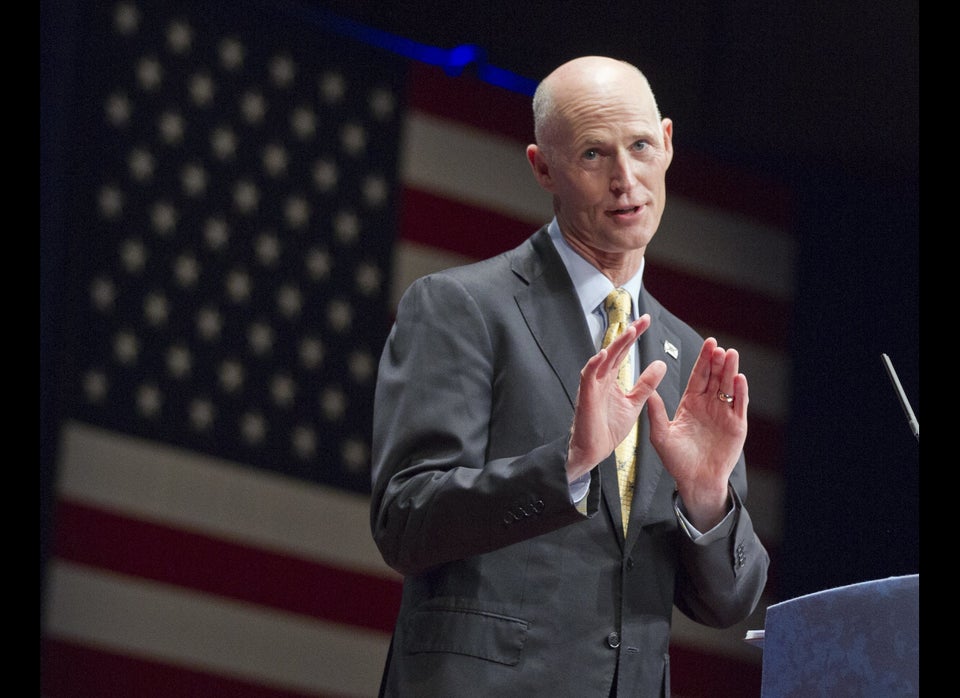 Rick Scott Controversies
Popular in the Community