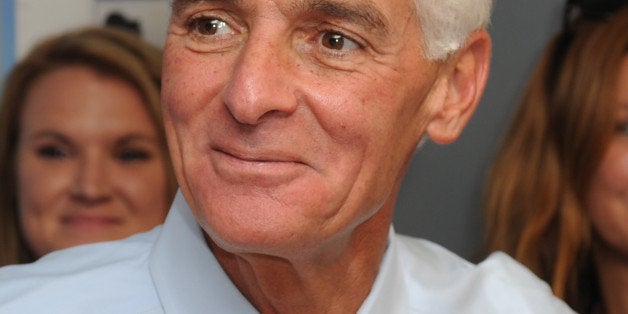 Crist, who served as the Sunshine State's governor from 2007 to 2011, bested his Democratic rival, former state Sen. Nan Rich, in Tuesday's primary. Crist famously left the Republican Party in 2010 after losing a U.S. Senate primary to Marco Rubio. The former-governor officially joined the Democratic Party in December 2012, several months after backing President Barack Obama for re-election. He announced his decision to run in 2014 late last year, less than three years after leaving the Florida statehouse.
Crist will challenge incumbent Gov. Rick Scott (R) in November's general election.
Below, earlier details from the Associated Press:
Crist was once considered a potential running mate for 2008 Republican presidential nominee John McCain, but his political fortunes changed after a widely publicized photo of him hugging President Barack Obama during a 2009 rally in support of the $787 billion federal stimulus. Crist later lost a Senate campaign as an independent and then made the final conversion to Democrat after campaigning heavily for Obama's re-election.
On Sunday, Rich and Crist both shook hands, then both swayed to the gospel music, Rich clapping her hands to the beat. They both also visited the same early voting site at a library in Miami Gardens, where Rich quietly walked through the crowd talking to voters about issues such as education and health care.
By contrast, Crist was surrounded by a large crowd where he posed for pictures and shouted out "I love you" to supporters.
That the two Democrats were campaigning head-to-head was a change from the way the primary has played out over past months. Crist has refused to debate Rich and rarely acknowledged her as a candidate, frustrating Rich and her supporters who wanted an opportunity to point out their differences.
Rich is a lifelong Democrat who has talked of consistency on issues, vowing to keep abortion legal, supporting gay rights and tightening gun laws.
Crist was seeking a strong showing Tuesday to put aside any doubts that Democrats haven't accepted his party conversion. He spent many of the final days before the primary in South Florida, which holds the most Democratic votes.
"It's always important no matter what the election, whether it's a primary election or a general election, to get the vote out," Crist said. "Particularly for the primary, South Florida is a significant focus for us."
And at an earlier church stop in Miami Gardens, Crist let the congregation know he has been converted.
"I've seen the light and I am a Democrat," Crist said. "A Florida Democrat! Praise God!"
For his part, Scott on Monday was expected to announce a series of education proposals in a state where education, along with jobs and the economy, are becoming flashpoints in the governor's race. Scott has been hammered by Crist over school budget cuts that Scott endorsed during his first year as governor.
REAL LIFE. REAL NEWS. REAL VOICES.
Help us tell more of the stories that matter from voices that too often remain unheard.
BEFORE YOU GO
PHOTO GALLERY
Rick Scott Controversies