WASHINGTON -- Former Republican Florida Gov. Charlie Crist sharply criticized Gov. Rick Scott (R) on Sunday for his refusal to extend early voting hours in the state as individuals waited for hours in lines at the polls.
"The only thing that makes any sense as to why this is happening and being done is voter suppression," Crist said in an interview with The Huffington Post on Sunday. "That's unconscionable. I think it's just the wrong thing to do. And the right thing to do would be to sign an executive order to make sure this doesn't happen and you expand the hours."
Scott has denied that there's any problem, saying it's "very good" that people are turning out to vote. Florida Secretary of State Ken Detzner (R) argued the current situation is not an actual emergency that necessitates longer hours.
Crist disagrees. In 2008, he signed an executive order that increased the number of early-voting hours after individuals faced long lines at the polls.
"I did it because the disaster that was happening was that people weren't being able to exercise this precious right that is the foundation of our democracy. That's a disaster," he said. "When you have people waiting in line for four or five or even more hours -- and a lot of them are senior citizens like they are in the state of Florida -- that's a disaster. And it's wrong. And it's indefensible."
Scott did not immediately respond to a request for comment.
A major reason there are such long lines at the polls is that last year, Florida's GOP-controlled legislature shortened the number of early voting days from 14 to eight, meaning all early voters are trying to cast their ballots in a shorter window. Previously, Floridians were allowed to vote on the Sunday before Election Day -- a day that typically had high traffic.
Crist said there was no justification for shortening that time period other than pure voter suppression.
"I don't think there's any question about it," he said. "It's certainly not voter encouragement, let's put it that way. I just don't understand why you do something like that unless you're trying to keep some people from the opportunity to be able to vote."
Traditionally, Democratic voters are more likely to turn out to vote early. According to an analysis of 2008 election results in Ohio's Cuyahoga County by the Lawyers' Committee for Civil Rights Under Law, African Americans use in-person early voting at approximately 26 times the rate of white voters.
Crist -- a Republican turned independent -- was in South Florida on Sunday, attending President Barack Obama's rally that attracted a crowd of 23,000 people.
"It's a terrible shame," Crist added. "People have fought and died for our right to vote, and unfortunately our legislature and this governor have decided they want to make early voting less available to Floridians rather than more available ... It's hard for me as an American to comprehend why you don't make democracy as easy as possible to exercise for the people of our state. It's frankly unconscionable."
On Election Day, there will be fewer polling precincts this year than in 2008 -- due to redistricting and budget constraints -- meaning traffic on Tuesday could also be a problem.
Clarification: This post has been changed for consistency to more clearly reflect Crist's current party affiliation.
Support HuffPost
The Stakes Have Never Been Higher
Before You Go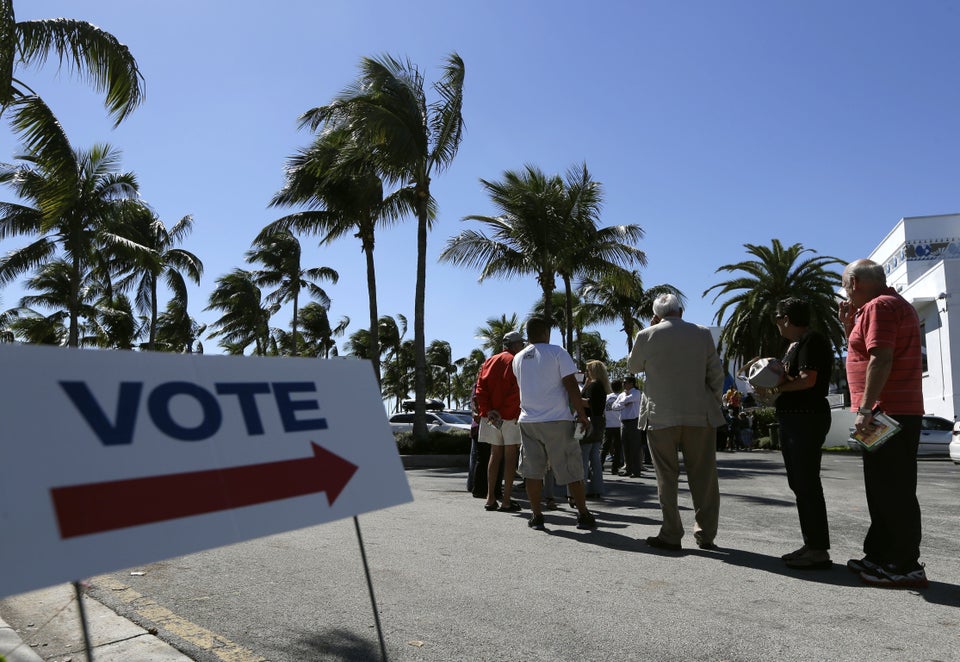 Long Lines For Miami Early Voting
Popular in the Community