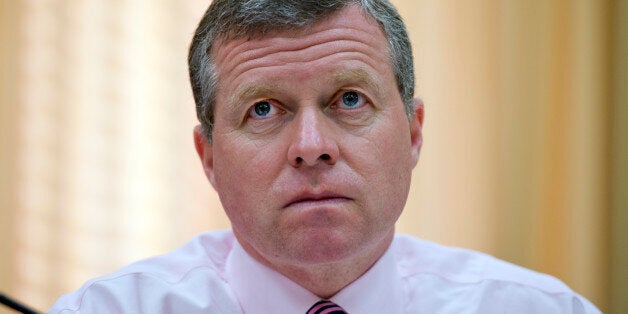 * Favors government funding without Obamacare rollback
* Blames shutdown on a few dozen hard-line conservatives
* Cites Republican fear of Tea Party backlash
WASHINGTON, Oct 4 (Reuters) - Just hours after the first U.S. government shutdown in 17 years began at midnight on Monday, Republican Representative Charlie Dent was looking for a way to end it.
Dent, 53, of Pennsylvania, is a leader of a "center-right" group of about 50 House Republicans, ranging from conservatives to moderates, who try to get things done in a divided Washington.
While congressional leaders refused to talk with one another, Dent's Republicans reached out to Democrats, creating a line of communication between moderates in both parties who may be key in ending the shutdown.
"We are looking for a way forward," said Dent, who is already working with some Democrats on what they consider a possible compromise solution.
Dent was among only a dozen House Republicans to vote against a bill to tie government funding to a delay in implementing a key part of President Barack Obama's signature healthcare program, known as Obamacare. The House measure was rejected by the Democratic-led Senate.
Blaming the shutdown on hardliners, many aligned with the anti-government conservative Tea Party movement, Dent described his frustrations with the small faction's oversized influence on the 232-member House Republican conference.
"What disturbs me most is that there are a few dozen members who are trying to drive the agenda at the expense of the 180 to 200 others, who I consider the (Republican) Party's governing wing," Dent said, noting the hardliners' obsession with stopping Obamacare.
Dent said in an interview this week he did not know why so many House Republicans followed the Tea Party lead, but said one possibility was that they did not want to draw its wrath.
The Tea Party has shown in recent years that it can successfully target Republicans they consider not conservative enough and help defeat them in primaries.
Dent represents a swing district in eastern Pennsylvania where bipartisanship and compromise are valued, he said, although the qualities are increasingly rare in Washington.
Dent said he sympathized with House Speaker John Boehner, who yielded to the far right and agreed to a strategy to try to defund Obamacare, which led to the shutdown.
"He has all sorts of challenges," Dent said of the top Republican in Congress. "He didn't want a shutdown. But he came under pressure from some members who want to control the agenda."

DEMOCRATS SEEK 'REASONABLE REPUBLICANS'
Boehner is expected to face a Tea Party-backed challenger in next year's Republican primary in his Ohio district. At this point, his speakership may be threatened if he caves to Democrats and ignites a revolt within his own ranks.
Dent refused to speculate on why Boehner declined to stand up to Republican hardliners.
"But by me speaking up, I think it actually helps the speaker," Dent said. "It lets him know that there are some people in the conference who actually want to govern."
Dent said he had so far escaped the Tea Party's anger, perhaps because he has represented a district for 10 years that leans Democratic and requires him to reach out to both sides of the political aisle.
Dent, whose district voted for both Ronald Reagan and Bill Clinton for president, opposed Obamacare and Obama's economic stimulus package. But he backed Obama's actions to end discrimination against gays in the military and to extend the landmark Violence Against Women Act.
Senate Majority Leader Harry Reid, a Nevada Democrat seeking a solution to the shutdown, reached out on Wednesday to what he called "reasonable Republicans."
"They have to do a gut check, understand who they represent ... understand that America is waiting for them to do the right thing," Reid said.
In recent days, a number of House Republicans have called for an unconditional spending bill to reopen the government.
As Dent's Pennsylvania Republican colleague, Patrick Meehan, put it, "I came to Washington to fix government, not shut it down."
Such talk has drawn attention from the Tea Party Express, an influential group that issued a fundraising appeal on Wednesday. It noted with concern that 12 House Republicans "are ready to give up Obamacare fight to end government shutdown."
Hours before the shutdown began, Dent argued at a meeting of House Republicans that members should remove demands about defunding Obamacare.
"I think a lot of members agreed with me, and some vocally did not," Dent said.
On Thursday, Dent and Democratic Representative Ron Kind of Wisconsin, joined by 20 colleagues in both parties, offered a bipartisan compromise to end the shutdown and fund the government through March of next year.
Its chances seem dim, but as Dent put it, "Today we are taking a step to say we can work together for the good of the country."

Before You Go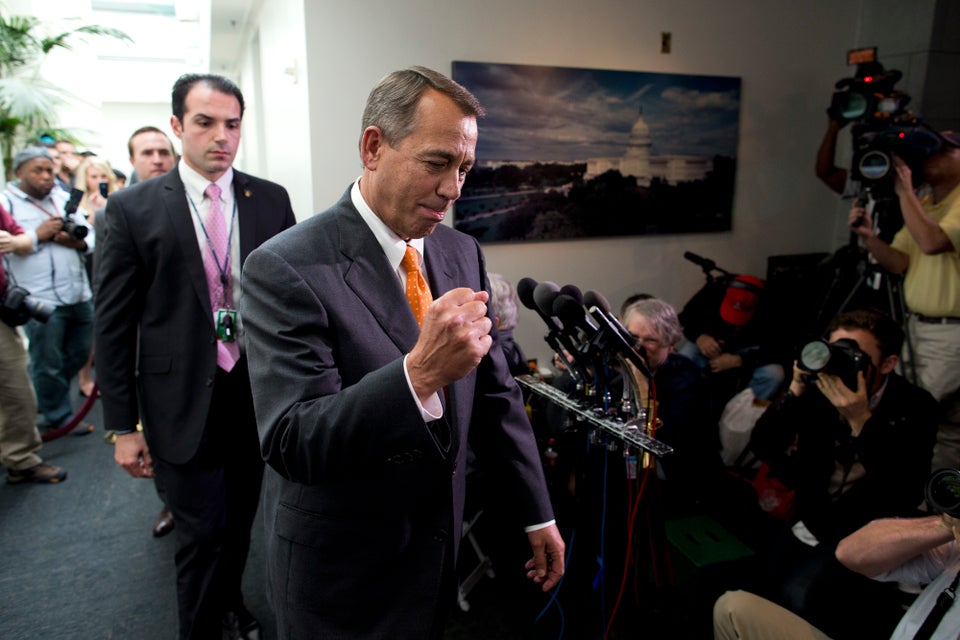 2013 Government Shutdown
Popular in the Community