A controversial new cartoon in the satirical French magazine Charlie Hebdo is igniting fresh debate over free speech and satire related to the migrant crisis in Europe. 
In the latest issue of Charlie Hebdo, a cartoon suggests that Alan Kurdi -- a 3-year-old Syrian boy who drowned last year, along with his mother and brother, while trying to reach Greece by boat -- would have grown up to be a sexual offender in Europe, had he lived. Critics have denounced the cartoon as xenophobic, while defenders say it's meant to be a satirical twist on reactionary anti-migrant rhetoric.
"What would little Aylan become had he grown up?" says the cartoon, using an alternative spelling of Alan's name. "A molester in Germany?"
Alan drowned in September along with his brother Galip, 5, and his mother, Rehan. Only Alan's father, Abdullah, survived. Alan's aunt, Tima Kurdi, said she'd hoped to sponsor her relatives in Canada. 
On Tuesday, Kurdi told the Canadian Broadcasting Corporation she found the Charlie Hebdo cartoon "disgusting." 
"I hope people respect our family's pain. It's a big loss to us. We're not the same anymore after this tragedy," Kurdi said. "We're trying to forget a little bit and move on with our life. But to hurt us again, it's not fair." 
The cartoon draws on two of the highest-profile events from the migrant crisis over the past few months.
The image of 3-year-old Alan, whose lifeless body washed up on the Turkish shore in September, encapsulated the horrific human cost of Europe's refugee crisis -- and prompted calls for countries like Germany, France and England to open their borders to the men, women and children escaping starvation and civil war at home. 
More recently, right-wing politicians and some officials in Germany said several foreigners were responsible for a series of sexual assaults in Cologne. Authorities claimed the incidents were "a result of unchecked immigration." German officials said more than half of the suspects had asylum-seeker status. 
This is the third time Charlie Hebdo has referenced Alan's death in a cartoon. Each time, the magazine has divided readers into those who see the publication as tastelessly mocking the boy's death and those who believe it is satirizing the West's hostile response to the migrant crisis. 
Charlie Hebdo, known for its confrontational satire of political and religious figures -- including the Prophet Muhammad -- received an outpouring of support and solidarity after its Paris office was the site of a 2015 terror attack that left 12 people, including eight staffers, dead. 
But after the latest cartoon, some critics on social media have renounced their support for the magazine.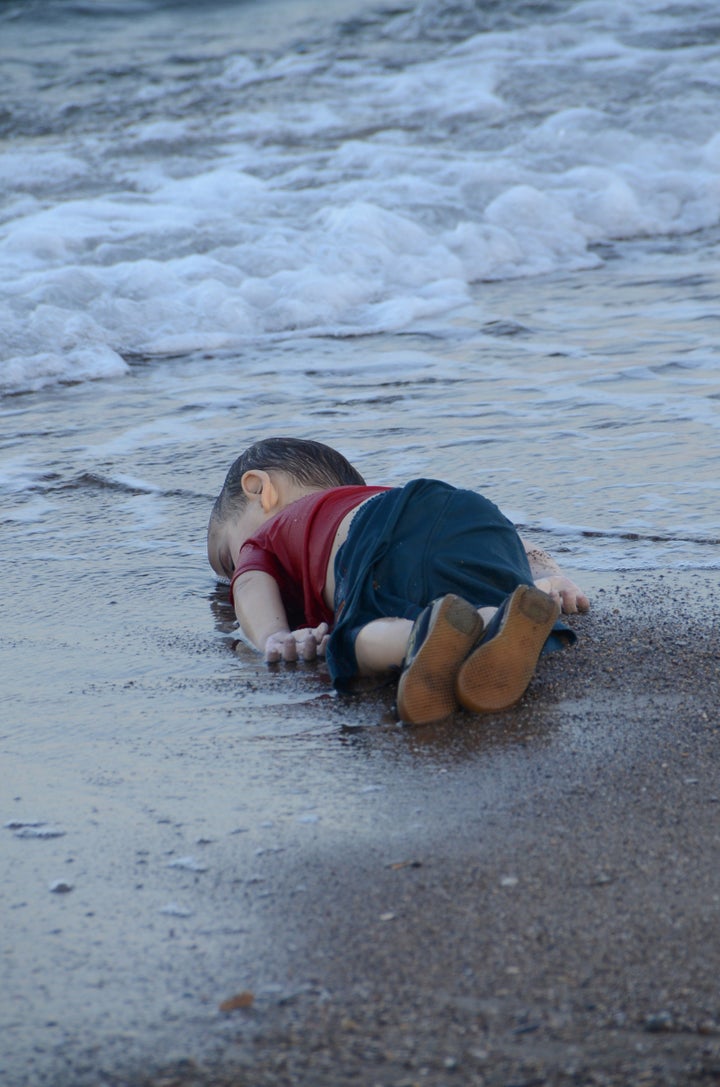 PHOTO GALLERY
Images Show How Syrian Refugees Live And Why They Left
Calling all HuffPost superfans!
Sign up for membership to become a founding member and help shape HuffPost's next chapter