The director of French satirical magazine Charlie Hebdo has issued a sharply worded editorial on the one-year anniversary of the attacks on its offices that left 12 people dead, calling out "fanatics brutalized by the Quran" who sought to silence them for "daring to make light of religion."
"Never have we wanted so badly to bash the heads in of those who dreamed of our deaths," wrote Laurent Sourisseau, who goes by Riss.
Thursday marks one year since two al-Qaeda-linked Islamic militants, Cherif and Said Kouachi, stormed the Charlie Hebdo offices in Paris before killing several more people at a kosher grocery store. The Kouachi brothers were later killed in a shootout with police.
Charlie Hebdo has a history of spurring controversy by drawing satirical cartoons of the Prophet Muhammad, as well as Christian and Jewish religious figures such as the pope.
Backlash over the cartoons in the form of protests and even a firebomb in the office in 2011 required the paper to put in place more robust security measures for the staff. Stéphane Charbonnier, who went by Charb, was even assigned his own security guard around the clock. He was killed in last year's attack.
"On January 7 2015, around 11:35am, something strange happened," Riss wrote. "It's something we had all thought might happen, but never something we actually prepared for."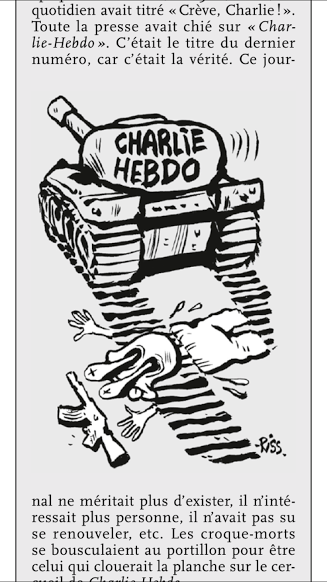 Riss added that he's in disbelief that religion could lead to the death of journalists in 21st-century France, a place he hoped could be defined by laughing and poking fun without being afraid of religious dogma.
Death has been deeply embedded into the magazine's history, he continued. First, the publication has nearly suffered an economic death several times, but always managed to keep going.
"The more the paper could be inventive and funny," he said, "the more we were alive and pushing back against those who sought to dim our lights."
Then, on that fateful morning last year, "after the deafening noise of about 60 shots fired over a period of three minutes in our conference room, a weighted silence settled over the room. [...] This time, Charlie had really died."
Ironically, the attack represented a revival for the paper. All of France, he said, began reading it after Jan. 7.
"They won't watch Charlie crumble," he concluded. "It's Charlie that will watch them die."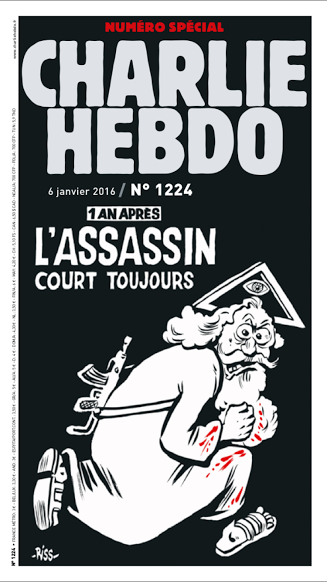 Riss also drew the edition's cover cartoon, which displays a bearded religious figure hunched over, a rifle slung across his back. Spots of blood dot his arms and legs.
"One year later, the assassin is still out there," the text says.
Surviving staff offered a harrowing account of what they remember from the day of the shooting. It was a regular morning. The staff was reuniting for the first time in the new year, hugging and kissing each other and using greetings like "morning, asshole!"
Coco, one staffer, had left briefly to pick up her daughter from daycare. The Kouachi brothers, spotting her outside the building, called out "Coco!" They grabbed her and demanded that they be let into the office.
"We were in front of the door, I was paralyzed, destroyed inside, they had their AK-47s slung on their backs," she wrote. "I punched in the code and walked in like a robot."
"The door opened suddenly and, from the corner of my eye, I spotted a masked man. I then heard 'Allahu Akbar' and next thing I knew, I had taken a bullet," Simon, the webmaster, recalled.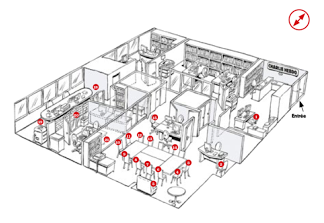 A 3-D representation of the offices, showing where each person was seated when the Kouachi brothers entered, is also part of Wednesday's edition.
The newsmagazine released 1 million copies, a portion of which are being sold internationally.
A little over one year ago, the magazine was struggling to stay afloat as sales were below 30,000 issues per week.
Despite the surge in support and popularity in the wake of the attack, "We feel terribly alone," Charlie Hebdo's financial director, Eric Portheault, told the Guardian. "We hoped that others would do satire too. No one wants to join us in this fight because it's dangerous. You can die doing it."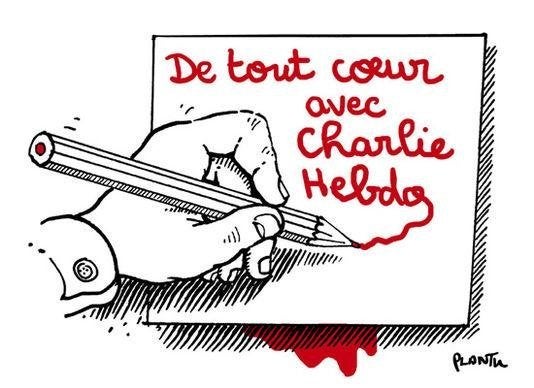 Les dessinateurs rendent hommage à Charlie Hebdo
Popular in the Community