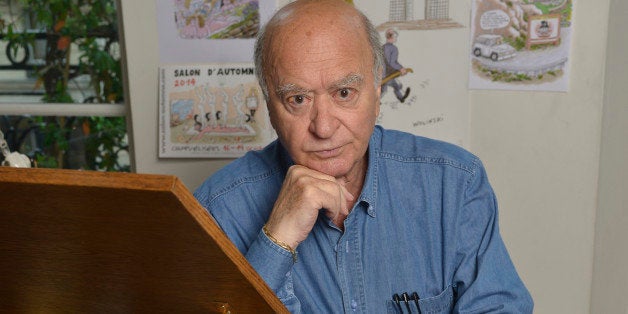 According to multiple sources, French illustrators Cabu and Georges Wolinski have died following the attack on Charlie Hebdo, which has left at least 12 people dead. They were the last two surviving founders of the Charlie Hebdo newspaper.
Before their tenure at Charlie Hebdo, Cabu and Wolinski began developing their illustrating and characters' worlds without paying any particular attention to daily life or current events.
The 68-year-old Cabu was an advocate for ecology and the environment, and a denouncer of "spectator life." He famously said, "If writing can bring suffering, drawing can be pure pleasure." The somber expression that Cabu viewed the modern world was contrasted by a much lighter and humorous drawing (as did Charles Trenet, a man he admired).
His most popular character, The Great Duduche (see below) was created in Cabu's image; he was naïve and full of good intentions. Cabu also creating the magazine cover that remains, to this day, the most symbolic of all editions of Charlie Hebdo: a drawing of the prophet Mohammed in 2006.
However, his most cherished creation will always be Beauf (followed by the updated, moneyed "new Beauf"). Cabu invented and popularized this interpretation of the average French male: a sexist, alcohol-addled barfly and a lover of loud music. The expression has become so integrated in French culture that the term "beauf" has been added to the dictionary.
As for Wolinski, he gave life to the expression "The King of the Idiots." The story, which was later turned into a film, tells the tale of King George, a man obsessed with women and money, who finally falls in love. This character became a vessel for the artist to denounce human stupidity. Wolinski, however, will perhaps be best remembered for creating a swath of strong female characters, who were complex and proud of their sexuality.
Cabu and Wolinski may be known for their biting illustrations, their irreverent humor and their political convictions, but the two artists had dedicated their careers to children. "The goal," Cabu once said, "is above all to try to make people laugh. You have to make people see the sunny side of life."
Related
Popular in the Community