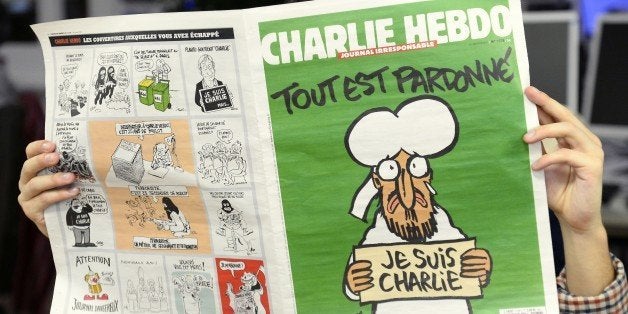 The controversy over Charlie Hebdo's cartoons of Muhammad, as well as President Obama's boneheaded decision not to go to Paris for the Unity March, got me thinking about another satirical cartoon that graced the cover of an august publication in this country.
In July 2008, The New Yorker published a cartoon by Barry Blitt, dubbed "The Politics of Fear." In that cartoon, which takes place in the Oval Office, Obama wears a turban, and his wife, Michelle, sports an Afro and totes a machine gun, looking like a Black Panther circa 1970. They fist-bump while an American flag burns in the fireplace and an image of Osama bin Laden hangs on the wall.
A controversy erupted over that cartoon cover, forcing New Yorker editor David Remnick to come on the air and defend the publication's use of, believe it or not, "satire."
Then-Senator Obama did not care for the satire. After the publication of that cartoon, he reportedly did not allow Ryan Lizza, who wrote an article on Obama in that edition of The New Yorker, to fly on his campaign plane for a period of time.
Six and one-half years have passed.
President Obama, now in the "fourth quarter" of his administration, has denounced the acts of the terrorists, who killed 17 civilians and journalists in Paris. And he has stood up for freedom of speech, freedom of the press and freedom of religion.
Yet I wonder sometimes if he has a heart, if there is any humanity or even humility inside of him. He felt more wounded by Michael Jordan's taunt that Obama is a "hack" on the golf course than he does by anyone's critique of his domestic or foreign policy.
He did not go to Ferguson, Missouri, at the time of the protests there. Instead, he sent Eric Holder, his attorney general.
I have written before that Obama appears to be obsessed with the law, yet if he really believed in our Constitution's principle of freedom of expression, he would have gotten onto Air Force One, which presumably has seats for reporters like the once-banished Lizza, and headed over to Paris.
Perhaps, some dumbbells will once again compare President Obama, just as they compared the late Mario Cuomo, to Hamlet. They will claim that Obama is anguished, tormented and indecisive, that he really wanted to go to Paris, but he just could not make up his mind.
Let us keep in mind, as I have written numerous times before, that Hamlet delays in killing his uncle not because he is indecisive but because anyone with even a smidgen of scruples would presumably delay an order with such fatal consequences, especially if it were delivered by a ghost.
As I wrote last year on the 450th birthday of Shakespeare, comparisons between Hamlet and politicians like President Obama or the late Governor Cuomo never work because the question is "not one of metaphor; it is one of metaphysics."
At a "deep, ontological level," Hamlet detests politics. He could never be a politician in a million years, not on this planet or any other. By all rights, as the son of the deceased king, he should be on the throne. Yet he is not, because, as I wrote last year, he would agree with Bob Dylan's line, "Don't follow leaders; watch parking meters."
While President Obama, like the Grinch, often seems to lack a heart, Hamlet, Dylan and Charlie Hebdo pulse with soul and irony. They are artists and provocateurs.
Hamlet, Dylan and Charlie Hebdo speak for all of us who have been disgusted with conformity, who have shirked convention and who have followed an idiosyncratic course.
In the end, the only kind of politician I tend to admire is the accidental kind, a writer like Vaclav Havel, the late Czech president, or a quixotic campaigner like Norman Mailer, who ran for mayor of New York, or Kinky Friedman, who ran for governor of Texas.
Kinky, a friend of Dylan's and as idiosyncratic as they come, remains a provocateur of the highest order. He recently declared on ESPN that the Chris Christie-Jerry Jones gropefest in the Cowboy owner's box indicated that Christie and Jones have the most "latent homosexual relationship" since Sherlock Holmes and Dr. Watson.
The Kink, whom I interviewed back in 2005 when he was running for Texas governor, uttered his hilarious statement in his own inimitable fashion. He wore his trademark black Stetson hat, and he brandished a cigar as Bob Ley of ESPN interviewed him.
We need more provocateurs and artists on this planet. And we need fewer hacks. As Dylan wrote on a more recent album, what we don't need is "another politician pumping out the piss."
Popular in the Community