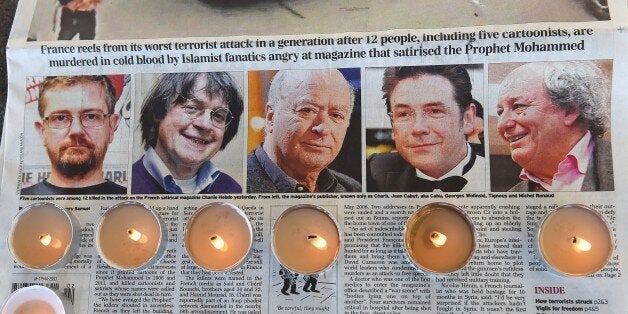 The barbaric terrorist attacks against the staff of the Paris satirical paper Charlie Hebdo come in the wake of other murderous assaults against innocent pedestrians in the streets of France in recent weeks.
For all its complex social challenges, including feelings of exclusion and alienation among the unemployed youth of Arab descent, France, more than any country in Europe, has been for decades a haven of exile and of new life for many from all over the world, fleeing wars, tyrannies and poverty. Among the dozens of countries whose sons and daughters have settled in France by choice or by "force majeure," there are large populations from Algeria, Lebanon, Morocco and Tunisia.
Many young French of Arab ancestry do not fit, feel excluded and alienated. Many have faced the challenges, have struggled on and have succeeded in the new environment. Others have not. That's life, everywhere. Many succeed and others fail.
In the last few years, tens of thousands of innocent civilians, including school children, were slaughtered in Syria, Iraq, Libya, Afghanistan and Pakistan by Muslim extremist minorities. Overwhelmingly, the victims of these extremists have been fellow Muslims.
Malala, the teen-ager Pakistani Nobel Peace Prize Laureate of 2014, is only the most visible example of the battle for full emancipation of Muslims in countries and societies still heavily influenced by uneducated religious conservatism. Malala survived the extremist assassin's bullet but many others succumbed. Many still continue to die or are forever disfigured with acid attacks for their indomitable desire to study and to grow out of the shackles of stone-age conservatism.
This is more a battle within Islam than a "clash of civilizations"; a battle between 21st Century Muslims with an enlightened vision of the world and medieval extremists.
Let us not forget that Christianity saw its own schisms, religious wars and doctrinal idiocies that cost tens of thousands of lives and displaced millions who fled Europe to the "New World."
Modern, moderate Muslims all over the world, particularly those living in secure environments, must speak out more to denounce and further isolate the extremist elements.
These moderates have shown courage and solidarity with non-Muslim victims of the depravity of the minority and they can do more, for the sake of the true essence of Islam; they should design a long-term strategy aimed at isolating and exposing the theological concoctions that feed the extremists.
I am afraid, if this is not done, the continuing killings by extremists in Syria, Iraq and Afghanistan, in Paris and London, will only further damage the image of Islam and give rise to anti-Muslim and anti-Immigration phobias in Europe, USA, Canada, Australia, countries that in fact have been generous safe havens for millions of Muslims fleeing wars and religious extremism.
The backlash against Muslims would extend beyond Europe and other countries with Christian majorities; it would be felt also in Hindu and Buddhist-majority countries in Asia where there have been violent anti-Muslim clashes in recent times.
And we would all be losers. We would have lost our humanity.
Related
Popular in the Community