French police pressed a massive hunt for two brothers suspected in the murderous attack on offices of the French satirical publication Charlie Hedbo after a teenager surrendered early Thursday.
Hamyd Mourad, 18, turned himself in to police after authorities identified the three men wanted in connection with the attack Wednesday that killed 10 journalists and two police officers. French police spokeswoman Agnès Thibault-Lecuivre said Mourad walked into a police station about 145 miles northeast of Paris and surrendered, according to The New York Times. "He introduced himself and was put in custody," Thibault-Lecuivre told the newspaper.
Police were still looking for two brothers, Said Kouachi, 32, and Cherif Kouachi, 34. Both were said to be from the Paris region. Photos of the suspects were released, and police appealed to the public for help. One of the brothers has previously been tried on terrorism charges, Reuters reported.
The Associated Press said that Cherif Kouachi was tried in 2008 for helping funnel fighters to Iraq and sentenced to 18 months in prison. Kouachi told the court at the time that he was outraged by images that revealed the torture of Iraqi inmates by U.S. guards at the Abu Ghraib prison, according to the AP.
French media reported that police were seen searching a building in the city of Reims late on Tuesday.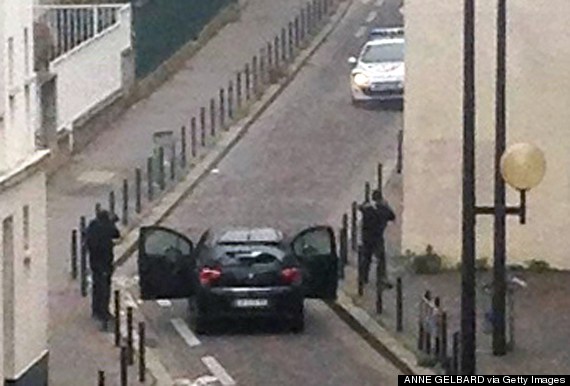 Armed gunmen face police officers near the offices of the French satirical newspaper Charlie Hebdo in Paris on January 7, 2015. (ANNE GELBARD/AFP/Getty Images)
Masked gunmen stormed the offices of the Charlie Hebdo weekly in Paris on Wednesday and opened fire during an editorial meeting. The attackers killed Charlie Hebdo's publisher, Stéphane Charbonnier, and his police bodyguard. Economist and journalist Bernard Maris, who was a contributor to the weekly, and cartoonists Cabu, Georges Wolinski and Bernard Verlhac were also killed in the attack.
Witnesses told police that one of the gunmen shouted "we have avenged the prophet." Charlie Hebdo cartoonist Corinne Rey told Reuters that the attackers spoke to her in fluent French and claimed to represent al Qaeda.
According to police union spokesman Christophe Crepin, the gunmen knew exactly whom they wanted to target. They "went straight for Charb and his police bodyguard, killing both immediately with automatic weapons, then firing on others," Crepin told the Associated Press.
Following the shooting spree, video footage shows the gunmen calmly heading for a black car waiting outside. A video appeared to capture them firing on a police officer, with one gunman shooting the officer in the head.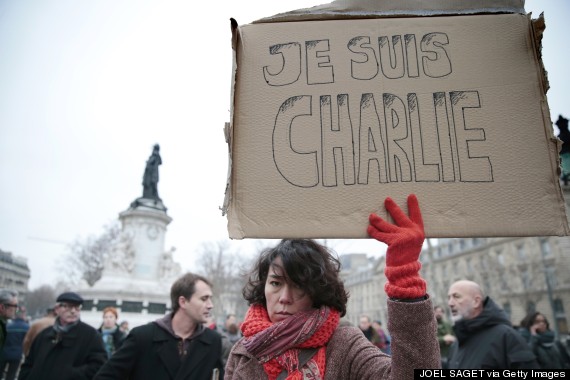 A woman holds up a placard that reads in French, 'I am Charlie' as she and others gather at the Place de la Republique in the French capital Paris, on January 7, 2015. (JOEL SAGET/AFP/Getty Images)
French President Francois Hollande called the killings on Wednesday "a terrorist attack without a doubt," and declared a day of national mourning on Thursday. The French leader vowed that the attack would not silence freedom of the press in the country.
Huge crowds gathered in Paris on Wednesday evening to condemn the attack. Demonstrators in the capital were seen holding up pens as a symbol of support for the slain journalists. According to French newspaper Le Monde, the number of people in the streets topped 15,000.
Rallies took place in several major cities in France, and Paris mayor Anne Hidalgo announced on Facebook that a silent march was planned for Thursday.
In Germany, residents of Berlin rallied in front of the French Embassy to express their support. Demonstrators also gathered in London's Trafalger Square.
The hashtag #JeSuisCharlie, or #IAmCharlie, began trending on Twitter as a message of solidarity.
U.S. President Barack Obama condemned the attack in a statement on Wednesday as "cowardly" and "evil" and said the American government would "provide any assistance needed to help bring these terrorists to justice."
German Chancellor Angela Merkel called Wednesday's assault "an attack on freedom of speech and the press." She added, "This abominable act is not only an attack on the lives of French citizens and their security." Russian President Vladimir Putin offered his condolences to the victims' loved ones and all Parisians.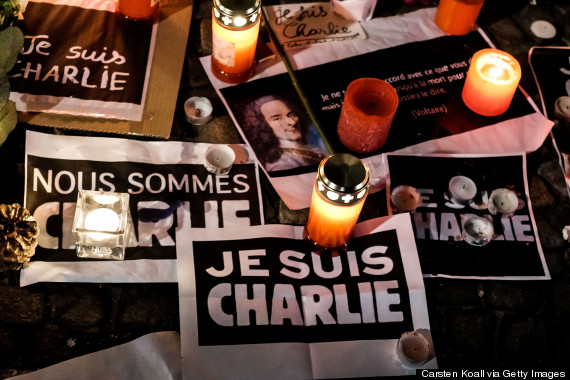 Papers with 'I am Charlie' displayed are left near candles at a vigil in front of the French Embassy following the terrorist attack in Paris on January 7, 2015 in Berlin, Germany. (Photo by Carsten Koall/Getty Images)
Charlie Hebdo was no stranger to controversy. In 2006, it republished cartoons from Danish newspaper Jyllands-Posten that had prompted large-scale protests. In November 2011, the newspaper's Paris office was firebombed after it published an issue jokingly "guest edited" by the Prophet Muhammad. Less than a year later, in September 2012, France "shuttered its embassies, consulates, cultural centers, and schools in twenty countries" out of fear of retaliation for Charlie Hebdo publishing cartoons referring to two films, one of them the controversial "Innocence of Muslims" video, according to The New Yorker.
This is a developing story and has been updated.
Popular in the Community