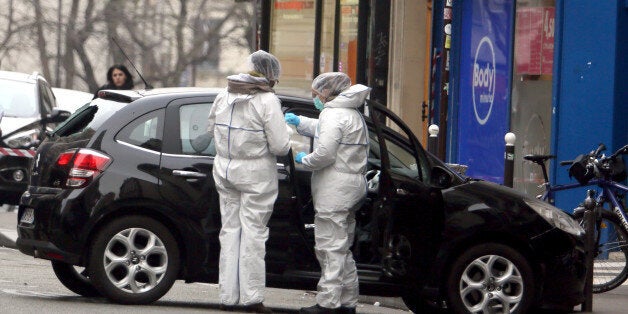 Details continue to emerge on Thursday about the three men suspected of the brutal attack on the Paris offices of satirical newspaper Charlie Hebdo, which left 10 journalists and two police officers dead.
The Associated Press reported that two officials identified the suspects as the brothers Said Kouachi and Cherif Kouachi, and a third man, Hamyd Mourad. French authorities later confirmed the names.
Much about the backgrounds of the suspected attackers remains unknown.
Cherif Kouachi, 32, the younger sibling of 34-year-old Said Kouachi, has a past known to authorities that includes a 2008 conviction for criminal association with a terrorist enterprise. Cherif served 18 months in jail for his involvement in a Paris-based cell that trafficked French Muslims to fight in Iraq.
Bloomberg reports that the court found that Kouachi planned to attack Jewish targets in France, but was persuaded by a preacher that Iraq was a more suitable place for jihad. He was arrested days before he reportedly intended to travel to Syria for training on his way to Iraq.
Cherif and his brother Said are believed to have been born to Algerian parents in eastern Paris, but were orphaned at a young age. After the death of their parents, the brothers reportedly moved to an orphanage in the city of Rennes, where they were raised.
U.S. and European officials close to the investigation said on Thursday that Said Kouachi had spent several months in Yemen training with Al Qaeda in the Arabian Peninsula (AQAP). However, investigators are still trying to determine whether AQAP explicitly ordered the attack, the New York Times reports.
On Thursday, U.S. counterterrorism sources told Yahoo News that both the Kouachi brothers were known to U.S. intelligence authorities and had been placed on a no-fly list. The sources stated to Yahoo that the brothers had been on the list "for years."
Little information is known about 18-year-old Hamyd Mourad, who a legal source told Reuters is the Kouachi's brother-in-law. Mourad turned himself in to police late Wednesday night.
This post has been updated in light of new information on the suspects.
Support HuffPost
The Stakes Have Never Been Higher
Related
Popular in the Community