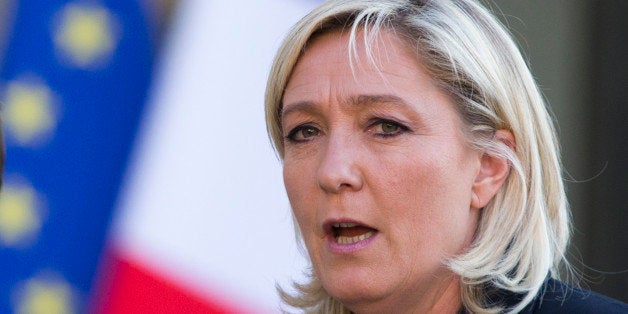 Jean-Marie Le Pen, the honorary president of the National Front party, speculated in the French newspaper Le Figaro as to whether his far-right party would be considered part of the national union politicians and public figures have called for in the wake of the attack against satirical newspaper Charlie Hebdo. "Usually, we are tacitly excluded from the so-called Republican Union," Le Pen added.
The question is important given plans for a large rally on Sunday at the government's initiative. Marine Le Pen, the current president of the National Front party, believes that the dilemma could put pressure on French Prime Minister Manuel Valls, who has already reached out to Nicolas Sarkozy about the march but has not yet contacted Le Pen. "I'm just waiting for my phone to ring, since the prime minister has reached out to the representative of a party that made up just 25 percent of the last election to join him at this manifestation of national unity," Le Pen said.
Le Pen claims she is ready to participate, just like she attended a ceremony in March 2012 to honor the victims of the Mohamed Merah terrorist attack. The French presidential campaign was fully underway at the time, and Nicolas Sarkozy invited all electoral candidates to Montauban. At the time, it would have been awkward for a candidate not to be invited or for a candidate to refuse to participate.
This time, in the absence of an electoral campaign, Valls seems ready to renew the invitation. However, while the prime minister maintains that "national unity means no exclusions," some of his comments cast doubt on his intentions.
"Right now, I am not running traditional politics. Because I'm the head of this government, what matters to me is that we apprehend these individuals. National unity is the only answer. But it's also about deeply republican values of tolerance," he added, implying that the National Front party may not agree. As a result, his services refuse to confirm a formal invitation.
"A pathetic political maneuver"
"They all talk about national unity, but it's just a gimmick! If there really were unity, we would be invited. It's petty. This kind of behavior is not worthy of a prime minister and the President of the Republic," lamented Marion Marechal Le Pen, one of the two National Front delegates in Le Parisien.
"If the government wishes to exclude @FN_officiel, they will have made a political and moral error."
Marine Le Pen, too, is upset that she has been sidelined from Sunday's big rally. In fact, she called this a "pathetic political maneuver" in Le Monde. "These are old and tired games that have frozen political life for twenty years. This is what created the gap between the leaders and the people. If they're not going to invite me, then I won't impose," she said.
"No place for the National Front party on Sunday"
The issue of whether to invite the National Front party to Sunday's rally is proving to be divisive for the left side of France's political spectrum. One thing is certain -- none of the party leaders are invited to the event's organizational meeting. But Olivier Faure, one of its four spokespersons, believes they should be. "No one should be excluded," Faure stated in Le Figaro. "All those who wish to express solidarity with Charlie Hebdo and who wish to denounce fundamentalism should be physically present on Sunday."
Julien Dray, the founder of SOS Racisme, has a different view, which he expressed on Twitter: that there is "no place for the National Front party on Sunday."
The National Front is marked by its history. It has no place in Sunday's demonstration.
Similarly, former Minister Francois Lamy thinks that "only the Republican parties that refrain from stigmatization and stirring up fear should organize Sunday's rally."
The answer is the same even further left on the political spectrum. "Of course the National Front party can't participate," said Eric Coquerel, adviser of Jean-Luc Melenchon. Ditto for Sergio Coronado, delegate for the green party.
Hold a rally for freedom and to honor the Charlie victims with the NF? Not my thing
This issue is obviously crucial. "What's at stake is the Republican acceptance of the National Front party," said Jerome Sainte-Marie, founder of the Pollingvox Institute.
Sainte-Marie says there's truly is a difference between Marine Le Pen's appearance at the Elysee on Friday morning (which would not be unprecedented) and an appearance at a rally. "If the National Front party were integrated into street protests, there would be a significant change in French politics," he insisted.
According to Sainte-Marie, if the other parties invite the National Front party to join them, they will be subjected to questions of conscience for the next elections. "If they become integrated into the Republican arc during such an emotional period for the nation, how can they be rejected later on? How can we then say that regional executives may not be elected with National Front votes?" he asked.
Unfortunately for the National Front party, the question is not as simple as it seems. Of course, if they were invited, it would be a very powerful legitimizing tool for Marine Le Pen. She would cross a new threshold regarding the criticism she has faced since her rise to the head of the party almost four years ago. But even in times of mourning, association with other parties is risky for the National Front party, as it could lose its anti-party system status.
Popular in the Community