A few months ago, Philadelphia-based graphic design artist Charlie Layton was eating breakfast when he realized the refrigerator in his rental apartment was made from a similar material to a dry erase board. He decided to doodle a picture on the smooth surface of the freezer door, and posted the photo of the drawing to Facebook.
His sketches were so well received by his friends, that Layton made it a weekly routine to draw on his refrigerator and upload a photo of the freezer art -- what Layton calls "Freezer Fridays."
"It's a fun little exercise. I didn't think much of it," Layton told the Huffington Post.
(SCROLL DOWN TO SEE THE PHOTOS)
A graduate of Kutztown University of Pennsylvania, Layton studied graphic design and, for the past four years, has worked as a freelance illustrator.
On Fridays, Layton grabs his morning coffee and takes 20 to 30 minutes to compose a drawing of whatever pops into his head -- whether it's a subject that is somehow freezer-oriented or an homage to a cult film. He snaps a photo of the illustration in order to share it online, before erasing the art all together.
The weekly drawings started as an ongoing Facebook album but quickly gained popularity when his friend Rob Avery, a Redditor, reposted the photos of Layton's freezer art to Reddit.
Within hours, Avery's inbox was inundated with messages from other Redditors, some of whom have asked for T-shirts with Layton's drawings.
"I haven't really thought about marketing it, but stickers sounds like a fun idea or fridge magnets," Layton said. "It's pretty crazy. It's hard to grasp that thousands of people have seen something so quickly."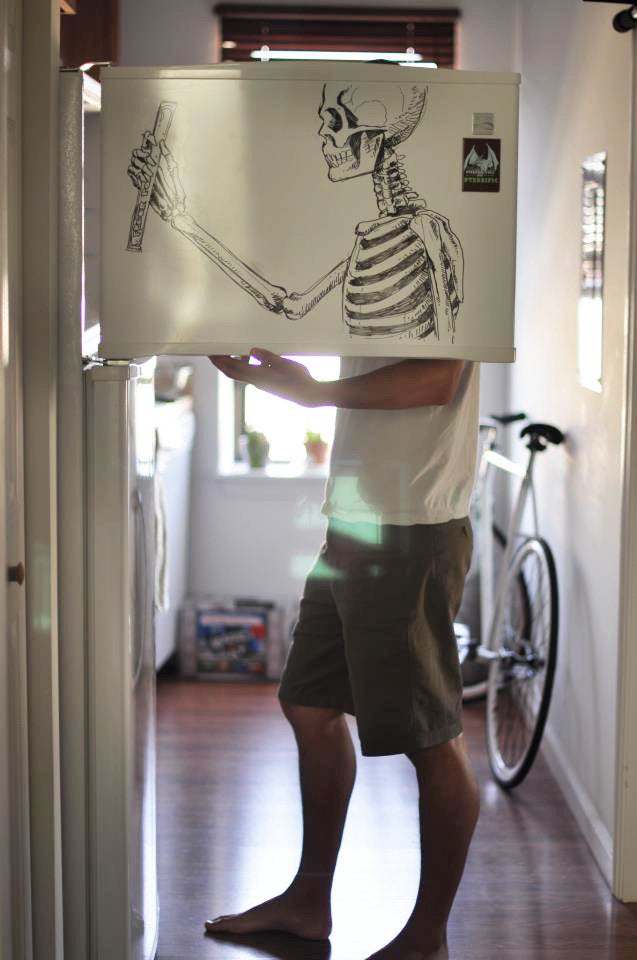 Charlie Layton's Freezer Art