Detroit newsman and former New York Times staffer Charlie LeDuff's brash style and swagger -- not to mention, his on-air stunts -- have made him the most-talked about journalist in the Motor City.
But today, he's not making headlines for one of his broadcasts. A man named Sunny Miler, 54, who was working security at Detroit's St. Patrick's Day Parade on March 10, said he encountered the author and TV reporter urinating in the street during the Sunday afternoon parade.
Miller said he attempted to help LeDuff sit down and offered him water. That's when events at the family-friendly Corktown parade took a turn for the worse, according to the Detroit Free Press:

Miller told police he then heard LeDuff arguing with three women whom LeDuff called "whores," the report said, and when others confronted him, a huge fight broke out, according to the report.

Miller tried to separate LeDuff from the group of people with whom he had been fighting, and LeDuff then bit Miller's left index finger, breaking the skin, the report said.
A Detroit police officer was flagged down and cited LeDuff for aggravated assault after seeing the bite marks on Miller's finger.
Miller has hired attorney Linda Bernard to represent him.
"It was a vicious assault, totally unprovoked by anyone," she told WXYZ.
WXYZ talked to LeDuff, who admitted the incident happened but acknowledged he couldn't recall all the details.

Asked if there was public urination, LeDuff then said, "I don't know to be honest. I don't know."

When asked if he had too much to drink, LeDuff said, "Probably."

LeDuff's media reports could often be characterized as opinionated, or even brazen. At Fox 2, he has (among other stories) interviewed political operative Sam Riddle by showering next to him (on camera), golfed the length of Detroit, inspired thousands of dollars worth of donations to Detroit paramedics, and broken several corruption stories.
LeDuff won a staff Pulitzer at the New York Times, working inside a North Carolina slaughterhouse for the 2001 series, "How Race Is Lived In America," before returning home to report from Detroit.
The biography on his website mentions that, "among other things he brawled at a fight party held by an Oakland motorcycle gang, rode a bull at a gay rodeo, became a trapeze clown in a traveling circus of immigrants."
Related
Before You Go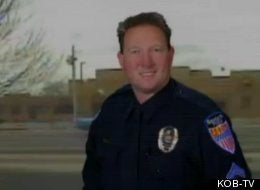 Top 10 Least Sexy Sex Stories Of 2012
Popular in the Community