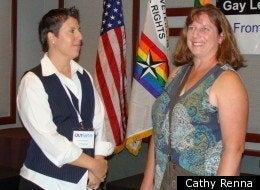 WASHINGTON -- Charlie Morgan, the lesbian National Guardsman who is battling Stage IV breast cancer and the Defense of Marriage Act that would deny survivor benefits to her wife, had the opportunity to tell her story on Capitol Hill Thursday in a meeting that came about following a Huffington Post report.
Morgan spoke with Katherine Haley, an assistant to House Speaker John Boehner who focuses on social policy, after meeting with her congressman, Rep. Frank Guinta (R-N.H.). A chief warrant officer in the New Hampshire Army National Guard, Morgan told both how DOMA was hurting her family and other married gay and lesbian service members whose spouses are barred from housing, health care and other benefits that straight couples in the military take for granted.
Morgan spoke to HuffPost immediately after meeting with Haley. She said it went "very well. I was very pleased with the reception." She said she was able to explain her situation and "ask personally for Speaker Boehner not to defend DOMA because I may not have time to see this through the legislative process."
She also gave Haley a packet to give to Boehner with photos of her wife, Karen; her father, who was killed in an accident while serving on active duty during the Vietnam War; and herself, deployed in the Middle East. Morgan explained how the veterans and Social Security benefits the family received after his death helped her mother "buy food and keep a roof over our head when I was growing up."
The National Guard personnel officer started a second round of chemotherapy this past Friday after the first regimen failed to stop the breast cancer that has spread to her lymph nodes and chest. She said she had a nosebleed -- a side effect of the chemotherapy -- during the 20-minute meeting with Haley and had to ask for a tissue as they spoke.
"My fear is if I don't survive -- I'm not afraid to die, I was deployed in a war zone -- but I fear my family won't be taken care of. It's for them, and the other gay and lesbian military families, that I spoke," said Morgan.
Morgan noted that Haley, while "very kind, very warm," reiterated Boehner's decision to defend DOMA. Still, she said she felt confident that the aide would relay her plea, along with letters of support from her commanders in the New Hampshire National Guard; friends and family in northern Kentucky, where she grew up and which borders Boehner's Ohio district; and members of her mother's Catholic church in Pennsylvania.
Asked if she thought her meeting would lead to a change of heart for the speaker and his Republican House majority, Morgan said, "I told her [Haley] that I believe in miracles."
The meeting was scheduled after a HuffPost article last week recounted Morgan's frustration at being brushed off by Boehner's underlings. Only after HuffPost sought comment from the speaker's spokesman was Morgan able to secure face time with Haley.
Morgan is one of eight current and former members of the military who have filed a lawsuit to repeal DOMA with the help of the Servicemembers Legal Defense Network.
On Thursday, SLDN started a petition urging Boehner to end the legal defense of DOMA. "Speaker Boehner can make a difference here, and we respectfully ask him to take a look at this case and get to know this family. We are confident that when he does, he will see that these discriminatory laws hurt our military, harm families, and are indefensible," said SLDN Executive Director Aubrey Sarvis in a statement.

Popular in the Community