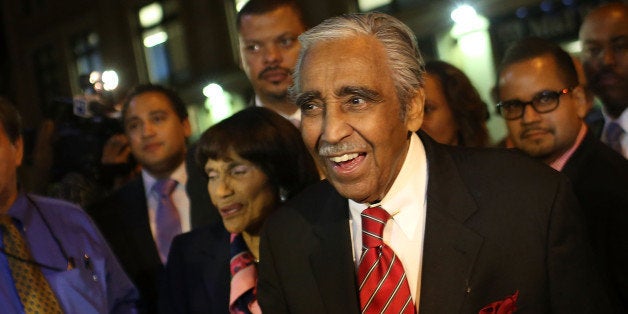 Rep. Charlie Rangel's (D-N.Y.) campaign called an accusation by his main rival's staffer that he had sent out false eviction notices to his constituents an "unconscionable lie" on Wednesday.
Rangel was responding to charges made Tuesday on Twitter by Lis Smith, a spokeswoman for one of his Democratic primary opponents, state Sen. Adriano Espaillat. The congressman is running for his 23rd term in the House.
Smith called sending out false eviction notices a "disgusting tactic" and suggested that the alleged notices were meant to depress turnout in the June 24 primary.
Rangel's campaign rejected Smith's accusations and asked Espaillat to apologize in a Wednesday press release.
"Congressman Rangel marched with Dr. Martin Luther King Jr. to secure the right to vote, and he has fought his entire career in Congress to protect that fundamental right," Rangel senior advisor Charlie King said in the release. "For the Espaillat campaign to wildly accuse the Congressman of voter suppression with no evidence whatsoever is ugly and divisive politics at its worst. It's simply unconscionable."
"Senator Espaillat should apologize for making such irresponsible accusations and stick to the issues," King continued. "We all recognize that is hard for him because he has no record to talk about, but character assassination through unsupported attacks is truly beyond the pale. Shame on Senator Espaillat for bringing this campaign into the gutter -– his campaign has lost all credibility."
Rangel defeated Espaillat by fewer than 1,100 votes in 2012. If Espaillat wins the Democratic nomination, he would be expected to make history as the first Dominican-American representative in the House. Rangel, who was elected in 1970, is a founding member of the Congressional Black Caucus.
Espaillat Campaign Manager Jesse Campoamor stuck by Smith's accusation in an email to the Huffington Post Wednesday.
"Congressman Rangel has distributed deceptive fliers claiming to have the Presidents' endorsement, when in reality the President said he should end his career with dignity," Campoamor wrote. "He told voters at last weeks debate he was with Democrats like Nancy Pelosi on Wall Street reform when his voting record proved otherwise. He sent out a laughable mailer last week suggesting Senator Adriano was linked to Sarah Palin. He's bizarrely claimed he had no connection with attacks launched by his own paid spokesman. Who else could possibly be behind these already discredited fliers? This latest dirty trick is another reason why voters across the district want change – but while Congressman Rangel takes the low road, Adriano Espaillat will be spending the last week sharing his vision on affordable housing, smart economic development and taking guns off the streets."
REAL LIFE. REAL NEWS. REAL VOICES.
Help us tell more of the stories that matter from voices that too often remain unheard.
BEFORE YOU GO
PHOTO GALLERY
New House Members Of The 113th Congress