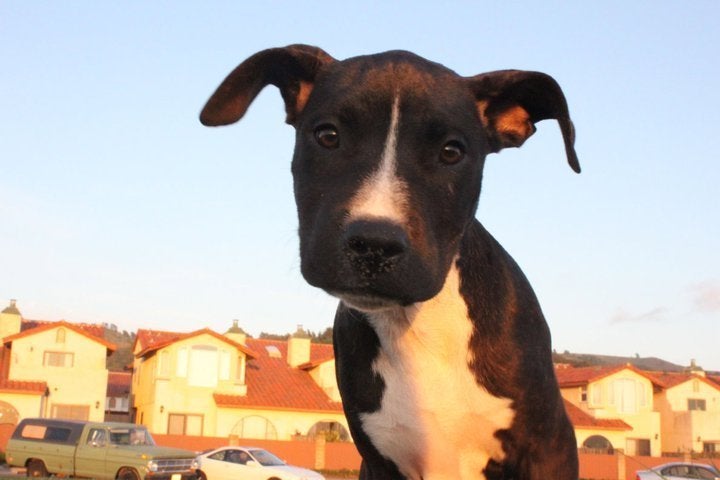 A San Francisco dog's life will be in the hands of a U.S. District Court later this month. And, according to a Change.org page, more than 110,000 people will be supporting his fight.
Charlie, an American Staffordshire terrier, was sentenced to euthanization in August after he attacked a police horse in Golden Gate Park. Charlie's owner, David Gizzarelli, appealed the decision to a federal court.
"Charlie, being a puppy, ran over to the horse and the rider, sniffed the horse, began to bark, and then a scuffle occurred," wrote Gizzarelli. "The horse and Charlie were both injured and a short 200 yard chase back t the stables ended the encounter."
In the end, the horse suffered cuts, scrapes and a badly bitten leg.
"[The horse] was just completely covered in bites, gashes and blood," said Evans to KTVU. "He may be retired. The dog chased my horse for 1.6 miles, that's just unheard of."
But Gizzarelli says the horse should not have been in an off-leash dog area.
"They are putting farm animals with domestic animals," he told KTVU. "Any dog, not just a pit bull, could have chased after that horse, could have caused a problem."
Charlie, who reportedly does not have any history of violence, was taken into custody by Animal Control. He was later sentenced to death.
Gizzarelli submitted a proposal to the City Attorney's Office promising to relocate and rehabilitate the dog, but the proposal was denied. Since the ruling, several "Save Charlie" Facebook pages have sprung to life, and Gizzarelli's petition has garnered more than 110,000 signatures.
"I have thousands of petitioners who are supportive," said Gizzarelli to CBS. "They think this case is somewhat preposterous. People are saying, 'what is this horse doing in an unleashed area? Don't they know that dogs and horses don't get along?'"
The US District Court will begin hearing the case on January 11.
PHOTO GALLERY
Charlie the Dog
Calling all HuffPost superfans!
Sign up for membership to become a founding member and help shape HuffPost's next chapter