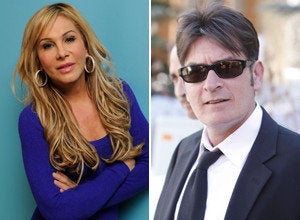 The world of celebrity controversy collided -- and not in good circumstances.
Appearing on 'The Ellen Degeneres Show' on Wednesday as part of the 'Real Housewives of Beverly Hills' reunion, Adrienne Maloof opened up about the 911 call she made for Charlie Sheen last week.
"Yes, it was early in the morning and a woman on the phone was saying that she needed to talk to my husband. And I said, "Well, who is this?" and she said she was calling about Charlie Sheen. And I knew at that time it must have been something important because it was about 5 in the morning.

So my husband got on the phone and the woman was saying that he had stomach cramps. Bad stomach cramps and she's not really sure what's going on. So what he did was say, 'You gotta call 911 right away.' And he hung up the phone and he just thought that he wanted to make sure that 911 gets there and that's what he did. He called 911. Charlie's been a good friend of ours for years. They got married at our house, Brooke and Charlie, so we were there for him."
For more from the Real Housewives, including Camille Grammer opening up about her impending divorce, tune into 'The Ellen Degeneres Show' on Wednesday.