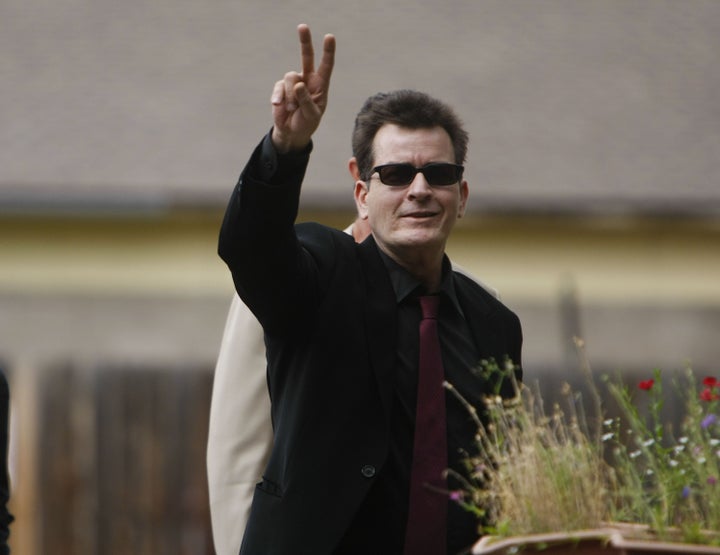 Before police were called to his suite in the Plaza, Charlie was out to dinner at Daniel with a group of friends and their escorts including porn star Capri Anderson, who charged him $12,000 for the night, according to Radar.
"At one point he convinced Capri to go to the bathroom with him. When they got into the bathroom he started snorting cocaine and then took off his pants," a source told the website. "Charlie wanted to have sex with Capri and tried but she stopped him and demanded her $12,000. He didn't have the money on him so she left him in the bathroom!"
When Charlie failed to return to the table, his assistant went into the bathroom looking for him.
"When the assistant opened the door, there was Charlie standing there naked with cocaine all over his face!" the source said. "He was delusional and just completely lost. Totally out of it."
The assistant reportedly helped Sheen get dressed and got him out of the restaurant and back to the hotel. This likely happened after Denise Richards stopped by and posed for a photo with Capri.
Back at the Plaza, a delusional and high Charlie went off his rocker and started spewing the n-word, Radar reports.
"He was punching the walls of the hotel room and going crazy and shouting 'n**ger, n**ger, n**ger for no reason at all," a source said. "It was absolutely bizarre."
Charlie reportedly tried once more to have sex with Capri, but she demanded her money first. When he couldn't find his wallet he began throwing furniture around and screaming violently and she locked herself in the bathroom. Police were called, and when they arrived Charlie was nude, disoriented and screaming the n-word. They threw a sheet over him and tackled him, the source said.
Calling all HuffPost superfans!
Sign up for membership to become a founding member and help shape HuffPost's next chapter