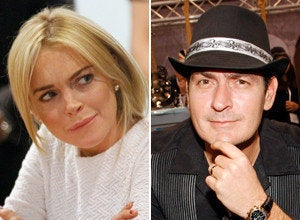 They say the best advice comes from experience. In that case, Lindsay Lohan may want to listen to these very, very wise words.
"You get Lindsay on the show, I will call in," he told Patrick. "I've got some advice for her. I've got some things I would recommend she consider because I don't tell anybody what to do. Work on your impulse control. Just try to think things through a little bit before you do them.
"I was not there in the store, the necklace, the thing, the bracelet, who cares? They're so desperate to vilify without fact," he continued, talking about her felony theft charges and lashing out at a media he's battled with himself.
Good advice for the both of them.
Sheen didn't let himself off the hook, either.
"People need to understand how supremely grateful I am that someone stepped in here," he said about the intervention that followed an epic weekend of partying and doing drugs with porn stars. "I don't want to say who, but you know, basically, Viacom showed up at my house and said 'Dude, it's getting really obvious and we're really worried about you. We don't give a rat's tooey about the show, we care about your health.' So, they came in and just man to man and said 'We have to shut it down.'"
The troubled star also insisted that he never showed up on set drunk or on drugs -- but he didn't always give it his all.
"The shape I was showing up in was epic, was beyond comprehension," Sheen admitted. "[I've] never been drunk, never been high on the set once. But, I would show up not having slept much. Doing a network run through and asking the director, Jamie, to move my mark a little bit so I could be next to a piece of furniture or a table so I wouldn't fall over. That is an expert move by a seasoned professional. I'm sorry, an amateur stays on his mark and then falls over during the run through."
Sheen also mentions a girlfriend -- whom he says will remain nameless to avoid "turning her life upside down."
Popular in the Community