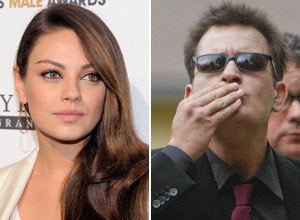 Charlie Sheen is looking for another Goddess and tourmate and the former "Two and a Half Men" star, now on his "Violent Torpedo of Truth" tour, says that he's hoping to have "Black Swan" star Mila Kunis fill the role.
Performing in Columbus on Wednesday, Sheen said that he'd like to add to his Goddess squad, which already includes porn star Bree Olsen and marijuana magazine model Natalie Kenly. According to Radar Online, the Goddesses aren't jealous of his desire for Kunis, he said.
"Here's the good news - my goddesses have already f**king approved her. She's pre-approved!" Sheen said. "I would have great tolerance for many missing items provided it involves Mila f**king Kunis: If Mila Kunis is stealing your s**t , trust me, you're still f**king winning, you're still winning at that moment."
Sheen, who also spoke about his love of hookers during the largely question and answer-style show, told the audience how he plans on luring the gorgeous Golden Globe nominee.
"I'm going to go on her Facebook page and discover her likes," Sheen said. "I'm going to buy them all and then she can come steal them. A super f**king hot thief named Mila Kunis. Mila, please, we we have a warehouse full of your favorite s**t to steal."
According to the Columbus Post-Dispatch, Sheen told a number of wild stories, including one about smuggling cocaine on an airplane with Nicholas Cage.
Like his shows in Chicago and Cleveland, this event, while not wowing critics, was received well by the audience. That's a big change from his initial meltdown in Detroit, where he was booed off the stage.
Popular in the Community