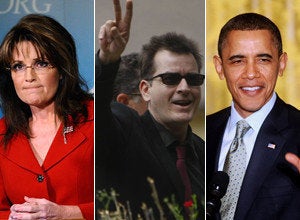 Charlie Sheen for President? He may just need to pick a party and, he'd be, duh, winning.
The headline grabbing, now former sitcom star was placed in hypothetical election match ups with President Obama and former Alaska Governor Sarah Palin by Public Policy Polling, on behalf of the Wall Street Journal. Whether it says more about the partisan divide or the public's fondness for Sheen, the star had some resounding success in the polls.
When given the choice between Palin and Sheen, Democratic voters choose the Sober Valley Lodge over Wasilla, Alaska; Sheen defeats Palin 44-24 amongst Dems. Similarly, in an Obama vs. Sheen election, Republicans would take the actor 37-28.
Most remarkably, it's not just partisan in some cases; Sheen defeats Palin amongst political independents, 41-36.
That being said, Sheen will be going on an extended campaign soon, as he's extended his sold out tour with more nationwide dates, and even some in Canada. Call it diplomacy.
Popular in the Community