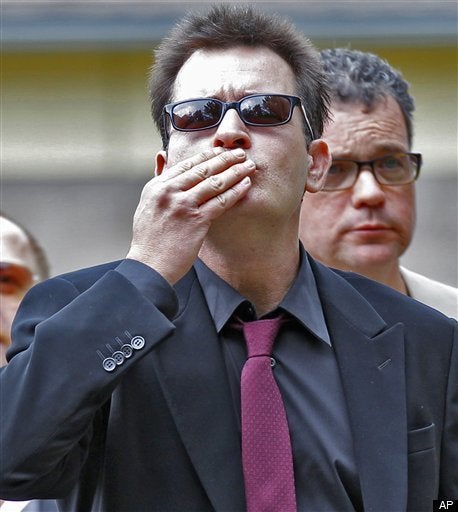 Charlie Sheen has a few things to say. A few special, gnarlington things to say.
First of all, know that he's pure awesome, all the time. And he's glad friend Lenny "Nails" Dykstra told the world.
"I think it was Nails that said, and I was really flattered that he got it right, he might be Nails, but I'm bayonets. I'm battle tested bayonets... I'm so tired of pretending like my life isn't just perfect and just winning every second, and I'm not just perfect and bi**hing and just delivering the goods at every frickin' turn. Look what I'm dealing with, man. I'm dealing with fools and trolls. I'm dealing with soft targets, and it's just strafing runs in my underwear before my first cup of coffee ... they lay down with their ugly wives and their ugly children and just look at their loser lives and then they look at me and say, 'I can't process it.' Well, no, and you never will! Stop trying! Just sit back and enjoy the show."
"Let me say this about the Goddesses, I don't think the term is good enough, but when you're bound by these terrestrial descriptions, you must use the best term available. So if you think about it dude, I'm 0-for-3 in marriage, but like in baseball, the scoreboard doesn't lie. Never has. So what we all have is a marriage of the hearts. And to sully, contaminate, or radically disrespect this unit with a shameful contract is something I'll leave to the amateurs and bible grippers."
"And I just gotta add this, there was a whole firestorm about Brooke being a part of our crew... Where there were four, there are now three. Good-bye, Brooke, and good luck in your travels; you're going to need it. Badly ... She's not there now and we are and I don't know, winning, anyone? Rhymes with winning? Anyone? Yeah, that would be us. Sorry man, didn't make the rules. Oops."
"I have cleansed myself. I closed my eyes and in a nanosecond, I cured myself... It's the work of sissies. The only thing I'm addicted to is winning. This bootleg cult, arrogantly referred to as Alcoholics Anonymous, reports a 5 percent success rate. My success rate is 100 percent. Do the math ... another one of their mottoes is 'Don't be special, be one of us.' Newsflash: I am special, and I will never be one of you! I have a disease? Bulls**t! I cured it with my brain, with my mind. I cured it, I'm done ... you don't look like you're having a lot of fun. I'm gonna hang out with these two smoking hotties and fly privately around the world. It might be lonely up here but I sure like the view, Alex!"
On not being pushed around anymore:
"I'm sorry, man, but I've got magic. I've got poetry in my fingertips. Most of the time -- and this includes naps -- I'm an F-18, bro. And I will destroy you in the air. I will deploy my ordinance to the ground."
"Guys, it's right there in the thing, duh! We work for the Pope, we murder people. We're Vatican assassins. How complicated can it be? What they're not ready for is guys like you and I and Nails and all the other gnarly gnarlingtons in my life, that we are high priests, Vatican assassin warlocks. Boom. Print that, people. See where that goes."
Don't worry, there's much more. Including his "Giving Tree" and Beachhead death card mashup tattoo, his new "Major League" movie, trashing of the executive producer of "Two and a Half Men," his secret and silent soldiers, loving and hating with violence and much, much more. Click over to TMZ to listen.

Popular in the Community