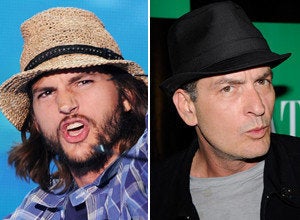 Fresh off getting roasted and admitting he deserved to be fired from "Two and a Half Men," Charlie Sheen continued his amends-making goodwill tour at the Emmys on Sunday night.
The star, whose epic run of drugs and ridiculousness saw him get booted from the show last spring, preceded his award presentation by issuing a heartfelt statement to those still involved with his now-former show.
"Good evening. Before I present Outstanding Lead Actor in a Comedy Series, my old category, I want to take a moment to get something off my chest and say a few words to everyone here from 'Two and a Half Men,'" he said. "From the bottom of my heart, I wish you nothing but the best from this upcoming season. We spent eight wonderful years together, and I know you will continue to make great television."
He also met up with his replacement on the show, Ashton Kutcher, and sent out this photo of the two of them over Twitter.
Popular in the Community